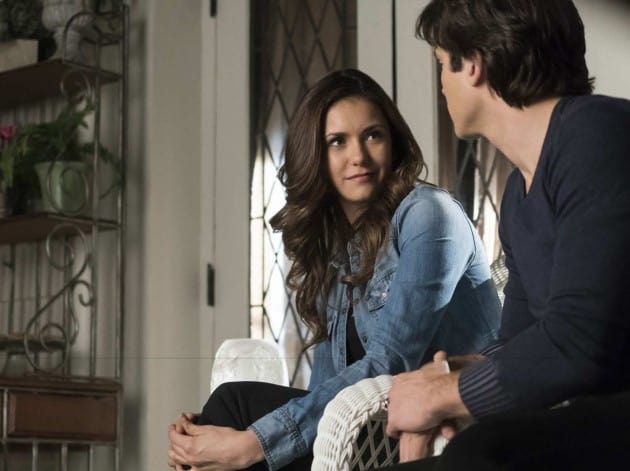 Let's hope The Vampire Diaries still has some surprises up its sleeve, because otherwise, the rest of this season is going to drag much like these last couple of weeks. Now that the cure was brought back into the picture conveniently around the time Elena started missing her human life, we can all see where this is headed. Like I said, though, I really want to believe there will be one last unpredictable twist to throw us all for a loop.
So far, everything has been a little too contrived. Caroline switched her humanity off and convinced Stefan to join her on the dark side. He was brought back by Lily and tasked with a plan to get Caroline to switch her feelings back on as well. With the help of Damon and Elena (and to a lesser extent, Alaric and Jo, who were glorified security guards), Stefan is able to trap himself and Caroline in a vampire-proofed bed and breakfast suite. And they really did vampire-proof this place. Bars on the windows and even replaced the normal door with a wrought iron type that the Salvatores have in their own basement holding cell. Stefan's plan almost went along exactly as he predicted. The only huge mistake he (and Elena) made was actually giving Caroline the letter from her mother before they were entirely sure this plan would work. As it so happened, she was still acting out in a rage of hunger and anger and burned the letter. I was praying that was just an empty envelope, and by the end, Stefan would have the real letter safe and sound. He really should have done something in the moment rather than hold it still for her to set on fire.
Of course, it's also convenient that there are two magical elements floating around the Salvatore mansion, both of which Damon wants to keep for himself. After a talk with Bonnie, who had stolen the ascendant back from Lily's hiding spot, he wasn't entirely sure he was ready for Elena to have the cure. You could say it's slightly selfish, but there was no final decision made on his end yet when Lily went right ahead and made her next move against her son. She'll have her own problems now, covering up her Ripper tracks with the help of Enzo. Between that and stirring up the relationship between Damon and Elena, Lily is quite the troublemaker.
Plenty of relationship drama lies ahead for this fan favorite couple, who now face a decision that could impact both of their lives. Damon became so sure that he would take the cure with Elena so they could both be humans and live normal lives together, but is he positive that's possible? If I recall, the last time the cure was around town it was made clear there was only enough for one dosage. Would splitting the cure 50/50 really work on either of them? Something tells me Damon's only saying this now and will play along until it comes time for Elena to actually drink it. Then he'll sabotage his own future by letting his girl have the life she's always wanted. On one hand, it seems normal for Elena to be tired of this supernatural life. Creatively speaking, I hate to think of what this means for Damon without her next season. He's gotten so soft as a character ever since he fell in love with her and pined for her all these years. It would be the most selfless thing he's ever done to let her go, but it makes you wonder what kind of a person he'll become now.
Notable quotables:
-"This is actual torture. Elena and Damon talking about their future. Ugh. I want to die." -Caroline
-"I think the PC term is 'witchpire." -Damon to Bonnie re: Lily's 'family' in the prison world.
What did you think of this episode?
[Photo via The CW]