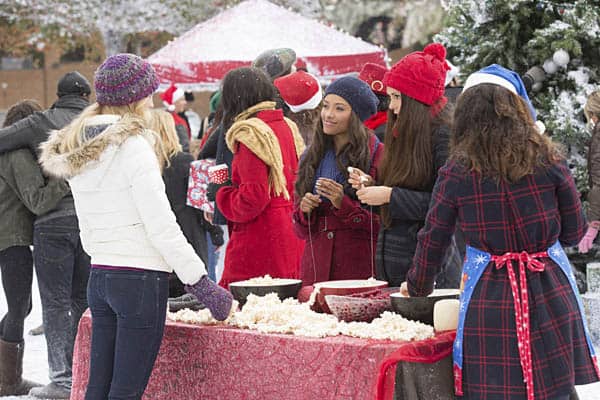 Some good news came from The Vampire Diaries this week: everyone can return home to Mystic Falls! Unfortunately there's more bad news to outweigh that one ounce of hope that maybe things could go back to normal. Such is life. But hey, at least there were happier times in the flashbacks to Christmases of years past!
Chances are high that a large majority of TVD fans are also Buffy fans. If you're among that group, you'll agree that the Liz Forbes storyline is eerily similar to that of Joyce Summers. Caroline is devastated to hear that her mom has an irreversible brain tumor, and my heart broke right there with her when she heard the news from Stefan. I'm not entirely sure how I feel about this dragging out when we come back from hiatus. Vampire blood can't cure cancer, as Stefan pointed out. Knowing Caroline like we do, we know she won't give up on her mom and it'll only make the loss that much harder when she inevitably passes away sooner or later. Maybe the whole point is to allow everyone to say their proper goodbyes to Liz. In that case, buy your tissues in bulk because human deaths are permanent!
Bonnie was another depressing character this week. She's still stuck in 1994 all by herself. I was expecting some glimmer of hope for her. Like maybe Jeremy could have sworn he saw Bonnie in the reflection of one of the Christmas ornaments as he stood in the same place she was, only 18 years apart. I could just have Sleepy Hollow on my brain, but I think you get my point here. We already knew Bonnie was lonely. Who wouldn't be? What we needed was some progress.
With Bonnie stuck in his prison, Kai is free to terrorize his family like the good ol' days when he murdered everyone but these three remaining siblings. (Someone should start a running count of how many times they say "merge" from here on out. It'll probably rival that of the dreaded "cure" and "doppelganger.") Jo agreed to merge with Kai, confident that she can beat him if she has a little more time to strengthen her newly restored magic.
Kai managed to soak up all the Travellers' power that protected Mystic Falls from magic. In a sense he did everyone a solid favor in lifting that spell. The only thing is now he's messing with Elena. hardcore Delena fans were probably mad that one of the "cliffhangers" (if you can even call it that) was Damon not being able to see Elena due to a cloaking spell put on her by Kai. I'm a Delena fangirl sometimes, but that tease of a kiss under the mistletoe was weak. I would've rather not seen right away that it was Kai's doing and been left to wonder what the heck is going on now.
I hate to admit it but I was disappointed in this midseason finale. It felt extremely underwhelming coming off the run of a pretty exciting first 10 episodes. It wasn't all bad (Stefan and Caroline, Stefan and Damon scenes) but enough of it was too bleak to leave a bad taste in my mouth. What did you think about it?
Photo via The CW