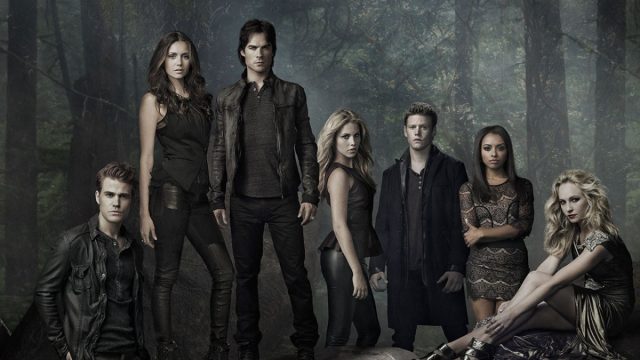 The Vampire Diaries is a highly popular one-hour television series on The CW that is based on L.J. Smith's series of books. The show premiered on October 8, 2015, and was renewed for its final season, Season 8, on March 11, 2016. The supernatural drama is produced by Bonanza Productions Inc. in association with Alloy Entertainment, Outerbanks Entertainment, CBS Television Studios. and Warner Bros. Television. It was developed by Kevin Williamson, who also created the hit TV series "The Following", and the major motion picture, "Scream", and Julie Plec, the creator of "Kyle XY", "The Originals", and "Wasteland". The two are also executive producers alongside Leslie Morgenstein, who also produced "Gossip Girl" and "Pretty Little Liars".
So, for starters, the series obviously has some very talented people behind it but more importantly, it has vampires. Unless you've been living under a rock, you've definitely noticed the meteoric rise in popularity of these bloodsuckers over the past few years, especially with teen audiences. Between this series and the recently canceled series, "True Blood", the small screen has been a virtual showcase for vamps. And, add to that the amazing popularity of the "Twilight" franchise that captivated teens and some adults alike a few years ago on the big screen and it's quite evident that those good-looking young descendants of Count Dracula are here to stay. And, here are our Top 5 Moments from Vampire Diaries Season 7:
In Season 7, there are quite a few momentous events to carry the series into the next season. Following Elena Gilbert's exit, the season starts with several characters managing to recover from it while others, not so much. However, it is quite notable that the character played by Nina Dobrev will return for the final season even though she left in Season 6.
And, here are our Top 5 Moments from Vampire Diaries Season 7:
1. The Vampire Diaries Season 7 Episode 4- I Carry Your Heart with Me"
The Final Scene "Who Am I Without You" is one of the best of the season, maybe because it takes place on Halloween. No seriously, though, it revolves around Damon and Stefan's desperate attempt at hiding Oscar's corpse. That's all due to the fact that Oscar dying totally derails the exchange plans that they have in place with Lily. So, they hide the corpse in the Whitmore College dorm. In the meantime, Lily tells Mary Louise and Nora to start killing one student each hour until they return Oscar to her.
So, now it's up to Alaric, Bonnie, and Damon to attempt an Oscar-resurrection since they have the Phoenix stone to do it with. Bonnie has to go with Stefan, however, and lure Mary Louise and Nora to the school's aptly named "Heaven and Hell Dance". This episode presents a very special moment because it has burning vehicles, resurrection, and a lot of working together by the good vamps to defeat the evil vamps.
2. The Vampire Diaries Season 7 Episode 6- "Best Served Cold"
This is the one where Jo/Florence dies and Alaric is saying goodbye to her. There's a big party at Salvatore manor thrown by Lily and the Heretics. Stefan and Damon are there when Bonnie and Enzo arrive with and she's trying to make Lily jealous. Meanwhile, Jo's health is declining very quickly and Rick is trying to deal with it. Valerie is explaining that she was still human and her body was not compatible with her vampire soul, which is what was killing her. Meanwhile, back at the party at the manor, there's a big vampire fight between the Salvatore brothers and Julian. Lily has to intervene in the fight, Alaric has to let Jo go, and Valerie discovers that the twins are still alive inside of Caroline.
3. The Vampire Diaries Season 7 Episode 13 – "This Woman's Work"
Vampire babies always make the best moments even better. And, this is the episode where Caroline gives birth to Alaric's twins. Ever wonder how vampires are actually born? Well, the fact is that every vampire story makes up its own individual rules but, in the case of The Vampire Diaries Season 7, vampires are basically humans who have super-human abilities. They have the ability to have babies but they can also die.
So, back to Caroline, Alaric, and the birth of their twins. In 13, Caroline's life hangs in the balance due to complications of the pregnancy. Valerie and Stefan must resort to some pretty extreme measures in an effort to save all three of them. They're dealing with twins that possess a natural-born reluctance to come out because they'll be leaving the source of their magic, i.e. Mom's womb. But, in the end, with everyone's help, Caroline is successful at giving birth to hers and Alaric's adorable twins as Bonnie, Valerie, and Alaric look on. Alaric names them Josie and Elizabeth. Watch
4. The Vampire Diaries Season 7 Episode 14- "Moonlight on the Bayou"
https://www.youtube.com/watch?v=W0CQFiVLHDw
Caroline moves with her twins and Alaric to Dallas. Valerie finds what turns out to be a New Orleans anti-magic bar aptly called "St. James Infirmary", like the song. Stefan hides there so that Rayna can't find him. Meanwhile, Klaus returns, meets Stefan at the bar, and ends up saving Stefan from the evil Rayna but then Stefan disappears. This is also the episode that is the beginning of the crossover with "The Originals" and the conclusion is on "A Streetcar Named Desire". Watch it here at:
5. The Vampire Diaries Season 7 Episode 22- "Gods and Monsters"
Matt has a bad accident and is seriously injured. The twins, who now have extraordinary super-human powers, help everybody open the vault. Stefan and Caroline are getting back together. And, the most dramatic moment of the entire season comes when Damon answers a call and hears Elena's voice, which of course, proves that she'll be back in Season 8! This is a great moment for fans!
The series finale of Vampire Diaries, which is entitled "I Was Feeling Epic," will be airing on March 10th. So, here's the trailer for Season 8, so you can get a good idea of what's up:
Tell us what's wrong with this post? How could we improve it? :)
Let us improve this post!