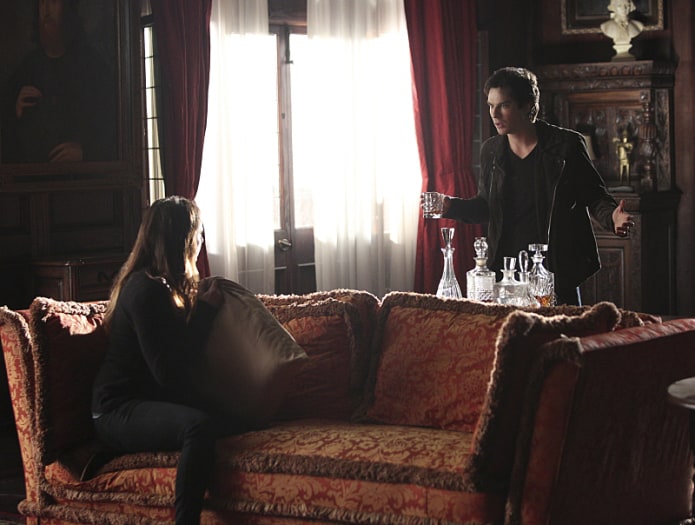 An unprecedented battle is brewing on The Vampire Diaries, and honestly I'm not sure how I feel about it. The few humans are taking stands against the vampires. All for valid reasons too. That's why I'm so torn about the direction this season seems to be headed as we near the midseason finale next week.
In order to save Bonnie, Damon knows he needs the Ascendant that his best friend's girlfriend just so happens to protect for fear of her homicidal brother escaping from his prison. It shouldn't surprise us by now that Damon would stoop so low as to compel Ric into stealing the magical instrument. I wouldn't have expected anything more of him, and hey, it's not his fault Kai escaped anyway. Still, I'm glad Ric paid his friend back with a few punches. Just as long as he remembers that there's a much bigger threat at hand, and not to let Damon's mistake shade his anger any more until they all get rid of Kai.
Speaking of Kai, he set the Ascendant ablaze as Elena held it in her hand, thereby destroying any hope of saving Bonnie. Let's think about this for a second: the Ascendant she and Damon used with Liv's help was the same one Jo has had ever since 1994. But Kai escaped from that time period using a different version of the same thing, right? Technically then there should be one last sliver of hope if and when anyone can get their hands on it.
Kai's introduction to the present day was slightly entertaining but I'd rather not think about what he had to do to get the skinny jeans he was so obsessed with and the smartphone on which he learned about Twitter. His poor cab driver wasn't the only innocent human's death in this episode either.
R.I.P. Monique, the girl posing as Sarah Salvatore. Her death at the hands of Enzo only further enraged Matt, which like I said earlier, will be super interesting to watch. He recruits Jeremy to channel his rage at Elena (but really Damon – it always comes back to Damon) into using his hunting skills to kill Enzo.
Enzo's another confusing character lately. Before he got on Matt's bad side, Enzo pointed out that Stefan's always painted as a hero while he remains a villain yet they've both been monsters in the past. If he really wished to be seen as anything other than a villain, maybe he should stop being so quick to snap a neck next time. I get that he's still mad at Stefan for giving up on Damon and hurting Caroline in the process, but why does Enzo have nothing better to do than stalk and torment Stefan? Damon's back and he's barely seen his supposed best friend.
Basically this episode left me feeling a little uneasy about the second half of the season, not to mention the inevitable cliffhanger next week. Matt is hellbent on getting his revenge on Enzo but I get the feeling he won't stop there. He heard it all from Tripp in the short time he actually knew about his vampire hunting and he's only now starting to believe it. Jeremy's always had issues with Damon. Now Alaric can't even trust Damon anymore not to compel him. I think all these guys need is a woman to step in and mediate the situations before they do anything they can't take back. Sounds like the perfect job for Caroline, am I right?
Photo via The CW