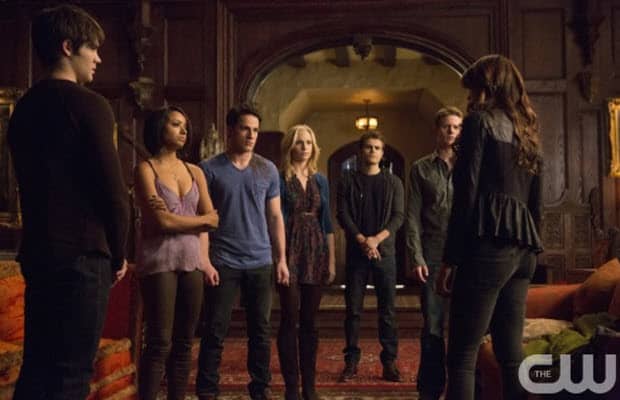 Wow! This was the best Vampire Diaries episode of the season so far. Partially because of that awesome ending but also because of the questions it has raised. Like will any of these new characters introduced this season make it to season 6?! That being said, there are some major spoilers ahead if you haven't watched yet!
Katherine said it best herself when she was revealing her last devious acts on this earth to Bonnie: "Katherine Pierce wasn't about to go gentle." And boy did she really screw things up for Elena even more! It wasn't bad enough she stole control of her body for a while, now she injected her with the deadly werewolf venom that just killed Nadia. Katherine definitely got what was coming to her when she wasn't able to pass through Bonnie to the Other Side. Nope, she was literally dragged to hell in that amazing ending. It's pretty cool to realize that there is indeed a distinction between the dimensions of the afterlife. I'm just curious if that was truly the last we'll ever see of Katherine, or if the writers will tackle that "other" Other Side.
I may be jumping ahead too much by talking about Katherine's demise right away, so let's rewind here. At the beginning of the episode, I was having serious flashbacks to that Friends episode (you know, the one with "they don't know we know they know we know"). Katherine was attending to Nadia's deteriorating condition, while Stefan and friends were scheming up ways to lure Katherine into a trap ever since they discovered the truth. They don't know she knows that they know, but it all becomes crystal clear to both parties sooner rather than later.
Matt still had the Traveler's knife that Nadia gave him after he was freed of his passenger spirit earlier in the season, which answers the most obvious question of how they can get Katherine out of Elena's body once and for all. I have to say, it was considerate of everyone to allow Katherine to say goodbye to her daughter in her last moments. That was a tearful goodbye to Nadia, a character who I felt had so much potential left in her. She literally had 500 years of history that we could have possibly seen more of eventually. Maybe she had her own child before she was turned into a vampire, so maybe there are still Petrova descendants living elsewhere. We may never know. This isn't the first time we've seen a vampire die from a werewolf bite. In an earlier season, Damon's friend Rose was suffering on her deathbed and he spared her a bit of pain by giving her a happy memory to pass on. Katherine did something similar for the daughter she regretfully never knew. She gave her a memory of a happy life together that they never truly had. It was even especially thoughtful of Matt to give Nadia a proper resting place instead of just throwing her in a ditch anywhere, since he did know her the best out of everyone.
We also saw the end of Dr. Wes Maxfield, that psycho scientist. Given Damon's history with the Augustine society's experiments, it was only fitting that Damon turned the tables on the doctor and gave him a taste of his own medicine. I thought it was Damon's intention to get the antidote to his cannibalistic virus that Wes concocted, but we never quite saw if Damon got what he was looking for before he tore Wes inside out. Hopefully he did, because it's bad enough that now everyone will be concerned with curing Elena, and he would end up choosing to save Elena over himself if he had to make that decision. As Damon said in this episode, let's deal with one crisis at a time.
Caroline and Tyler have had a rocky relationship all season, but things turned from bad to worse when she slept with Tyler's (im)mortal enemy and he found out. It was refreshing to see Caroline finally stand up for herself to Tyler and stop feeling guilty. She raised a great point in saying that he's going to keep hating her for sleeping with Klaus, but yet no one is mentioning that it was his werewolf bite that just killed someone.
It was a pretty great episode, raising even more questions. Will this revolving door of recurring characters ever slow down? It seems we no sooner get used to one new face, and suddenly they're killed off only to introduce even more new characters. Speaking of new characters, I have a feeling we haven't seen the last of those Travelers. The only big question looming there is, what do they possibly want now? Oh, and what did Wes do to Enzo after he said he needed him for one more thing last week? Finally, the question that will bug me forever until we get an answer: why didn't Bonnie ever once stop to realize that she never saw Katherine's spirit ready to pass through her when they all thought she died a month or so ago?? She could have saved everyone so much time, and if things had played out differently, maybe Nadia wouldn't have died.
[Photo via Blake Tyers/The CW — © 2014 The CW Network, LLC. All rights reserved]