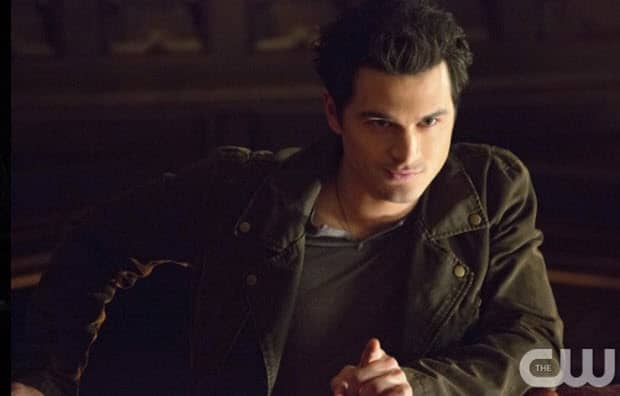 Thursday's episode of The Vampire Diaries had everything that makes this show so addictive. There was the long-awaited reunion scene between Damon and Elena where he apologized for ever breaking up with her, but one major twist complicated it. There was even dialogue for Matt, everyone's favorite human in this world of supernatural insanity.
Ever since Katherine hijacked Elena's body, she's been ignoring the texts and calls from her concerned friends. One of Stefan's texts to her asked if she was going to Tyler's house party, so Katherine being who she is, decides to show up to get Damon, Stefan, and Caroline off her back. I just thought it was weird that if everyone was so concerned about her lying about where she's been staying, why would anyone have let her leave. Someone really should have noticed that she took off with Nadia.
Caroline's been feeling guilty about her rendezvous with Klaus in the woods last week, and understandably she's wanted to talk to Elena about it. Katherine, being the devil she is, deliberately asks her how Klaus rates compared to Tyler, with Tyler in hearing distance. This sets off a rage in Tyler when Caroline just wants to apologize to him, and he just wants her to leave him alone. Now that he's feeling depressed and lost with no one but Matt on his side, I wonder what the writers have in store for him because right now he's just bumming us out.
Caroline's fallout with Tyler got Stefan involved when he defended her honor as Tyler was basically shaming her for her choices. Stefan reasons with Caroline that he's made his own mistake recently (Katherine), and even makes Caroline laugh by telling her she's terrible and all other insults which are what she thinks she deserves to hear. I've always loved their friendship, and now that they had this scene, I'm hoping they eventually get together in the long run.
Nina Dobrev has been incredible this season, at times playing 3 characters in earlier episodes. Tonight we saw her perfectly switch between playing Katherine and Elena, which doesn't sound any different than what she's used to, but this time she didn't need a wardrobe change as both characters are inhabiting Elena's body. The scene in the tomb as the witch began the spell to lock Katherine in control of the body permanently was awesome. With the blink of an eye, we knew immediately that Elena was back. Nina really did a flawless job of playing Elena as Katherine (in Elena's body).
Quick to catch on to what was happening, Elena makes an escape from the tomb and runs through the woods which are luckily close enough to Tyler's house. Along the way she's tormented by Katherine's memories taking over as the witch regained consciousness and finishes the spell. Why she didn't think to rip the witch's heart out to ensure she couldn't finish the spell was beyond me. She saw Damon at the edge of the woods, and rushes to hug him for a moment. She should have also realized she might not have much time in control of her body, so she should have spit out more than "Damon, thank god it's you" or whatever she said. I guess we wouldn't have any of this suspenseful drama if characters used common sense in times of crisis.
What followed was an uncharacteristly apologetic Damon. He was really pouring his heart out, admitting his mistake of breaking up with her, but of course Katherine was locked into the body by then. She breaks it off with him, citing that she knew what he did to torture Katherine on her death bed, and she didn't want to have to worry about what would happen if they kept fighting in the future.
All this leads to the biggest question of the night: what happened to Elena? Is her soul still in her body? If so, is she aware of everything that's going on, but just silently watching through Katherine's eyes? She couldn't have died, right? Bonnie (who wasn't in the episode at all, not even at Tyler's party) would have seen her passing through her and immediately would have alerted everyone. Since that didn't happen, all hope isn't lost but it looks like Katherine will be hanging around town to further mess with Elena's life. She has her sights set on winning Stefan back, which just seems like another act of revenge since she heard firsthand that he's not too upset about Katherine's dying.
With Katherine posing as Elena full-time now, and Damon back to his killer ways following Katherine-as-Elena's rejection, things are crazy as ever in Mystic Falls.
How long do you think it'll be before someone gets suspicious about Elena? Will anyone bother to go visit Katherine's body in the tomb and find her burnt body as a dead giveaway? Or will the fact that Elena and Nadia are suddenly friends be the red flag that something's up?
[Photo via Bob Mahoney/The CW — © 2013 The CW Network, LLC. All rights reserved.]