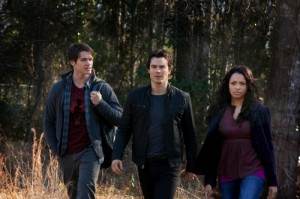 It's been a long time TVD fans but we're back and with the bang of a 100 dead witches. This show really does not have a cruise control pace and that's how I like it. Once again there was so much double crossing that trusting certain vampires will never happen, along with some unexpected big twists that show this final chapter of the season means business.
What was obvious was how Jenna would react to seeing her boyfriends dead wife on her door step and that wasn't well. At this point I'm still not quite sure why they need to have her in the dark about all this supernatural stuff and I'm sure she will feel just as betrayed when she eventually finds out, unless they're going to keep her as the one character in this circle that doesn't know what the hell is going on. Whilst joking about how clueless Jenna is, is fun enough I think it would be much more useful to the story for her to find out by the seasons end. With Jenna out of the way it freed up the Gilbert house, in which John helpfully invited Isobel in, making this once safe house seem just as open to vampires as the Salvatore's. This issue was solved by the simple action of giving Elena the deeds to the Salvatore boarding house, but can Jeremy stay over please? We know there is more than enough room.
From the start of the episode I figured that Isobel no matter how cold she seems would not betray her own daughter, so when it was shown that she was working with Katherine this just seemed like a big ruse. That she had been compelled by Klaus was a nice touch, she really did not want to betray either of her relations and did seem to have a genuine bond with Katherine (as genuine as that can be). Unfortunately for Katherine this double crossing worked with her, she really should have stuck with team Salvatore. If she had she wouldn't be with the moonstone at Klaus' mercy and that shows what happens when you try to play all the angles; you end up screwing yourself. The big surprise of the Isobel story was at her graveside with Elena, the moment when she ripped her necklace off and gave her self to death, at the spot that marks her human death was rather poetic if not a little horrifying to commit this suicidal act in front of her own daughter.
The men in Isobel's life didn't fair much better this week; John was 'killed' as a distraction but thanks to the ring that Alaric so nicely gave back he lived to see another day, and had a civil and somewhat reconciling conversation with Elena. It is still strained between the two but Elena acknowledges that as he is now her only parent she should attempt some kind of relationship, as having him on her side is a bonus in these dire times. Alaric faired less well, Isobel revealed the truth about compelling him and that she did love him, right before he got knocked down by Klaus' witch. It was a big surprise as to why Klaus wanted him, after draining him of his blood (all of it?) and after a spell we now have our first glimpse of Klaus as he inhabits Alaric's body. If Alaric lives to see this possession out I really hope they find a good role for him next year as he has been sorely underused in this second season, and this would be helped once again by Jenna knowing the truth.
Someone who does know the truth is Matt, whilst I didn't think they would use the compelling trick to side step this, I really didn't expect him to be working with Caroline's mother. When they didn't show Caroline compelling Matt it felt like something was up and the shadowy car reveal was a surprise, how much this will put everyone in jeopardy is unclear as we didn't see how much Caroline told him. Does he know about the Damon and Stefan? We know he feels betrayed by everyone which would suggest that he does know about it all, but I like that it wasn't explicitly shown to us, the level of danger is unclear.
An interesting turn in the story is with Bonnie, the new secret weapon against Klaus. It's a shame then that all this power could kill her, a sacrifice that she is willing to make, not just for Elena but Bonnie as well. Jeremy is going to start to feel a bit cursed if Bonnie doesn't survive the season, that will be all of his love interests dead. I like the chemistry between them so I hope that this doesn't happen and I'm sure it is always useful to have a witch around. The scenes of the sacrificial spot were suitably creepy, and Jeremy jumping at a creaky floorboard was a good mood breaker before all the whispers and gut wrenching screams from Bonnie.
Yikes, with all that double crossing and secrets revealed it is clear that this show is back in a big way. Now that Klaus is here, albeit in the body of Alaric it really does feel that the endgame of the season is coming in to fruition. A-
Next week join us for dancing and body swap peril.
In the meantime let us know what you thought about tonight's episode, were you sad to see Isobel die? Did you expect Matt to double cross Caroline? Do you think that Bonnie will be the secret weapon they need to defeat Klaus? Like the idea of Elena technically owning the Salvatore boarding house? Let us know here or join us in the forums.