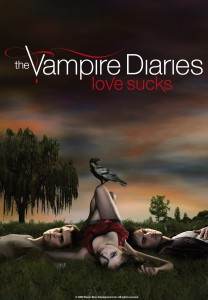 Vampires are in vogue right now. Maybe even in overkill. CW's The Vampire Diaries is the latest addition to the post-Twilight phenomenon. The series centers on two bloodsucking brothers, Damon and Stefan Salvatore, who lurk around the town of Mystic Falls, Virginia and fight over a girl named Elena (among other things), who is a doppleganger for another woman they used to fight over. It's described on the back of the box for this 5-disc, 22-episode set as "dark, brooding, pulsing with bloodlust and transcendent with romance." Huh? What now?
My exposure to vampires comes from the Joss Whedon universe, with former WB/UPN (before it became the CW!) series Buffy The Vampire Slayer and Angel. All I'd ever heard about this show was that four of the stars were arrested by Georgia police for disorderly conduct around the time that it premiered, and that early reviews were literally laughable. However, the series became possibly the biggest hit of the season (it's either that or Glee), and it made me wonder: what the heck happened? Is this just one of those times we TV critics got it wrong? I couldn't pass up the chance to find out, with this set that will hit streets on August 31st.
The Show
I may have laughed out loud at that melodramatic line on the box, but it's pretty much true. This show is definitely dark and brooding right from the beginning, complete with ridiculously thick fog. The very first scene is the epitome of a television attempt at a horror movie. (I mean an actual horror movie, before they were taken over by seeing how much gore one can get away with.)
We're introduced to Elena (Nina Dobrev), who is trying to restart her life after the loss of her parents, because parents get in the way on teen-oriented shows most of the time. One of the unique things about the series is that Dobrev also doubles as the show's main protagonist, Katherine, the vampires' sire. That has to be some tricky acting. Both Elena and Katherine end up piquing the fancy of two vampire brothers, Stefan Salvatore (24's Paul Wesley) and his less straight-laced brother Damon (Lost's Ian Somerhalder), and thus, the show's love triangle begins when Elena meets and falls for Stefan. Like a fair amount of love triangles on TV, there's the good one and the bad one; although both have their moments of the opposite, they never really change their proverbial spots. There are also subplots involving Elena's friends, enemies, and fellow townsfolk, and their social and romantic entanglements…all of the primary characters being young and ridiculously good-looking, not a surprise given the target audience.
However, and thankfully, this isn't a show which is totally centered on people mooning all over each other. The show also focuses on the supernatural happenings in and around the town of Mystic Falls. If you think about it logically, this starts to get ludicrous, but no more so than the idea of Sunnydale being the mouth of Hell on Buffy. The show introduces werewolves and witches and a whole spectrum of supernatural happenings that you'd expect from a fantasy-adventure series. If you'd think it would be in this kind of show, it probably is.
I agree with most critics that the pilot is not the show's best episode by a long shot; it does improve later on. That can be said of most series, but this pilot is particularly clunky, at least in my estimation. Those who haven't seen the show before should be advised to stick with it before deciding to write it off. The Vampire Diaries isn't Twilight, for those who may be averse to that franchise. Yet it also isn't The Wire (obviously). If you like escapist TV where you don't have to think about it for the next couple of days, you'll enjoy it.
For me, personally, the show fits right into the same category of teen-and-twentysomething-oriented series on the CW that Supernatural and Smallville do. If you like those shows, you'll probably like Vampire Diaries. However, if you're someone who isn't interested in the adventures and angst of ridiculously good-looking young people, this isn't the show for you. In my opinion, it offers little that differs from the current onslaught of vampires (or 18-to-25 oriented series) out there…which is probably why it's so popular. Why mess with what works?
The DVDs
Vampire Diaries fans will be over the moon with this release, which stops just short of loaded.
Wow, are these DVDs gorgeous. Kudos to whomever designed the artwork for this release, because it certainly is pretty to look at, even for someone like me who's never seen the show before. The pictures are first-rate and the one on the back of the interior case could be hung up in someone's house like a work of art. Likewise, audio and video are crisp.
The accompanying booklet comes with everything that you'd expect it to come with. WB certainly knows how to prepare a DVD booklet. You get names of writers, directors and original air dates with your episode synopses. Then there's something really cool and much appreciated: a spoiler warning. I put that in bold because it really is wonderful to see. They took the time to warn you that the commentary on the pilot episode will spoil the rest of the season. How many times have you watched your special features first, only for them to spoil something you haven't seen yet? I can certainly think of a few, so it's great to see that WB is considerate of its fans at all times. The spoiler alert is also on the corresponding DVD menu if you don't read the booklet.
This set comes with not one, not two but four featurettes: "Into Mystic Falls" (on the show's translation from the books by L.J. Smith), "When Vampires Don't Suck" (regarding the vampire phenomenon), "The Vampire Diaries: A New Breed of Vampires" (on casting) and "Vampires 101" (pretty much what it says). In other words, it covers everything you'd want to know on how Vampire Diaries got to be what it is today. There's also a gag reel, deleted scenes, and a downloadable copy of an audio version of one of the books. That's right, we're encouraging people to read! When was the last time that happened with a DVD set?
I also want to make mention of the fact that this set includes webisodes. Again, WB is doing a big favor to its fans by including all the content they possibly could. Let us remember that Battlestar Galactica fans weren't so lucky with the "Face of the Enemy" webisodes that were released for that series. At last check, according to Wikipedia, those didn't even make it onto the complete series release of that show.
As with The Middle, my only qualm is the single commentary track, but not every release can be NewsRadio. (That show had commentaries for just about every single episode, which considering it ran five seasons, was pretty darn impressive.)
The Bottom Line
The Vampire Diaries: The Complete First Season is a near-perfect release for fans of the series. From the amazing box art to the extensive special features, it's a certain labor of love for a cult hit. Undoubtedly, fans don't need any prodding to be told to pick this up on the release date. If you're a fan of other similar shows, you won't be disappointed. But if you don't already know that you like it, as great as the DVD set is, I'm not sure the series will sustain your interest.