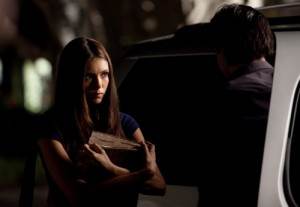 This is a review of "Bad Moon Rising", for Mark O. Estes in-depth recap of the episode Click Here.
Another week and another strong episode of The Vampire Diaries, this time featuring all new mythological elements of the mystical elements of the appropriately named Mystic Falls. With this means the welcome return of Alaric who through Isobel's work on paranormal psychology is a resource of information.
New character Vanessa (Courtney Ford, last seen on Dexter),a former student of Isobel's at Duke was introduced this week and before she became the exposition fairy regarding the story behind both the vampire and werewolf myth, she almost kills Elena thinking that she is Katherine. A mistake that we have seen many make before and one which happens when your identical self (or doppelganger perhaps) is a vampire, people try and kill you.
As Mark put in his recap we really are given an information dump of mythology which could have been delivered in a clunky fashion, instead it was woven nicely in to the story, intercutting between Duke and the forest back at Mystic Falls, increasing the feeling of danger for those in the woods.
The transformation of Mason from human to wolf was handled well, instead of seeing it we merely heard what was happening to him and it did not sound pretty. I wonder if they are saving showing a full transformation for Tyler as I'm guessing budget wise it would be pretty expensive to stop it looking tacky. There is still much mystery surrounding the Lockwood's and their curse; did the mayor transform or did the moon stone he had prevent him from doing so? Stefan said he had dealt with Tyler, we know that his compelling skills are not all that so what did he do? The inclusion of Mason as a potential foe to the Salvatore brothers as well as the problem of Katherine means that this season is already stacking up the conflicts.
Another conflict exists between Elena and Damon, as unsurprisingly Elena is still not all that happy with what Damon did to Jeremy. They both dance around the issue of friendship, can they be friends after what he has done to her? As Damon remarks she hated him once before and then they became friends, why can't that happen again? Both end up attempting manipulation but it only works for one of them and as we have seen before with Damon, when he is emotionally involved he can be manipulated. His confession that he didn't know that Jeremy was wearing the protection ring seals his already decided fate, though even if Elena says that friendship is off the table I'm sure this won't be the case. Damon appears vulnerable in this scene and due to his unpredictable nature it is hard to know what direction he will take next.
Caroline is also unpredictable in her new vampire state and shows why she should keep Stefan with her at all times, even if that would be wildly inappropriate whilst she is making out with Matt. This new found friendship between Stefan and Caroline provided some of the best comedic moments of the episode: Stefan tries to tell Caroline about how everything that you were as a human becomes heightened as a vampire without trying to offend her, she responds that now she is "insecure, neurotic, control freak on crack" and that "her entire personality is trying to kill me". The banter between the two is rather sweet and funny and it is good to see Stefan having a new friend. How long this will last though considering the episode ending with Caroline waking up to Katherine in her room, the intentions of Katherine will be less than friendly.
It's also lucky that they have Bonnie around to conjure up a day walking ring, though her warning that she can retract the rings power at any time seems ominous and a distinct possibility, especially if she finds out what Caroline did to Matt. Caroline seems to prompt the break up with Matt to protect him from her, though she is clearly heartbroken by this. As a viewer though what they have done with Caroline this season is far more exciting than anything she got to last year and Candice Accola once again shows why they have given her a strong storyline. Hopefully the same will happen with Jenna who at least finally gets some love action from Alaric.
Stefan once again is the bearer of ill tidings, striking up the tune of 'it's not going to get any easier', in this situation he is talking about Caroline but he could be talking about events that are going to occur for everyone and with two immediate threats of Mason and Katherine this is an appropriate tune to be singing. The pace at which this show is going it is hard to believe that this is only episode three but keep it coming as this is one fantastic ride. A