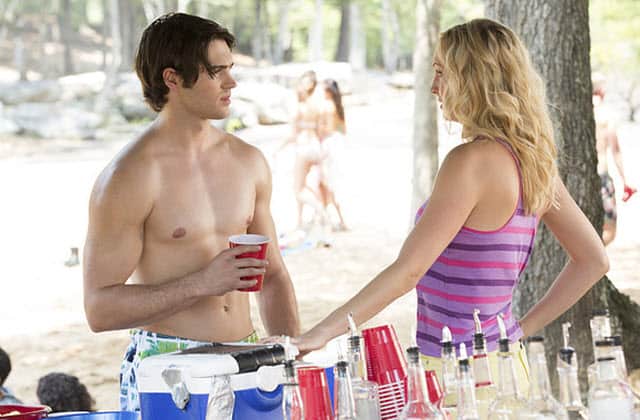 Hope appeared to be the running theme of The Vampire Diaries this week. Some people lose hope in their closest friends while others grasp at the last glimmer of it to save themselves.
There's no way around the truth: Stefan is acting like a jerk. He compelled his new boss for some time off on the pretense of getting his revenge on Enzo for snapping Ivy's neck. Without Damon around to pull him out of this spiral, Caroline is the closest Stefan's gonna get to someone who actually gives a damn about him and he can't even be honest with her. When Caroline pleaded with him to just stay now that he was back and he still walked away, I was pissed. But given some time to think about it, the writers have a method to this madness.
Yes, Steroline is slowly but surely happening. Elena, who used to be so wrapped up in her own drama to even notice Caroline's life, actually asked her if she has feelings for him. Caroline's answer is what broke my heart: "Yeah, I think maybe I did." Past tense, because how could anyone like this rude attitude Stefan's been sporting lately. He's got a lot of explaining to do before she looks at him the same way again. It's not a good sign when the biggest cheerleader in your life gives up on you.
At this point, Elena might be the only one who can knock some sense into Stefan and even that's questionable. She's living in la la land in her head after having rewritten her relationship with Damon out of her memory. Now she wants to pretend like all her friends aren't drifting apart. She can't even keep Matt, Tyler, and Caroline together at the party for more than a minute before they all go back to their more pressing matters. Luckily by the end of the episode Caroline is moving back into the dorm so neither of the girls will be completely alone.
Damon and Bonnie's Groundhog day finally got a whole lot more interesting. After four months of repeatedly shopping in the same supermarket, Bonnie noticed subtle changes around them. The pork rinds were out of stock for the first time and the kiddie carousel outside started playing on its own. Even crazier was when Damon's car was suddenly in the parking lot. He doesn't recall having been there in 1994 so their only guess is that someone else is wherever/whenever they are.
Kai, a fellow ghost trapped in alternate universe Mystic Falls, has been watching Damon and Bonnie for four months now. He's suffered through all their fights until he made his presence known. There's definitely a lot more to his story we've yet to learn, but so far he's semi-useful. His act of almost killing Damon with vervain caused Bonnie to suddenly will her magic back. That was his plan all along in poisoning the alcohol, or so he says. Either way, Bonnie's powers are their only hope of getting out of there.
Vampire hunters are back! Not of the same supernatural Hunter status that Jeremy once was (or still is?) so Tripp and his army aren't too impressive just yet. Poor Matt had to find out the hard way that his childhood buddy Jay, who has also been training under Tripp's guidance, was a hunter. I can't wait to see how Liz Forbes handles Matt's suspicions about Tripp's true intentions. By the way, how could Matt have really believed Tripp was cleaning out red mulch from the back of a passenger van? He's seen plenty of blood baths by now to recognize a mess of vampire proportions.
Last but not least, Jeremy deducted that compulsion wears off once you enter Mystic Falls. This means Sarah remembers Elena feeding off her, almost to the point of death. Following this revelation, Jeremy finds she had ransacked the Salvatore house but now she's nowhere to be found. Also still unknown is the identity of her father in Mystic Falls, so that's great.
I think Damon said it best when he demanded Kai tell him who he is, what he's doing there, and how it relates to him. Similarly, we're posed with those three questions for Sarah now too. Chances are good that at least Sarah and Tripp are working together for whatever reason. Kai is still quite the mystery since we were just introduced to him.
[Photo via The CW]