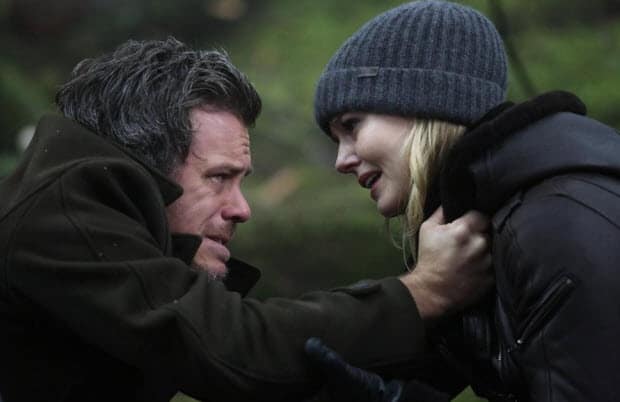 Belle has been one of those characters who gets her spotlight every once in a while on Once Upon a Time. This week it was time for her to get some focus again which we really appreciate because Emilie de Ravin is a great actress and there have been several times when her character has really been the strongest points of certain episodes.
We got Once's interpretation of Lumiere from the classic Beauty and the Beast animated movie and he got off to a great start until it was revealed that Zelena was involved. For the first time in a long time, the special effects were quite disappointing during Lumiere's trapping fire. It remains to be seen if we will get to see him again, should they choose to continue Belle's flashbacks in the Enchanted Forest.
I don't know if I have missed an interview or two where the show-runners had teased that a death was coming this season, but the death of Neal was a huge shock. Neal was one of the breakout characters from last season and one of our favorite characters because of Michael Raymond-James. We felt that it was too early to say goodbye to Neal, but since the cost of bringing back Rumple had to be paid, it wouldn't have made sense to drag out on that arc. However, we kind of wish now that the revelation that Rumple was still alive would have been saved for, let's say, episode 17or 18.
But what is done is done. Let's remember though that this is a show that has magic and we have seen several characters come back from the dead before. It's unlikely that they will bring Neal back because supposedly, they wanted this death to stick so that the audience and the characters could truly feel the effect of it. But should they decide to bring him back in some way, we won't complain and we will probably still see him in the flashbacks in these last couple of episodes. As a fan of Raymond-James, he along with Neal will be missed because we really didn't think he should have been killed off. We could see plenty of things that they could do with his character in terms of his relationship with Emma and Henry, but also as his own character.
The good thing to come out of this was Emma and the gang being able to find out that The Wicked Witch is none other than Snow's new friend Zelena. However, there was just one tiny detail that irritated me so much last night. Why didn't Emma get Rumple and Neal's dead body out of that forest? We understand that Rumple was grieving over his son's death, but did he really have to stay there? I thought that he would have realized at that point that Zelena was probably looking for him and that Emma would know better. Because of that tiny detail, Rumple ran into Zelena who still had the dagger and made him go back into his cage. It remains to be seen how long it will take for Emma and the gang to realize that Rumple is gone again.
Overall, "Quiet Minds" was a stronger episode from last week's episode, "The Tower". While we didn't see the death of Neal coming, his final scene made the whole episode one of the most emotional episodes of the season. We are getting closer to the end of the season and based on the promo that aired last night, looks like a wicked battle may be happening pretty soon.
Once Upon a Time airs on Sunday nights, 8/7c on ABC.
[Photo via Katie Yu/ABC]