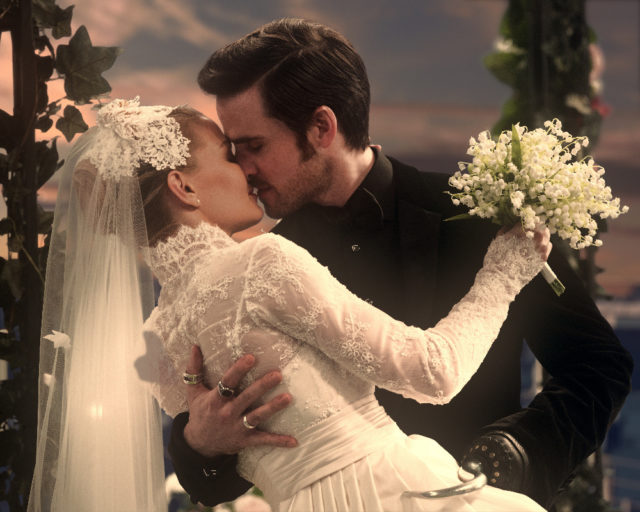 The time has come, and the Once Upon A Time musical episode has finally premiered. Long-time fans of the series have wanted this for some time, and a fantasy setting makes for a much more believable musical plot than most shows who do one. Not only that, but this particular musical venture tied into one of the more anticipated weddings of this television season: the union between Emma Swan and Captain Hook.
This week on Once Upon A Time: As Emma and Hook's wedding grows closer, The Black Fairy reveals that she is still in town and planning to duke it out with Emma. In the flashbacks, the Snow and Charming's wish leads to a spell causing everyone to break out in song. Even with her loved ones out of the equation, Emma finds a way to fight back against the Black Fairy by finding the song in her heart.
In terms of plot, this one was pretty straightforward, and that's what I liked about it. A lot of times, musical episodes are great and fun and loved by all, but they don't fit into the overall narrative very well. In Once's case, however, the musical story fits perfectly in line with the story of Emma's magic being powerful enough to defeat the Black Fairy, and even though she draws her strength from her loved ones, illustrating that she is never alone. Some of it felt a little contrived for the sake of having a musical, but overall, it really worked well, especially for such a memorable episode like the end.
I'd like to go through now and give a couple of superlatives for unique performances given in the episode. Maybe not unique so much as just my favorites.
Best Song: "A Happy Beginning". This song really describes marriage in a way that's positive and happy, while still fitting in with the narrative of the store. Additionally, it was one of those ending musical numbers that just worked. Jared Gilmore got his one little bit of singing into this number, and the large cast dance number just worked so well for everything that this episode was trying to accomplish. It was a clever twist on the ever-popular "happy ending".
Most Surprising Musical Performance: Everyone. Though it was surprising to get musical lines here and there from returning guest stars like Beverley Elliott and Giancarlo Esposito, what was really shocking to me is that every single member of the main cast was hiding some form of musical ability. One by one, I was wowed as Jennifer Morrison, Josh Dallas, Ginnifer Goodwin, Lana Parilla, Rebecca Mader and Colin O'Donoghue knocked every musical moment out of the park. In this respect, this may have been the most polished, original musical episode of TV that I've ever seen.
Overall, I was extremely impressed. Though you could certainly write some of the material off as contrived, this musical episode operated largely within the world that they've already created, and still fit the narrative as they head for the final battle. It was exciting, fun, and all of the musical performances were excellent. I love finding out that my favorite TV stars can sing when I didn't know that before. This was a treat for me, and I'm sure it was a treat for all Captain Swan fans out there too.
It was a great episode, and a great choice for a musical event. I know that long time Once Upon A Time fans will be satisfied.
What did you guys think? Did you enjoy the episode? Let us know!
Also, you can find the soundtrack to tonight's episode on iTunes, and also by clicking here.
Once Upon A Time airs Sundays at 8/7c on ABC