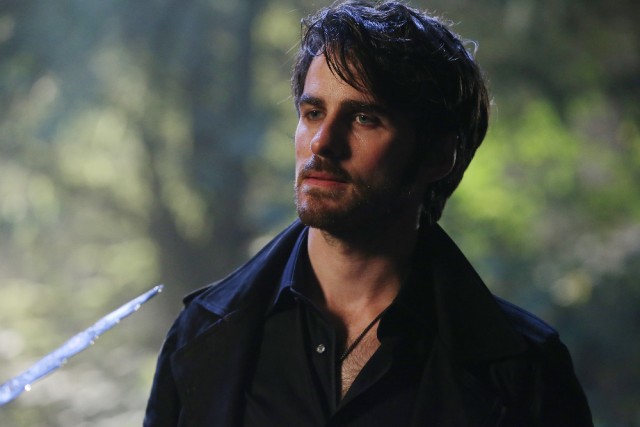 Wouldn't you think Once Upon A Time would have used this title before now? Regardless, "Swan Song" proved to be a fitting episode title, both in the mid-season finale sense, and the Emma Swan-centric sense. As Emma raced to save her family, things proved as trying and difficult as ever, but altogether it turned out to be an exciting hour of television.
This week, on the mid-season finale of Once Upon A Time: Hook's plan comes to fruition, as the former Dark Ones will plan to take the places of our heroes on earth, and send Robin, Regina, Henry, Charming, Snow, and Rumplestiltskin to the underworld in their places. Emma races to destroy the darkness completely before she loses them. In flashbacks, Regina and Hook recall their first meeting, in which the former queen charged him with confronting and killing his father.
Just as I hoped, "Swan Song" built to an exciting climax. Emma and Hook's conflict came to an exciting head, and lots of little things happened in-between. If I'm being honest, I thought last week's hour was stronger, but in the "mid-season finale" age, you have to have some sort of resolution before you go on a three month hiatus. Still, this was a strong, emotional hour that had a lot of really good moments in it.
I don't always care for the flashbacks, but Hook's confrontation with his father was a strong one. Even though it happened in the past, I found myself wondering the entire time whether or not he'd actually go through with killing his father. We've spent the last few seasons seeing what a good guy he is deep down, but when you think about what hid that away, the smart money is on "he does it." Luckily, I was right. I wasn't cheering for him to do it, but it made for a strong, complex character twist, which doesn't always translate well on this show. Everything with Hook's character, though, has been pretty well developed. I've mentioned this before, but when they took him off the leathery one-liner filled bench and used him, both Hook and Colin O'Donoghue have risen to the occasion. The use of flashbacks in "Swan Song" was the perfect way to illustrate the character's growth from the point we met him up until now.
There were lot of really strong, emotional moments in this episode. Every confrontation between Emma and Hook (particularly their "final" moment) packed an emotional wallop that Once hasn't felt for several seasons. I'm not too surprised, because (lately, anyway) O'Donoghue and Jennifer Morrison have been doing a lot of the heavy lifting. Since the season called for it, those two in particular have risen to the occasion and did some of their (and the show's) best work yet. All that to say, it's not surprising that their scenes got me emotional. Powerful stuff.
If I have a quibble, it's how they're handling Rumplestiltskin. They couldn't explore him as a hero for like, a day, before he turns back into a rat and goes crawling back to his dark magic? You shouldn't misunderstand me here, because evil Rumple is one of the more fascinating characters on the show. His sense of loyalty and desire is always shifting, which makes for good TV. But, I think fleshing out his hero arc would've been the way to go, here. He's been the Dark One, why can't he be a good guy for a bit? And poor Belle!
While it could've been better (especially in terms of plot choices), I was extremely impressed by "Swan Song." It solidified a creative rejuvenation of this show that I never thought possible. I have admitted several times before that I almost quit watching this show, but I am SO. GLAD. that I didn't. If you're among those who have given up, it might be time to go back.
What did you guys think? Are you satisfied? Did "Swan Song" leave you hoping for March to come next week? Let us know in the comments!
Once Upon A Time returns on Sunday, March 6 to ABC.
[Photo credit: Jack Rowand/ABC]