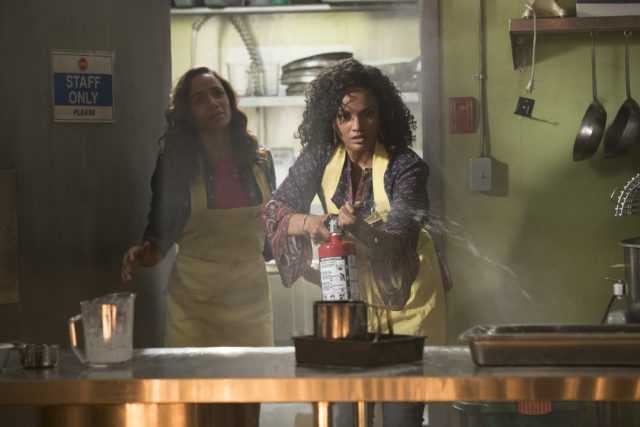 Obviously in the new, rebooted Once Upon A Time, there is a need to explore the backstories of the new characters who've been introduced. There's also a need to fill viewers in on the returning characters and how they got to Hyperion Heights from where they've been. So far, one of these has been really well executed, and the other one has been a mixed bag. "Greenbacks" explored the backstory of some our new characters, but I'm not sure that's a story that I wanted or needed to know.
Some of the new characters are less compelling than others, and "Greenbacks" felt like a major letdown after last week's triumph of an episode. I've had a difficult time connecting to several of the new characters, and Tiana is probably the least interesting of all of them. I think Mekia Cox has done a great job so far, but pulling characters from The Princess and the Frog doesn't inspire any confidence in me. It's important that Cinderella have a friend like Tiana, and their friendship presents a strong female friendship at the forefront of the show. All of those are positive things, but I ultimately did not care about Tiana's backstory at all. I'm more interested in how she met Cinderella, Henry, and the like. There are interesting seeds of a story here, but so far the execution has been inconsistent.
The other problem I had with the episode was the stakes seemed artificial at best. Rather than being terrified of the evil stepmother, I was just annoyed that she has to ruin everything. As we've seen with Alice, Rumplestiltskin, and now Drizella/Ivy, the curse isn't exactly keeping its hold on people very easily. So I find it hard to believe that Henry, Regina, Jacinda, and Hook will stay in the dark for an entire season. Of course, now Regina has a photo of herself with a young Henry to help speed that process along. I realize that her backstory hasn't been completely explored yet, but I fail to see that they're in imminent danger and it feels more like they're dealing with an obnoxious relative. There's been a lot of time spent on where these characters came from and what they've been up to, but not enough on the threat they're facing.
So far the most compelling new character has been Ivy/Drizella. She dropped the bomb on us that she knows her real name, and is the only character so far to have shown any depth or motivation. She's interested in Henry, she longs for her mother's approval, and shows potential to be both good and evil. Adelaide Kane was a masterful addition to the cast of Once Upon A Time, bringing with her all of the traits of a long-standing, interesting character. The only thing I don't fully understand is why Ivy had a picture of Regina and Henry in the first place. Was this a game to help them remember? Solving this mystery will be a huge clue to figuring out where her allegiances lie.
Here are a few other thoughts:
Jacinda and Tiana's little pop up store was eerily reminiscent of Two Broke Girls and I'm not sure how I feel about it.
I distinctly heard Victoria Belfrey say "Wreck it, Ralph". Was that a joke, or is Wreck It Ralph seriously a character on Once Upon A Time this season? Because if he is, that's either the worst or best idea I've ever heard. Can't decide which.
The main issue I have right now with Once Upon A Time is that exploring where Henry, Regina, Hook, and Rumplestiltskin have been and how they got here is FAR more interesting than any of the new characters they've introduced. Ivy gives me some hope that they will rectify this, but for now, I live for episodes like last week's "Beauty", or next week's exploration into Regina's story. There is obviously still potential for strong storytelling here, they just need to tap into it more frequently.
What did you guys think? Did you enjoy the episode? Let us know in the comments!
Once Upon A Time airs Fridays at 8/7c on ABC
Once Upon A Time Season 7 Episode 5 Review: "Greenbacks"
Summary
Jacinda and Tiana venture out into the business world while Tiana's backstory is explored on this week's middling episode of Once Upon A Time