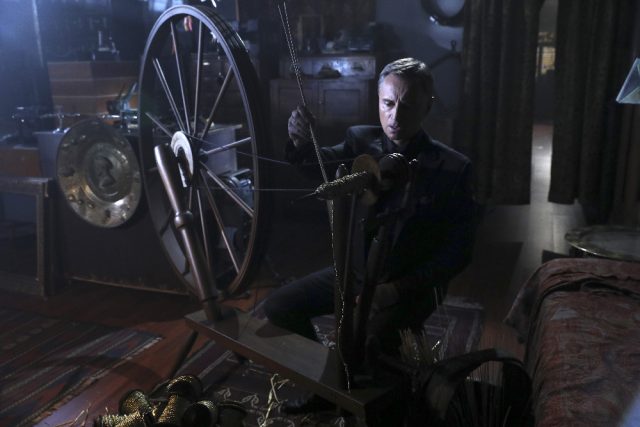 Sometimes, Once Upon A Time tells stories and I immediately see the point. Other times, it can take me a bit of stewing and thinking about things before I really figure it out. This week's episode was kind of a mix. There was one, clear, solid point to one of the stories, and the others seem to be trudging along, but getting nowhere quickly.
This week on Once Upon A Time: Emma and Regina work on a way to trap the Evil Queen, but end up getting trapped themselves. Henry prepares for a date with Violet. Charming and Snow work hard at circumventing the curse that's been placed upon them. Belle enlists Aladdin to help her steal something from Rumplestiltskin.
Okay, so the first bit of this is pretty clear. Emma and Regina's temporary trap in the mirror world turned out to be a test of character for Henry. This wasn't totally clear until Emma and Regina's conversation about Henry, who is "going to be fine". Emma, of course, is referring to the visions in which she dies. But, it could be either one or both of them that die. I don't think that Once could survive without Emma AND Regina, but the point of this story was establishing the reigning hold that those two hold on Henry's life. He'd be a chief concern if one of them were to sacrifice their life. I expected Henry to crush the dragon's heart, actually, so I was pretty impressed with how the whole thing turned out.
The rest of the episode, though, I'm not sure I understand. Rumple and Belle are obviously pretty deep into this fight, but it just feels like a glorified custody battle. I realize that their son visited Belle in her slumber, but the rest of it feels shaky. It's time for Rumple to pick a side, too. That dude has been a wildcard for long enough.
Until the VERY end of the episode, it felt like they were struggling to involve Zelena. Next week it will be better, now that Rumple has asked the Evil Queen (I'm going to start using "EQ") to kill her for her meddling. When I spoke with Rebecca Mader and Emilie De Ravin at San Diego Comic-Con, they did express a desire to work together more, which is an opportunity they've since been afforded. While the two actresses have great on and off screen chemistry, involving Zelena in this story just didn't make a lot of sense.
Here are a few extraneous thoughts:
I thought the mirror world was interesting, but I'd really like to see Giancarlo Esposito return as Sidney again this season.
It was good to see the Dragon again, though.
Okay, most intriguing bit of the episode had to be when Aladdin pulled out the lamp that their old friend "Genie" had been in. Which of course, gave me all the Robin Williams feels.
Also, bets on who's in the lamp now? Jafar?
I enjoyed this episode, just not as much a I could have.But, I'm looking forward to several of the payoffs it set up.
What did you guys think? Did you enjoy the episode? Let us know in the comments!
Tell us what's wrong with this post? How could we improve it? :)
Let us improve this post!