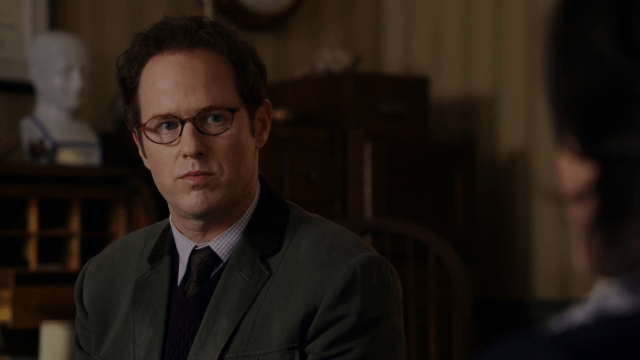 A familiar face will once again be back in Storybrooke in the Once Upon a Time Season 6 premiere. Raphael Sbarge, who plays both Jiminy Cricket and the human, Storybrooke version of the character, Dr. Archie Hopper, is returning for Once's first episode of Season 6.
According to TVLine, which first reported the news, Archie will be back in the Once Upon a Time Season 6 premiere to deal with "a new patient." However, the site could not confirm who that new patient is. Could it be Regina as she struggles to deal with Robin Hood's death? Is it Hyde, who might be using Archie as a way to get information on the people of Storybrooke? Those are my two guesses, but really, any of Once's characters are an option here.
For fans that don't remember, we last saw Sbarge's Archie in Episode 3 of Season 4, just as Once Upon a Time's Frozen arc was beginning to kick into high gear. Since that time, Archie's been absent from the show, but hopefully with the reveal of his "new patient," his return will have a major impact.
Although he was a series regular on Once Upon a Time during its first season, Sbarge has been a recurring player throughout the show's following four seasons. During that time, he's landed a series-regular role on TNT's Murder in the First and guest starred on several other shows, such as Better Call Saul, iZombie, and Hawaii Five-0.
Once Upon a Time Season 6 premieres on Sunday, Sept. 25, at 8 p.m. on ABC.
[Photo via ABC]