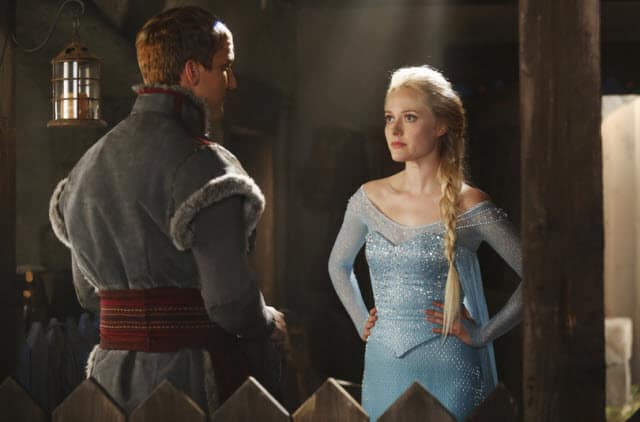 Season 4 of ABC's magical series Once Upon a Time finally kicked off last night as it brought in the characters of Disney's Frozen and it started out in a fantastic bang.
Let's focus on those two lovely sisters to begin with: Once have done a lot of great casting throughout the years, but the casting of Georgina Haig (Elsa) and Elizabeth Lail (Anna) ranks at the top 10 in the show's history.
I didn't even know until a few days ago that this is Lail's first big acting job and seeing her be able to capture so much what Kristen Bell did in the animated version, was mind-blowing. This is a great adaptation of Anna because she was just like the version in the movie where she was witty, slightly clumsy, but more importantly, a very loveable character.
Haig as Elsa was outstanding because just like in Frozen, you felt for her in every single second as you felt her pain and who she was. Both these characters couldn't have been easy to cast for so I can't imagine how many actresses they had auditioning for these roles. The key is obviously the chemistry between them and in the flashbacks that we saw of them in Arendelle, it was very moving. I like the timeframe that they are set in because this seems to be just a few months or years after the events of Frozen and we even get references to the past.
It doesn't seem that they will change much in the mythology which is appreciated. Elsa's role in the whole episode was very intriguing to follow throughout the season premiere, especially when she created that snow monster to go after Emma and the gang. Speaking of that, it looks like Once has gotten a little bump in the special effects budget. The creature looked really cool and not CGI-y and Elsa's ice powers felt like movie effects so bless ABC for that. We also got to meet Grand Pabbie and just like the snow monster, the CGI was fantastic and it makes me hope that the rest of the season is going to have that quality in terms of visuals.
Regina can't get a break, can she? The episode picked up right where we left Regina off where she found out that Marian was back. Even though I understand why Marian was freaking out that Regina was there, it also came off as very annoying. I had a problem with Marian being back in the finale because I really don't want to see Regina turn evil again just because she can't get the man she wanted. It's just like Henry said, she has come so far and I really don't want Robin Hood (as great as he is) to be the reason why she turns evil again.
We learn that by the end of the episode that she is going to seek down the writer who wrote the fairytale book and the fact that it's the show's 4th year, this seems like the right time to find out who it is. I love that she is going to be working with Sidney/Magic Mirror because it's just great to see Giancarlo Esposito on the show again.
Even though the rest of the Once fandom loves Hook and Emma together, a part of me feels uncomfortable with that relationship. So it shouldn't surprise any reader of this review that I was pretty happy when Emma tried to avoid Hook due to the recent events. It's not that the actors' doesn't have great chemistry because they do, but I prefer to see the characters as partners rather than as a couple. It will be interesting to see how it all plays out, but to me, that relationship is not the reason why I'm watching this show.
I can't really say anything about the Belle and Rumple relationship until later in the season because everything we got in the premiere was simple, but not that affective. Rumple secretly gave her the real dagger which I appreciated. But they weren't really a big part of the story this week, but there is however a big mystery and that is the house that they decided to stay in. Rumple discovers a weird locket and uses his dagger to open it and inside of it is a sorcerer's hat. Did anyone else also think about Mickey Mouse's hat from Fantasia? That's what first crossed my mind, but I'm intrigued to who it actually might belong to.
Overall, "A Tale of Two Sisters" was one of the best premieres of Once Upon a Time ever as it did a great introduction of the Frozen characters and it has me hooked more than ever. I really want to know what happens to Anna in the Enchanted Forest, how Elsa will find her in Storybrooke and how the other characters will react once they actually get to meet Elsa.
Once Upon a Time airs on Sunday nights, 8/7c on ABC.
[Photo via ABC]