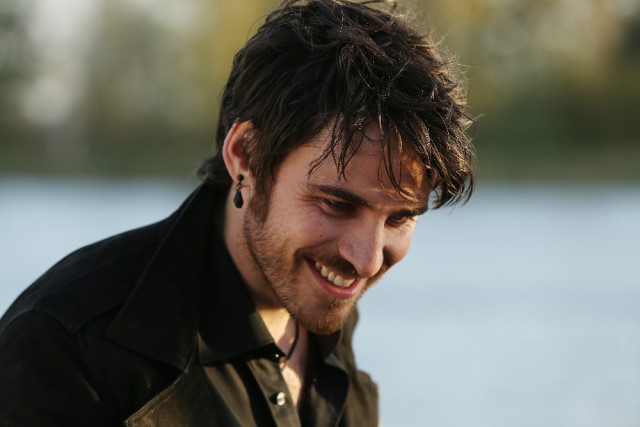 I have to admit that there are times when I've planned on giving up Once Upon A Time. I have genuinely loved the show for a long time, but sometimes it feels like there is too much good TV on. Today, however, was not one of those days. Season 5 has injected new creative juices into the show, and it has become so much more compelling to watch than the few previous seasons. After a long weekend filled with turkey and travelling, the last thing I wanted to do was sit down with this episode, but "Broken Heart" proved absolutely worth my while, and was probably the best episode of the season.
This week on Once Upon A Time: Hook, now with his memories in tact, traps Emma and frees Zelena. Then, he sets out to get his revenge on Emma, Rumplestiltskin, and everyone in Storybrooke. The flashbacks provide further information on Hook's dark adventures in Camelot, and reveal why Emma stole everyone's memories. Robin and Regina try to fight Zelena with good instead of evil. Rumple and Hook battle.
Honestly, this episode had me enthralled. As I've talked about in my previous reviews, I really appreciated the new direction that Emma has gone this season. That being said, doing the same thing with Hook was even better. As much as I appreciate the leather-clad smoldering and quick, witty comments that Hook usually provides to Once, "Broken Heart" returned him to his villainous ways. Motivated by a 'broken heart', revenge, and everything in between, Colin O'Donoghue has turned Hook into the show's most compelling character overnight.
I also appreciated that Emma was motivated by her love for those involved over everything. Even though we got to see the cool, dark side to Emma this season, she's a hero at her core and she needed to stay that way. Jennifer Morrison has been ridiculously fun to watch over these past 10, but it's about time she returns to heroism to try and pull Hook back from the brink.
"Broken Hearts" had perhaps the best use of flashbacks that Once has done in recent memory. They're really successful when they take things we already know, like Hook becoming a "Dark One," and still using it to twist and turn the plot. Like (SPOILERS) Hook killing Merlin? Brutal, but an excellent, compelling twist.
More than anything, I appreciate that Season 5B (or so it would seem) will be directly tied to 5A in some way. Given what has already been revealed about a journey to the underworld, Season 5A and 5B appear to be directly related. Not to dog the way the last few seasons have played out, but Once is at its absolute best when all 22 (ish) episodes tell a pretty closely related story. With next week as the fall finale, they could not possibly resolve every extraneous plot thread by next week, and I'm so excited to see where that goes.
Okay. I'm revoking one star for the RumBelle "twist." Not necessary. They've been through enough.
Any good theories on how next week sends characters to the underworld? I'm assuming that they will attempt to rescue a character from the dead, whether it be Hook, Emma, or someone already dead like Merlin. Of course I'm just spitballing based on what I already know. Would love to hear your theories!
I still think "Broken Heart" was the best episode of the season so far. I'm hoping the fall finale will top it.
What did you guys think? Did you enjoy this episode? Let us know in the comments!
Once Upon A Time's fall finale airs Sunday at 8/7c on ABC.
[Photo credit: Jack Rowand/ABC]