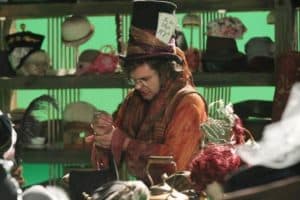 Once Upon a Time took a trip to Wonderland this week in an episode that focused more on the mythology of the show then might have appeared at first glance.
Let's begin with the fairytale world in this week's Once Upon a Time. We meet Jefferson (guest star Sebastian Stan) in the woods with his young daughter, Grace. As they arrive home, he notices the queen's wagon. Denying that he knows her, he sends his daughter into the woods while he goes inside. The Evil Queen (whose real name is Regina), is shocked to see him living in such a humble abode. Despite the fact that Jefferson has magical powers, the death of his wife from a spell gone wrong has gotten him out of that life.
Regina offers him one last job to set himself and his daughter up for life: she needs him to travel to another land to retrieve something that's been stolen. He refuses, but after a trip to the market with his daughter where he realizes the depths of his poverty, he decides to take the Queen up on her offer in order to properly provide for Grace. So he heads to her castle, where he spins a magical hat which opens up a door to…Wonderland. The two of them travel through the looking glass (see what they did there?), which means that only two people can return.
Wonderland is even more fantastical than the fairytale world we've seen on Once Upon a Time. It's essentially like the movie incarnations, with giant mushrooms and endless mazes. The pair travels to the Queen of Heart's maze and Regina uses her powers to create a path. When they arrive in the center of the maze, Regina enters the Queen's storage facility, I guess you would call it. It's a wall of small box vaults, just like where Regina stores hearts. She retrieves one box and they turn to leave, but the Queen's guards are immediately on them. Fortunately, they manage to escape.
Back at the looking glass, Regina breaks off a piece of the mushroom and feeds it to the person inside the box. It turns out that her father had been captured by the Queen of Hearts in order to gain some leverage over Regina. Now his regular size, he and Regina were prepared to travel back to the fairytale world. Jefferson was understandably devastated at being left behind, since he had promised his daughter he would return.
Unfortunately, that's not going to happen. Regina and her father head back to the fairytale world, and Jefferson is captured by the Knave of Hearts. He's taken before the Queen, who knows why he returned to Wonderland, but doesn't know how. He tells her it was because of his magical hat, and that he just wants to return home to Grace. She's all "off with his head!", which results in a decapitation (on 8:00 p.m. TV!). But in Wonderland, you're apparently still alive, even if your head is detached, so she agrees to return his body if he'll build another magical hat.
Except it seems like that is an impossible task, because when we next see Jefferson he's gone…well, mad. Surrounded by miles of fabric and non-magical hats, he's continues to labor to build the one hat that will bring him home.
In Storybrooke, Emma and Mr. Gold arrive at the station to learn that Mary Margaret had disappeared. Desperate to find her so that she didn't become a fugitive, Emma set off. Unfortunately, she nearly hit a man in her car. Apologetic, she offers to drive him home. While pulling up to his man, he introduced himself as Jefferson and invited her in for some tea. While she lies about wanting to find her lost dog, Jefferson drugs her. When she comes to, she managed to escape to another room in the house only to find Mary Margaret, who had been captured by Jefferson while trying to escape through the woods.
He confronts the women as they tried to escape and convinces Emma to re-tie Mary Margaret. Then he brings her into another room and demands that she help him. With what? To build a hat, of course. Unlikely nearly all of the other Storybrooke characters on Once Upon a Time, Jefferson knows the truth about the curse and his own identity. Convinced that Emma possessed magic, since her arrival in the town had re-started the clock, he wants her to help him built a hat that would take him home.
Emma thinks he's crazy, but he insists that she was the one who didn't believe. He explains that there are all sorts of lands in the world, pressing up against each other, and that Storybrooke was but one. How curious that the Queen's curse didn't only affect the fairytale world that we know, but also characters stuck in Wonderland. Unless Jefferson made his way back into the fairytale world before the curse took effect. But the point is that he told Emma the real reason he needed to get back home: to be reunited with Grace. Here, in Storybrooke, she was living with a new family and Jefferson, who used telescopes to spy on people in the town, was heartbroken not being able to live with his daughter.
We also got confirmation that time clearly didn't move in Storybrooke before Emma got there (which we knew from interviews with the producers), because Jefferson talked about living in that house for 28 years. It's interesting how little the Storybrooke citizens seem to notice about their surroundings. Even more curious is how Jefferson seems to only be the third person in town who knows the truth about the curse (with Regina and Mr. Gold being the others). What makes Jefferson so special? Why does he know the truth? This is not, unfortunately, a question that was answered in this episode, so I have hopes we might see Jefferson again.
Emma was unable to help and eventually had to trick Jefferson. Pretending to believe his story about another land, she momentarily knocks him out with his telescope. Running back to Mary Margaret's room, she manages to get her loose before Jefferson attacks. He gets the upper hand, but Mary Margaret strikes him with a croquet mallet (Alice in Wonderland easter egg again!) and kicks him out of the window.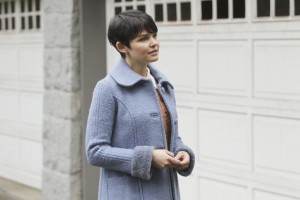 But Jefferson seems to have mysteriously disappeared (and Mary Margaret seems to have gotten a little bit of Snow's spunk and fighting prowess for a moment). Back on the driveway, Emma offers Mary Margaret a choice: she could run, or she could return to the police station and trust Emma to get her out of this mess. Emma may not believe in magic, but she knows what it's like to be on the run on your own, and that's not something she wants for Mary Margaret.
Mary Margaret decides to put her faith in Emma and when Regina pulls into the police station, she's shocked to find Mary Margaret back in her cell. Particularity, as we learn moments later, since she had Mr. Gold plant the key for Mary Margaret to escape. Why? The reasons for their deal in this case isn't clear, but it's very obvious the two of them are up to something.
Later, Emma visits Henry at school and looks shocked when Jefferson's daughter walks by. That's when Emma asks to see Henry's storybook, which just so happens to contain photos of Jefferson and Grace. For a moment, it looks like Emma might have believed some of Jefferson's story.
This was quite a good episode of Once Upon a Time. I don't want to say that it wasn't as good as last week's episode, because it was definitely a different type of episode. I really enjoyed Sebastian Stan as a guest star. He was very good at veering between the earnest and crazy parts of Jefferson's personality.
The real question, though, is why Jefferson knows the truth and how many people in Storybrooke might also know about the curse. Finally, how much coincidence is it going to take Emma to realize that there might be some truth to Henry's stories? If nothing else, Emma's stubbornness is the primary challenge that needs to be overcome in Storybrooke, so that we can get to some curse-breaking.
We'll be learning more about the Queen's (a.k.a. Regina's) past in the upcoming April 1 Once Upon a Time, so that's an episode you definitely won't want to miss. Watch a preview for the episode.