This week's Once Upon a Time served as the first episode in a two-part finale. Bae traveled to Neverland, Tamara and Greg's plan was exposed and something terrible happened to Neal in Storybrooke.
Destroying Magic. Regina spent most of this episode as a hostage of Tamara and Greg, who had hooked her up to an electrical machine in the bowels of a ship. They had also taken the black diamond she retrieved in last week's Once Upon a Time, as well as some of the magic beans. Tamara hinted that they would send these objects – and the data they've collected – to the "Home Office". What's that? We don't yet know, but Greg decided to shock Regina to get information about his father and, throughout her shock treatments, both Tamara and Greg explained their ultimate plan: to rid the word of magic. "Magic does not belong in this world. It's unholy. We're here to cleanse this land of it," Tamara explained. Greg said that after he left Storybrooke as a boy, he was spreading the news about what had happened there. Some people who knew that magic was real had found him and recruited him. When Regina told him he couldn't do it, Greg explained that they've done this before…and they've succeeded. "Do you think that Storybrooke is the first time that magic has crossed over? People like us, we're here to stop it". Can they succeed? And if they have before, what magic have destroyed?
Saving Regina, Losing Neal. The Charming family teamed up to storm Regina's office and realized that she had disappeared. Emma suspected Tamara and sent her parents to see if Mr. Gold could help find the missing mayor while she joined up with Neal to find Tamara. Neal, of course, was still adamant that his girlfriend wasn't involved and it seemed like she wasn't when they found her jogging along the beach. But the spell that Gold gave to Mary Margaret provided a valuable clue in finding Regina and Emma and her parents reunited down at the docks. In the bowels of the ship Greg was preparing to kill Regina for telling him that she had killed his father just as David and Mary Margaret arrived. Greg escaped while the Charming couple remained behind to help Regina. Elsewhere, Tamara exposed her true nature and shot Neal in the stomach. She and Emma fought (awesomely!), but Tamara escaped by throwing one of the magic beans and creating a portal under Emma. She managed not to fall in with Neal's help, but the portal widened and Neal nearly fell into it. He demanded that Emma let him go so that Henry didn't lose them both. But she tearfully declared that she loved him and couldn't do it, so he made the decision for her and let go of her hand and dropped into the portal.
The Dark One. Neal began the episode with a disgusted look at his father's new attitude now that he's embraced his dark side and hooked up with Lacey. Later, when Mr. Gold agreed to help David and Mary Margaret try to find Regina, that had the unexpected side effect of exposing his magic to Lacey. Rather than being disgusted she was delighted at what he could do with his magic and how powerful it made him. In fact, she asked for a favor: to be made immortal. But he clarified an important aspect, that immortality makes one live forever but it doesn't leave them invulnerable to getting killed. He mentioned that there was someone out there that could be the end of him, but Lacey encouraged him to simply remove this obstacle. Will Mr. Gold try to kill his own grandson?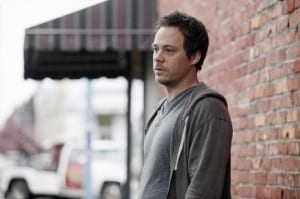 It's Beyond the Second Star to the Right. Six months after Baelfire jumped through the portal, he was starving on the streets of London, England. Breaking into a house for some bread, he happened upon a young girl named Wendy Darling. Wendy hid him in her home until her parents found out and invited him to stay. But Bae soon realized something strange was happening in the Darling home. Wendy explained that a mysterious shadow came to the window to tell them about a place called Neverland. Bae warned Wendy and her brothers that magic was bad and explained that he lost his own family to it. Wendy promised they wouldn't go with the shadow, but when flew off to Neverland with it the next time it came. She returned the next morning to tell Bae that he was right and that the shadow had showed her the wonders of Neverland…but the night revealed that the children cried for their missing parents. The shadow, however, let her go because it wanted a boy and would return for one of her brothers. When it did, Bae bravely stepped in and offered himself instead. But he forced the shadow to drop in the waters off the coast of Neverland and was rescued from the sea by Captain Hook.
The Trigger. Back at the Charming house, Regina was healed by Mother Superior as Emma returned home, devastated by the loss of Neal. Her father tried to confront her, but things took a tense turn when Regina awoke and discovered that Tamara and Greg had escaped…with the black diamond. In the woods, Tamara reunited with Greg (who found his father's buried body) and told him that the Home Office knew what the diamond did, while Regina explained to the Charmings that it contained a trigger to wipe out Storybrooke. In the woods, Tamara told Greg "they want us to move to the next phase" and they're going to blow up Storybrooke to do it.
The season finale of Once Upon a Time airs next week. While the Storybrooke residents prepare to be wiped off the map, Captain Hook recruits a young Bae as a pirate in Neverland. Watch a preview here.
Visit our Once Upon a Time page for spoilers, photos, sneak peeks and more.