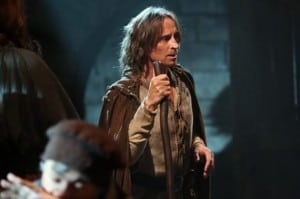 Rumplestiltskin might very well be the most sympathetic of villains on Once Upon a Time. It's a testament to Robert Carlyle's acting ability that he can go from a pathetic coward to a grinning fiend to a sad and lonely man within the space of one hour and still garner our pity. This week's episode saw him act as all three incarnations of his character, giving us another look into his history as well as introducing a powerful and intriguing new foe in Captain Hook.
Dreaming of Adventure
In the fairytale land that was, we traveled back further into Rumple's history to a time when his wife, Milah, was still with the family. But, as it turns out, she was rather unreliable. One night, Rumple returned home to find young Bae alone and discovered that his wife was drinking with some pirates at the local tavern. He begged her to return home, but she only spat harsh words about him being a coward to his face. It was only the appearance of Bae that finally got her to leave, but later she lamented to Rumple about how much she hated her life as the wife of the village coward. In his quiet, "trying to look on the bright side" manner he begged her to try and settle into their life for the sake of their son.
She reluctantly agreed, but soon after Rumple was told that the pirates had taken Milah. He headed to Killian Jones' (a.k.a. Captain Hook) ship to retrieve her. Jones offered to give him back his wife if he fought her, but Rumple couldn't summon the courage to do so. This is when he's at his most sympathetic, even if he's at his most pathetic. Rumple before magic was a tragic man who really tried to do the best he could, even when he failed.
Fast forward to years later, when Rumple had become The Dark One and Bae had already disappeared. One night, Rumple was approached by William Smee in a tavern and offered a magic bean that could transport him between worlds. At the time, Rumple clearly hoped that this bean could help him find his son. Unfortunately, Jones got his hands on Smee and the bean, so Rumple confronted the captain, delighted to finally get a shot at revenge. This was another instance of Rumplestiltskin becoming another character on Once Upon a Time. Just as he filled the role of the Beast for Belle, he became Hook's crocodile (which was what Jones called him before recognizing him).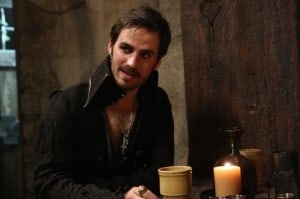 The two men met and Rumple proposed they duel after Jones said that Milah had died years ago. Swords clashed and Rumple got the upper hand, preparing to kill Jones by ripping out his heart. And that's when Milah – now a female pirate – appeared. As it turns out, she hadn't died. She had, in fact, fallen in love with Jones and had lived with him on his ship all these years. In exchange for letting the two of them live, she promised Rumple the magic bean. Later on Jones' ship, he asked her how she could leave their son behind and she tried to explain how she hated their life and yearned for one of adventure, but the truth is that she simply hated Rumple too much to stay. So Rumple ripped out her heart, making an enemy out of Jones, but not before he took his hand, believing that the bean was in his fist.
Thus Hook was born. Rumple was distraught to discover that Hook had tricked him and still had possession of the bean, denying him the ability to find Bae once again. Back on his ship, Hook offered Smee a place in his crew before throwing the bean into the ocean, vowing to avenge Milah's death and setting off through a portal to Neverland.
Hook is a wonderful addition to Once Upon a Time and I'm delighted the creators were able to secure the rights to use the character. Just like adding in Jefferson and the Alice in Wonderland story helped broaden the horizons for the show, the introduction of Hook and Neverland (which, hopefully we'll be able to see one day) gives us a world beyond traditional fairytales to enjoy.
The Search for Belle
Back in Storybrooke, Belle was finding it increasingly difficult to live with Mr. Gold. After finding him mixing potions in his basement, she confronted him, asking him to tell her the truth. When he refused, she left. So Gold approached David and asked for his help in finding Belle. A visit to her father, Moe, turned up no leads, and the townspeople weren't eager to help Mr. Gold with his search.
Belle, it turns out, had been hiding out at Granny's and conversing with Ruby, who suggested she find herself a job as the local librarian. On the way to visit the building, however, Belle was kidnapped by Smee. But not because Hook was in town…because her father had hired Smee to find her. When he discovered that she chose to be with Mr. Gold, he tasked Smee with taking her down into the mines and bringing her across the town's borders so that she would forget all about Mr. Gold. With some help from Ruby's wolf nose, David, Ruby and Mr. Gold were able to track down Moe and discovered his plan, giving them an opportunity to save Belle. But since she was angry at both her father and Mr. Gold, she told them both that she never wanted to see them again.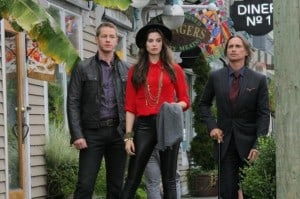 Later, she headed to the library to start her new career, only to see that Gold clearly wasn't going to respect her wishes. However, he had come to apologize…and to explain. He explained the cowardice he had had his entire life and how, afterwards, he gained power as a means to find his son and overcome his mousiness. He also came clean about why he had been doing magic in the basement. As it turns out, he had concocted Regina's curse in order to come to this land (ie. Storybrooke) to find Bae. He bid his time until the curse wore off and then believed he could leave the town to find his son. Unfortunately, he didn't anticipate what would happen after bringing magic back to the town and how it would affect the townspeople if they crossed the border. Now he's searching for a way to break that curse as well.
In the end, it seemed like Mr. Gold and Belle came to an understanding that they might embark on a renewed relationship. Unfortunately, he's already keeping secrets from her again. Tied up in his basement is Mr. Smee. Why? Well, Mr. Gold wants something from him: the location of Captain Hook. Smee, however, had to admit that he's never seen Hook in Storybrooke.
An Unholy Alliance
Where, then, could the pirate be? As it turns out, he's still in the fairytale land and he's allied himself with none other than Cora. At the end of the episode, she came to him to show him the ashes from the recently burned wardrobe that can transport them between worlds. She promised him that they would soon set sail for Storybrooke so that she could see her daughter and he could slay himself a "crocodile".
As I previously said, Hook is a welcome addition to Once Upon a Time and since he's been made a series regular already, we'll see him again soon enough. His alliance with Cora was a pleasant and unexpected surprise, but is one that could result in great fun for the viewers. Imagine seeing the two in Storybrooke, fighting against Regina and the other townspeople. Imagine the epic confrontation between mother and daughter when they're finally reunited.
A new episode of Once Upon a Time will air on October 28. Check out our Once Upon a Time page for more spoilers, photos, sneak peeks and recaps for the show.