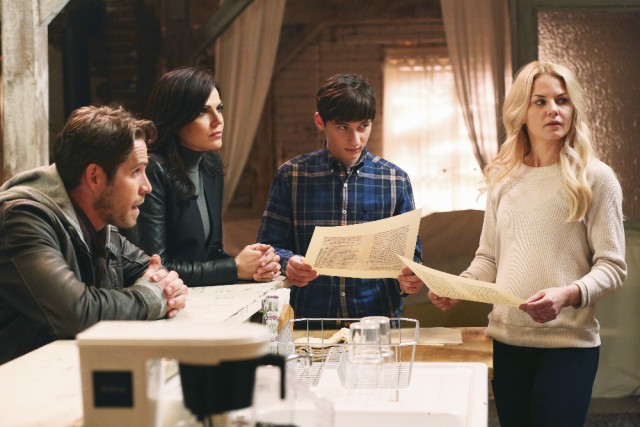 ABC has set season finale dates for all of its biggest series, including Once Upon a Time and Agents of SHIELD, which will both have two-hour sendoffs. The schedule also features finale dates for Castle, Grey's Anatomy, Scandal, and Quantico.
ABC's season finales will begin on Thursday, May 12, with Scandal's Season 5 finale, allowing for The Catch to air a two-hour Season 1 finale the next Thursday, May 19. ABC series will continue ending their seasons for the following two weeks, with the final finale date being Nashville's. The country music drama will conclude its fourth season on Wednesday, May 25.
Check out the full list of ABC's season finale dates below:
THURSDAY, MAY 12
9 p.m. Scandal
SUNDAY, MAY 15
7 p.m. Once Upon a Time (two-hour finale)
9 p.m. The Family
10 p.m. Quantico
MONDAY, MAY 16
10 p.m. Castle
TUESDAY, MAY 17
9 p.m. Agents of SHIELD (two-hour finale)
WEDNESDAY, MAY 18
8 p.m. The Middle
8:30 p.m. The Goldbergs
9 p.m. Modern Family
9:30 p.m. black-ish
THURSDAY, MAY 19
8 p.m. Grey's Anatomy
9 p.m. The Catch (two-hour finale)
FRIDAY, MAY 20
9 p.m. Shark Tank
SUNDAY, MAY 22
7 p.m. America's Funniest Home Videos
TUESDAY, MAY 24
8 p.m. Fresh Off the Boat
8:30 p.m. The Real O'Neals
9 p.m. Dancing With the Stars (two-hour)
WEDNESDAY, MAY 25
10 p.m. Nashville
Which season finale are you looking forward to most? Once Upon a Time? Castle? Agents of SHIELD? Grey's Anatomy? Comment below and let us know.
[Photo via ABC]
Tell us what's wrong with this post? How could we improve it? :)
Let us improve this post!