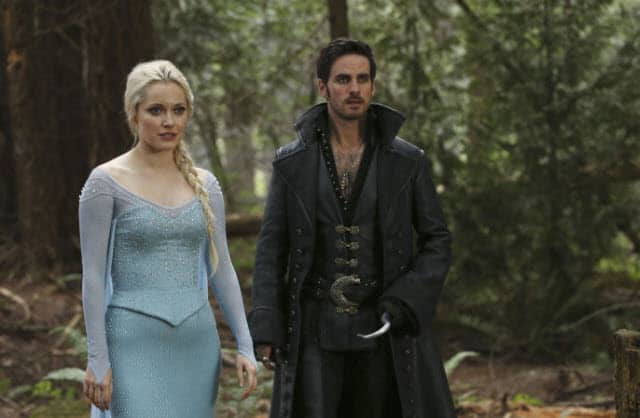 The fourth season of ABC's Once Upon a Time is continuing to hit all the right notes as this week, the people of Storybrooke discovers their new villain, The Snow Queen.
The episode starts out with Robin Hood and his family paying a visit to "Any Given Sundae" for some ice cream and there they meet The Snow Queen (although they have no idea that this nice lady is in fact an icy villain) who curses Marian's ice cone. Later in the episode, during a meeting with the citizens of Storybrooke, Marian starts to turn into ice and passes out. It just seemed to me very random why the Snow Queen would specifically curse Marian, but I'll go along with it.
Everyone of course thinks it's Elsa who is off with Hook and Emma trying to find Anna by visiting Rumple's shop where he assures them that he have no idea who she is and where she could possibly be at. Even before we saw Belle use the fake dagger on him to tell the truth, I knew that something was up because he has just gotten more mysterious as the season has progressed.
The flashbacks for this week continues with Elsa and Kristoff trying to find where Anna went and we also get to meet the villainous Hans who I promise is just as awful as he was in Frozen. I was surprised that they didn't add another layer to him to make him more than just a mustache twirling villain, but that was not the case. When it comes to Kristoff though, I love Scott Michael Foster in the role as he, just like Georgina Haig for Elsa and Elizabeth Lail for Anna, captures everything that we saw of him in the movie.
As Hans tries to capture Elsa with an urn when he opens it, it shocks him when he sees a person come out of it and it's none other than The Snow Queen who freezes him while his brothers storms out of the cave. Even though we know the queen is evil, it was in a way sweet to finally see Elsa have someone she could relate to. The one complaint that I have about Elizabeth Mitchell's character right now that she is very weak liar.
Usually the great villains on the show are able to at least fool me most of the time, but with her it's as if she isn't even trying to trick me as a viewer. I just don't buy that she is their aunt or that she was completely innocent when she was locked away, I think she has caused some serious problems in the past and that's why they sealed her away. But I will give Mitchell credits for making me wanting to see and learn more about her character. As Emma encounters her in the present in the woods, it's revealed that she knows Emma from before, while Emma has no idea who that woman is. It will be cool to see what connection they actually share, later in the season.
We also get to meet one of the best characters of Once's spin-off show (that got cancelled last season) Wonderland's Will Scarlet (played by the magnificent Michael Socha) who has now joined the mother show as a regular. He was such a great character on the spin-off and it excites me on so many levels what he is doing in Storybrooke and what happened to him after the events of the series finale of Wonderland. I'm still holding out hope that we will get to see Sophie Lowe's Alice at some point in the season.
One of my favorite parts of the episode was seeing Regina confess to Henry what she was up to as she is trying to find the writer who wrote the story book. It makes me enjoy her plot a lot more because now, her intentions of wanting to find out who the author is, doesn't feel as evil as it did before. Did anyone else chuckle a bit when Regina gave Henry a bunch of Marvel comics? It made me happy to see her read an S.H.I.E.L.D. comic for a brief second, but maybe that was just me. In addition, it was good to see her actually wanting to save Marian by storing her heart in a box so that the ice wouldn't stop her heart and kill her completely. Maybe Regina isn't heading towards a villainous path again.
I wasn't really shocked to learn that Rumple is working together with The Snow Queen and I'm guessing at this point that we will get to see how they came to be such good friends in upcoming flashbacks. There are a lot of questions right now regarding why he is heading towards a dark path again and why he is working with her. It was a game changer for this season and that's one of the major reasons why I love Season 4 so much.
Overall, "Rocky Road" was another solid episode and so far, this season of Once Upon a Time is my favorite season.
Once Upon a Time airs on Sunday nights, 8/7c on ABC.
[Photo via ABC]