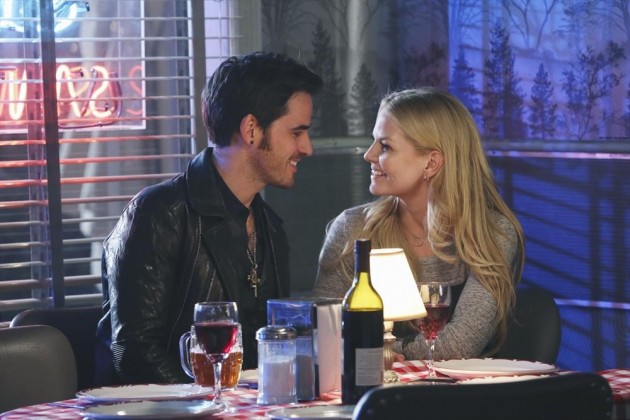 After a three-month long hiatus, Once Upon a Time is back, and it's bringing some new villains into Storybrooke. The much anticipated Queens of Darkness had a much more formal introduction in tonight's midseason premiere than they did back in December's winter finale, which had a lot of ground to cover with saying goodbye to Elsa, Anna, and Kristoff, but were they worth all the hype that they're getting? It's tough to say at the moment.
Out of all the different elements that have made Once Upon a Time so much fun to watch over the years I would argue that the show's villains have never really made that list. Regina worked so well as an antagonist in the show's first season (and part of its second) because she was a character that we got to know outside of her villainous pursuits, and while I very much enjoyed the Frozen arc that made up the majority of the first half of Season 4, most of what I found so great about it had little to do with the Snow Queen (even though it was an absolute pleasure to have Elizabeth Mitchell back on my TV screen).
What makes the Queens of Darkness more interesting villains than Once has had in a while though is the potential darkness that they can bring out in other characters. As hinted at in the most recent Once Upon a Time promo and shown in tonight's episode with the Chernabog going after Emma instead of Regina, there is most certainly some darkness inside of Emma that we haven't seen yet, and since a lot of the past season or so has showed Emma developing her powers, the idea of using her magic for more nefarious purposes (whether she's allied with Rumple and the Queens or not) is certainly an intriguing possibility for a storyline.
Even more interesting, however, is what Ursula, Cruella, and (soon-to-be) Maleficent's presence in Storybrooke will reveal about Snow and Charming. As shown in the final scene of "Darkness on the Edge of Town," the Charmings obviously have a secret that involves at least Ursula and Cruella (if not Maleficent as well), one that Snow is apparently willing to kill to protect. What could be so bad that she and Charming would threaten to rip out other people's hearts in order for it to remain hidden? I'm curious to find out and also quite curious if we'll see a return of a darker and more dangerous Snow, a side of her we haven't seen too much of since she murdered Cora back in Season 2.
While "Darkness on The Edge of Town" definitely left the door open for a lot of compelling stories in the back half of this fourth season, it was also a solid episode in its own right, one that made great use of smaller moments, such as Emma and Regina sharing root beers or Hook and Belle discussing how they both fell for Rumple's tricks. It's in these scenes where our favorite fairytale characters appear most human and relatable, and they're what keep me watching the series more so than any iconic villains or big battle scenes. Here's hoping that the Queens of Darkness's stay in Storybrooke, like Elsa's before it, allows for more of these smaller, more human moments on Once Upon a Time–they're where the real magic of the show lies.
Other thoughts:
– It's nice to see Hook and Emma together and happy without any major conflicts getting in their way. Even if it only lasts for an episode, seeing the two of them meet for coffee or share a booth at the diner were, once again, small but very rewarding scenes.
– Regina continues to Once Upon a Time's MVP and has yet another standout scene tonight where she picks apart just how awful Emma's car is as they drive together and try to have the Chernabog follow them out of Storybrooke. I also loved her response to Hook calling her the Evil Queen: "Can we drop the 'e-word' already?"
– Once Upon a Time hasn't been a show that has really shocked me in its more recent seasons, but I'll admit to being a little surprised and impressed at the reveal that Rumpelstiltskin orchestrated pretty much every event in this episode, as he pretended to be the Oxford professor that Belle believed she was speakign with.
– Really nice Lost shoutout tonight with Rumple, Ursula, and Cruella going through the Mr. Cluck's Chicken Shack drive-thru. Definitely a fun Easter egg for people who, like myself, are fans of both shows.
– I definitely bought Regina's reasoning for letting the Ursula and Cruella in much more than Emma's, but still, come on, guys. You have to know you're wrong when Snow and Charming are making more sense than you (and for the record, I still love Snow and Charming, even if they can be pretty stupid sometimes).
– Thanks for reading my thoughts on tonight's episode. Andy will be back to cover Once Upon a Time next week. Here's hoping that the second half of this season can be as much as the first half was!
What did everyone else think about tonight's episode of Once Upon a Time?
[Photo via ABC]