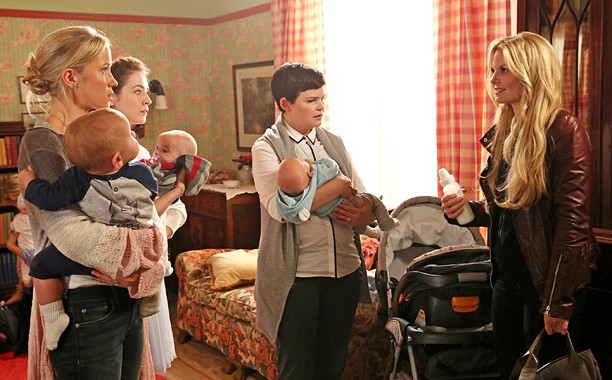 The fourth season of ABC's Once Upon a Time continues the epic Frozen saga as Ingrid/The Snow Queen makes her next move to terrorize the heroes of Storybrooke.
With a title such as "The Snow Queen" attached to the episode, we get a huge inside look into Ingrid's background before she basically went cuckoo for cocoa puffs. Mitchell continues to impress me each week and last night was the first time where I really felt for her character. We see her life with her two sisters Helga and Gerda (Anna's and Elsa's mother) as kids and then as young adults later on in Arendelle. I like that Ingrid had a similar background like Elsa from the movie, with her being afraid of her powers.
We also get to see how she came to know Rumplestiltskin in the past as she traded the three ribbons to get those gloves and the urn. Not only do we get that, we get to meet The Duke of Weselton, and just like in the animated movie, he was incredibly easy to hate. Plus, that was one heck of a fake mustache. I could only feel sorry for Ingrid throughout the entire flashback because what we see is a woman who feared herself and only wanted to be with her sisters, yet fate didn't allow it.
Ingrid is sadly trapped inside the urn by her remaining sister Gerda after Helga accidentally gets killed by Ingrid, and I will admit that it left a bad taste when I saw Gerda do that. Because they want to keep in continuity with the film, Gerda asks Grand Pabbie to make a potion that will make everyone in Arendelle forget that she ever had two sisters. It was a very easy way out, but I can't blame the writers too much because this way, it sets up more of the story that Frozen had and it adds some background for Gerda.
In the present, we see a lot of big things go down as Emma manages to capture Ingrid and brings her to the sheriff station to question what her motives are and why she erased Emma's memory. I could tell this entire time that having Ingrid there was just bad because every minute she was just sitting and plotting, you knew that something bad was about to happen. As Ingrid tries to convince Emma that she is her true family and that people will fear Emma just like they feared her and Elsa, she angers Emma enough that her she uses powers. It all had to do with Emma's fear, and that's when things starts to get out of hand. Big time.
My feelings about Emma as a character have been off and on for the recent seasons of the show, but this episode finally refreshed my interest in her again. This might be seen as cruel, but I enjoyed seeing the hero being afraid and unsure of herself and I mean it in the best way possible. If the hero just continues to know what to do all the time without any bumpy roads along the way, then it's not interesting to follow that story. That's why I have invested more in Regina because she always struggles with her goals. It will be interesting to see what happens next week with Emma, especially in the two-hour long episode.
The last thing we see in the episode is the continuing team-up between the Snow Queen and Rumple as she helps him get the final piece to become independent and free from the dagger, by whispering something into his ear to which he responds that he will do it with great pleasure. Is it just me or is it obvious that she either asked him to kill someone or to destroy something? I hope it's something really big that none of us saw coming, and I can at this point see it being a huge twist especially since we are getting an episode next week that is two hours long. Overall, "The Snow Queen" was a fantastic episode that gave us a great background of Ingrid and a better understanding for her as a character.
Don't miss the 8th episode of Once Upon a Time that will be two hours long, titled "Smash the Mirror", 8/7c on ABC!
Photo via ABC