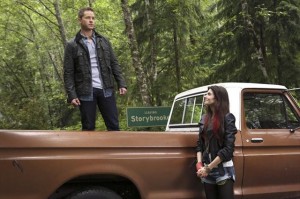 Last week's Once Upon a Time brought magic back to Storybrooke, but it was this week's episode where we really got to see the characters embrace their fairytale personas (after the initial stage of panic, of course).
Charming Takes Charge
Charming was floundering at the beginning of the episode, still grieving over the recent disappearance of Snow and Emma, while also trying to figure out how to bring order to a chaotic Storybrooke. On the outskirts of the town, the seven dwarves were trying to figure out what happens when you leave and they discovered that crossing the border strips away your fairytale memories. While they returned to the town square to deliver the news, thus causing another panic, Charming instructed everyone to return in two hours so that he could unveil his plan for saving everyone.
Except Charming had no idea how to save everyone. According to him, Snow was the one who made grand speeches, while he was just the muscle. But his encounters with Rumple (for a way to find Jefferson), Jefferson (for a way to use the hat to get to their old world), and Regina (for a way to find his family) all helped restore his confidence as a prince. I adored everything about Charming in this episode and the difference between him and David wasn't more obvious than it was in this week's Once Upon a Time.
At the same time as Charming was scrambling for answers, Regina was seeking her own. A trip to Rumple's shop got her a spellbook and, with it, her magic. She later confronted the townspeople, throwing her newly returned magic around until Henry agreed to come home with her. And when he tried to escape, she showed him the spells that she had set up in order to keep him prisoner, all the while offering him up his own power.
Later, when Ruby told Charming the news that Regina had regained her powers and had taken Henry, Charming had to step up, momentarily giving up his chase of Jefferson and any answers he might provide, and prevent the townspeople from crossing the border, escaping Regina's reign, and losing their true memories. Charming proved that he is one for grand speeches, convincing everyone to remain in the town and vowing to protect them all.
Then Charming broke into Regina's house, holding his big sword and vowing to take Henry back from her in a scene that I absolutely loved. Only it turns out his sword wasn't needed, because Regina gave Henry up so that he would return to her when he really wanted to.
Power is Freedom
An earlier look into Regina's past (ie. the death of her love, Daniel), showed us the beginning of her hatred for Snow White, but it's not until this episode that we fully understand how she became evil. As it turns out, the same man who taught her mother magic also helped corrupt her: Rumplestiltskin.
Regina was ever more despondent as her wedding day to King Leopold approached. She tried to run away, only to get caught in a border spell by her mother. Her mother insisted that this match would be made and it would give Regina was she always wanted: freedom. But Regina didn't see it like that. "I'm angry all the time. She's making me crazy," Regina bemoaned to her father. Her father confessed that a magical man made Cora the woman she is years before. So Regina stole her mother's spell book, met Rumplestiltskin for the first time (at least that she can remember) and gamely tried to resist his offers of magic so that she could control – or hurt – anyone she wanted. Despite losing Daniel, and despite her present circumstances, Regina was determined not to hurt anyone.
At least she was, until she was presented with the opportunity to banish her mother to another land. Rumple gave her a mirror that was a portal to another dimension and after being pushed and pushed by her mother, Regina pushed back….she pushed her mother all the way into the mirror and out of her life. Later, she attempted to escape the kingdom and her marriage, but Rumple blocked her way, telling her that he was happy to tutor her so she could gain her own power. At first, Regina once again resisted, admitting that she didn't want to become like her mother and shamefully confessing that she did like magic, which was why she had to stop. But gentle prodding by Rumple – and some cleverly worded promises – resulted in Regina agreeing to be tutored by him. In many respects, Regina was a victim of circumstances, but we cannot discount her own participation in her path to evil.
We Are Both

I adore the fairytale characters in Storybrooke now. At first, Charming was struggling while trying to find his missing family members and figure out a way to keep order in the town. But as the episode continued, he managed to act like the Charming we all know from the other land. At first, I wondered whether it's possible for them to act like their true fairytale selves, just because of the differences between Storybrooke and the fairytale land, but Charming proved me wrong. By the end of the episode he had taken over the role of prince once again, vowing to protect the kingdom. But he acknowledged that while he's Charming again, he's still David. They are all a combination of their fairytale and Storybrooke selves. I think we might still see remnants of their Storybrooke selves every once in a while, but I love seeing their true selves exist in the "real" world. Red was also a standout character in this episode, trying to take charge, supporting and motivating Charming and even standing up to Regina at one point. She displayed the fact that she was clearly a close ally to the Charming/Snow royal family.
Trapped
Mulan and Aurora clearly don't trust Snow and Emma. After the two women woke up in the present day fairytale land, they dragged them to the survivors' camp and threw them in a make-shift prison until they can figure out how to handle them. I think the two women have a long ways to go in gaining the trust of their captors.
But shocker of shockers, another woman was in the prison as well, and she offered Emma some help: Cora! Wasn't she banished from that land? How did she get there? And how will she take her revenge out on Regina for what she did to her?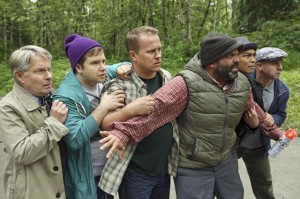 Other Thoughts
What, exactly, is Rumple up to? He has full use of his magic and a mysterious trunk in his shop. Regina believes that he's up to something, but he's keeping his plan close to the vest. Was his plan to escape? Because when Charming told him that you lose your fairytale memories the moment you cross the town's borders he erupted in anger. Given that response, we have to assume that little detail was put in place by Regina and is unexpected for him. Clearly Rumple doesn't like to be blindsided.
Is Storybrooke an opportunity for Regina to truly redeem herself? She chose to let Henry go with David at the end and it looks like she realizes that becoming her mother was a horrible choice. Is this a trick or is she genuine? She flat out admitted to David that the enchanted forest still exists (thus giving him a quest), despite denying it before. But if Regina isn't the evil antagonist, is that something we really want to see? In the end she chose to hide her spell book rather than burn it, so I have to question her resolve.
A new episode of Once Upon a Time will air on October 14 (watch a preview). Keep an eye on our Once Upon a Time page for previews, spoilers, sneak peeks and reviews.