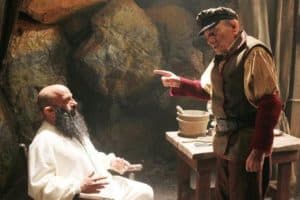 It seems wrong to say that this week's Once Upon a Time was all about destroyed dreams. After all, this is a fairytale sort of story and that just seems too depressing to be true. But it was about broken dreams, in a way. In the fairytale world, we were introduced to two fairies: Nova, the cute but clumsy pink fairy played by guest star Amy Acker, and the Blue Fairy. As Nova's superior, the Blue Fairy talked about the importance of delivering fairy dust (the magic that helps power the world). But despite Nova's eagerness, the Blue Fairy told her the likelihood of her becoming a fairy godmother any time soon was just laughable. Nova, then, was labelled a "dreamer".
Meanwhile, near the village, there were rows upon rows of eggs. Eggs that dwarves would hatch from. This time it was Grumpy's turn to be born. Just before he hatched, he caught a glimpse of Nova, who he proclaimed to be beautiful. Later, as Bossy got him ready, he learned that dwarves don't fall in love. They just spend all of their time mining diamonds to make into fairy dust. He joins his seven other dwarf brothers (including the pre-deceased Stealthy) and is actually named Dreamy by his ax, which give all dwarves their names.
Later, Dreamy manages to help Nova while in the mines and she invites him to watch the fireflies at night. Not getting the hint, he tells her to have a good time by herself. Later, as the dwarves are relaxing in the pub, Bossy wants to know what's wrong with Dreamy, who's looking a bit odd. Enter Belle (guest star Emilie de Ravin), who says that Dreamy is clearly in love and then encourages him to go find Nova. He does and the two come up with a plan to leave their respective jobs and sail around the world together.
But even the fairytale world of Once Upon a Time doesn't guarantee a happy ending. As he sneaks out of the mine, Dreamy is met by Bossy and the Blue Fairy, who tell him that Nova will eventually have her dream of being a fairy godmother, but not if she runs away with Dreamy. He meets Nova on the hill and she's excited to show off the boat she got for them. But he tells her they can't run off together because that will ruin her real dream of becoming a fairy godmother, which will make her happy. When she insists that he makes her happy and confesses her love, he tells her that dwarves can't love.
Dreamy returns to the mines a changed man. Bossy seems to think he's done the right thing, but he needs a new axe to continue to work. What name does this axe bestow upon him? Grumpy. Now we know about the tragic love story he told Snow White when they first met.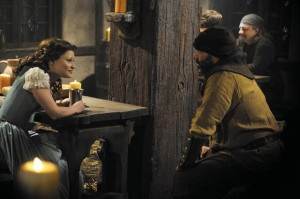 Things started out slightly depressing in Storybrooke in this week's Once Upon a Time. Leroy was grumpily starting his day when Mary Margaret walked into Granny's Dinner to find some volunteers for the Miners Day festival. She's offered to help the nuns sell their candles, but she gets a rude awakening from Leroy when he tells her that the town harlot probably won't have much luck. He's right, no one wants to offer to volunteer. Later, Leroy comes across Astrid (Amy Acker), a clumsy nun who is trying to set up the decorations for the festival. He helps her out and then later tracks her down at the school. He learns that she accidentally spent the nuns' monthly stipend and if they don't figure out a way to sell all of the candles and earn $5,000, the nuns will be kicked out of their rental property owned by Mr. Gold.
Leroy, smitten with Astrid, is determined to help and he recruits Mary Margaret. Unfortunately, the two of them aren't successful. After all, they are the town harlot and the town drunk. But Leroy can't admit the truth to Astrid and says they sold all of the candles. He even tries to sell his boat to Mr. Gold, but when Gold learns that Leroy needs the money to help the nuns, he refuses. Astrid drops by the marina, but when she learns the truth about the whole situation and sees that Leroy hadn't sold the candles, she walks away sadly.
Mary Margaret and Leroy drink away their sorrows in Granny's Diner (because apparently there's no other watering hole in Once Upon a Time), and Leroy explains that even if things could never happen with Astrid, he just wanted to have a few moments with her. Then he comes up with the bright idea of killing the lights at the festival, forcing all of the townspeople to buy the candles.
Meanwhile, Once Upon a Time also dealt with Kathryn's disappearance. Emma went to investigate her abandoned car when it was found and Sidney stopped by, saying he'd like to break a big story to get his job back at the newspaper. But he may just be spying for Regina, who helped him out by securing Kathryn's phone records. After David stopped by, Emma questioned him about Kathryn, but she's convinced that David didn't have anything to do with his wife's disappearance.
His phone records, however, show a different story. It looks like he lied about talking to her shortly before she disappeared (although someone could have easily taken his phone and set him up). Sidney is convinced that David is lying, but Emma insists that he's not. I don't put a lot of weight into Emma's truth-telling abilities any longer since she had no idea Sidney's been playing her from the get-go. Although I'm pretty sure David is innocent in this case, I just think it's pointless for Emma to go on and on about her "super power".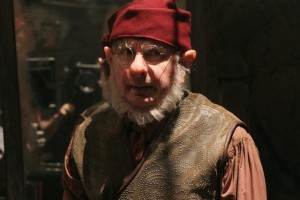 So after Regina demanded to know what Emma is doing to find her missing friend, Emma headed over to the festival. Just before she arrived, Mary Margaret was heading out, but found the word "tramp" painted across her car. Heading back into the crowd, she was pleasantly surprised when Granny helped her light her candle, showing her that maybe at least one person isn't going to be mean any longer.
But her happiness over the situation seemed short lived when Emma approached David and led him into her police car, explaining that he needs to tell her the whole truth back at the station.
Despite the fact that this week's episode of Once Upon a Time dealt with Kathryn's disappearance, it felt like a filler episode. The fairytale world story was cute – if overly cheesy – but it didn't really advance the big stories, although it was interesting to see what made Grumpy the person he is. It was also nice to see Belle again, even if only for a moment. What I did find interesting is the differences between the fairytale world and Storybrooke in terms of hope. It seems like it was crushed for Nova and Grumpy, but there was hope for Astrid and Leroy. It's nice to see that the couple might get a bit of a break in at least one of the worlds. Now I'm interested in going back and seeing if there's always one world seeing happiness while the other sees setbacks.
I did enjoy seeing Leroy's similarities to Grumpy. In a previous episode where the dwarves first met Snow White, he explained that his heartache made him grumpy, but he wouldn't get rid of the pain because it defined him. In this episode, Leroy seemed to break out of his surly spell and came up with a terrifically clever way to help Astrid. It was really nice to see the characters break through the curse of despair for a few moments.
What do you think happened to Kathryn? Did the curse make her disappear? Did Regina have her killed? Or maybe she's been stashed away in that mental hospital ward where the Storybrooke version of Belle is hiding.
A few final thoughts:
-Why is everyone so hard on Mary Margaret and not on David? He hasn't appeared to suffer any blow-back from the affair and it takes two to tango.
-How interesting that Mr. Gold seems to hate the nuns. Is that because he knows they were fairies and Rumplestiltskin had a bad history with them?
A new episode of Once Upon a Time will air on March 11 at 8:00 p.m. EST on ABC. Watch a preview for the March 11 episode. For more on what to expect for the rest of the season, check out the spoilers we posted from the PaleyFest panel.