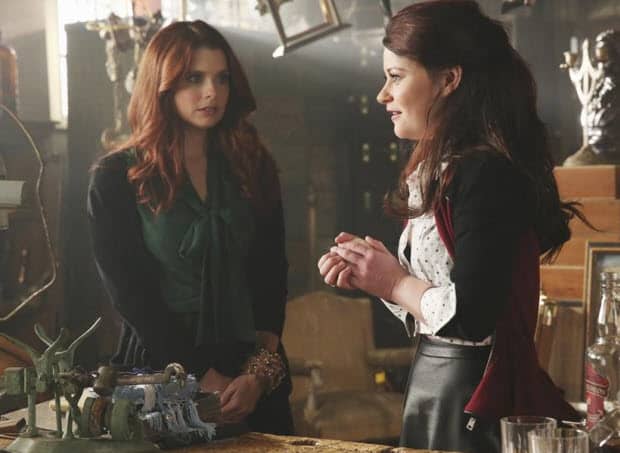 Normally in television, love triangles are complicated and hard to like. The triangle that the Once Upon a Time writers have been trying to set up between Hook, Emma and Neal hasn't really been convincing. But sure enough, they went through with it.
The pacing in this episode was faster than what we usually get with love triangles on other shows. However, they had a twist which was Emma basically telling them that she has only one goal in mind: to find her son.
It's pretty much a given that she will get together with Neal again once this is over so hopefully, these remaining episodes of this first half will not have any unnecessary focus on the triangle. The only relationship drama that is working right now is between Snow and Charming. One has to ask whether they actually will find a way to get Charming out of Neverland without him dying.
The battle against the shadows was pretty good, and the red background actually made them more intimidating than they already were. While it's great to see that the special effects have been kept consistently good throughout this whole season, it's kind of disappointing that their spin-off show hasn't been able to do the same.
"Dark Hollow" was a mostly Belle-centric episode where the character finally got to be a bit more independent from Rumple, despite that everything she was doing was for him. But it was still nice to see her lead the people in Storybrooke without having Rumple there because most of the time in season 2, whenever she was featured in an episode, he was always around.
The only nitpick would be the choice of having Pandora's Box as the weapon that will stop Pan. That is a pretty big element for the writers to introduce to the Once universe, but there may a chance that it's slightly different from the original story's. But seeing what they have done so far with this season, it's probably nothing to worry about as they will present it in a satisfying way later this season.
Belle's interaction with Ariel was enjoyable and hopefully there will be more of that since Ariel is now heading back to Storybrooke. The biggest twist that this episode had was the revelation that those two mysterious figures were actually John and Michael Darling, the brothers of Wendy. The episode really conveyed how truly powerful Peter Pan is, something that they have been keeping consistent in almost every episode.
But it also begs the question how he became so evil or in better terms, so powerful? That is something that hasn't been explored yet and hopefully it's coming. While it is enjoyable to see this intriguing interpretation of Pan, there has to be a backstory or something that made him so twisted. There is also the question of how he is even communicating with the Darlings in Storybrooke.
Is it his shadow that delivers the orders to them or is he magically traveling between realms back and forth? Where is he getting all this information from? It's not a criticism, and not a plot hole necessarily, but they are elements that haven't really been explained so far.
There was some hope that perhaps this story-arc that would include Wendy in some capacity, despite the timeline, but the writers found a way to make that happen. It also shows the audience a completely different interpretation of the Wendy and Peter Pan relationship, compared to the classic Disney movie.
Henry's arc has been an interesting one and it's presented that he is truly struggling with going over to the dark side because there is always optimism in him. It will be interesting to see what will happen in the next episode based on what was shown in the trailer.
Overall, aside from the love triangle drama, "Dark Hollow" was a pretty good episode that continued to keep the stories moving forward in what has been a solid season so far.
Once Upon a Time airs Sunday nights, 8/7c on ABC.
[Photo via ABC/Jack Rowand]