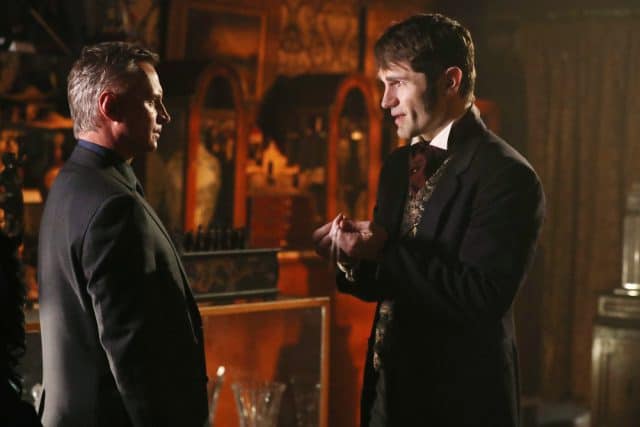 Once Upon A Time has done a really great job getting back to the feel of its early seasons. It isn't afraid to tell stories that end with the episode anymore, when the last few seasons have been hyper-serialized. "Strange Case" fearlessly ventured into telling the story of Jekyll and Hyde, and there were a few twists from what I was expecting.
This week on Once Upon A Time: Jekyll has almost finished his serum, but hits a snag when Hyde destroys all of his work. The Evil Queen and Hyde make a deal with Rumplestiltskin. Belle is trapped by Rumple on Hook's boat, which puts her in a precarious situation, while Emma and Charming look for Hyde and the Queen. Snow White returns to teaching, with a mysterious new teacher's aide at her side. The gang finds out how to kill the Evil Queen.
Last week's episode of Once was really strong, and took us straight back into that Season 1 and 2 type feel. "Strange Case" kept that feel, but some of the reveals and twists that made last week's episode so effective lost a bit of steam this week. Of course, I don't think that's entirely the fault of the show
First of all: The Jekyll twist landed for me. I only figured out moments before he attacked Belle that Jekyll was just as bad as Hyde. I assumed that non-evil Regina still had a mean streak in her, but I never guessed that their story would go like that. I'd also like to use this opportunity as a brief round of applause for both Hank Harris and Sam Witwer, who really sold those characters. I kept expecting them to waver into ham territory, but they really excelled.
The rest of the "twists" didn't land the way they would have in Season 1 or 2, but there are a few reasons for that. The first being that all of our jaws would've dropped in Season 1 when the aide was announced as "Jasmine". However, since Once Upon A Time receives a lot more media attention and coverage than it did when it first started, and internet spoilers are a thing, anyone who keeps up with news surrounding the show new that Karen David (who I loved dearly on Galavant) was playing Jasmine. So that wasn't really the show's fault. David was excellent, and the story structure was solid, but I just wasn't surprised!
I was also not surprised to find out that killing Jekyll was a way to kill Hyde. It seemed like that was supposed to be a big reveal, but I saw it coming a mile away. I mean, they can't be killed any other way so it's either merge with the original, or die when they do. I'm also a frequent watcher of genre television, so it's possible that my mind works that way.
I can feel them leaning into the larger story arc for the season, but the early-season method of storytelling is really working out well. We're seeing more of our beloved recurring characters, and it's much more mysterious and mythologically sound. Even tough not all the twists landed for me this week, I've very much enjoyed both the episode, and the season as a whole so far.
What did you guys think? Did you enjoy this episode? Let us know in the comments!
Once Upon A Time airs Sundays at 8/7c on ABC
Once Upon A Time Season 6 Episode 4 Review: "Strange Case"
Summary
Snow White returns to teaching, while the rest of the crew battles Hyde on this week's strong episode of Once Upon A Time.