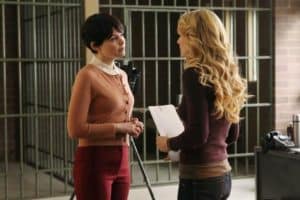 This week's episode of Once Upon a Time was the kind of episode that we haven't seen in a while. While the central relationship of Mary Margaret and David suffered a setback, I felt absolutely no annoyance at that fact, because nearly everything else was perfect. Emma yanked her head out of the sand, Rumpelstiltskin did many mysterious things and even the central storyline about the curse progressed, albeit minutely.
This is the kind of episode that I wish Once Upon a Time had every week, although it's not likely possible. But it's the kind of episode that fans of the show fell in love with at the beginning.
Once Upon a Time has not been kind to Mary Margaret lately. Not only did she had to suffer being labelled the town whore, but in this week's episode she was arrested for Kathryn's murder. Emma admitted that she believed Mary Margaret was innocent, but it was impossible for her to ignore the evidence, lest she be accused of favortism. So she questioned Mary Margaret with Regina present and Mary Margaret identified the "heart box" as her jewelry box, but insisted that someone had stolen it and she was being framed.
Later, Emma searched their apartment, hoping to see signs of a break-in, but all she found was the murder weapon hidden in a heating vent, making the situation even worse for Mary Margaret. Fortunately, help came in the form of the mysterious August, who told Henry that not only did he believe his book was real and that he was in town to convince Emma of that fact, but he also suggested that more answers could be found in the book.
This led Henry to swiping a keyring from Regina's office that just so happened to have a key that opened Mary Margaret's apartment door. Emma is now convinced that Regina is framing Mary Margaret. Fortunately, Emma also realizes that she's lost every time she's gone up against Regina. This time she told Mary Margaret about her suspicions, but also asked her to trust her to help. After, she went to visit Mr. Gold, who had offered to defend Mary Margaret in the case. She told him that the only time she's beaten Regina is when she won the election for sheriff, and she did that with Mr. Gold's help. She may not approve of his methods, but she's prepared to do whatever it takes this time to stop Regina from framing Mary Margaret.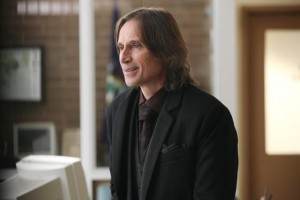 Unfortunately, Mary Margaret decided to complicate things, although her actions are rather understandable. She mysteriously found the key to her prison cell and, after Emma told her it was clear she was being framed, she chose to run. Now she's on the loose, which won't really help her case.
Complicating things even further in this week's Once Upon a Time – at least for Regina – was an unexpected development for David. He visited Archie, hoping to get his help in remembering his blackouts.
But Archie's hypnosis had an unintended side-effect: it made David recall a memory from his fairytale life. While that's good news for the fans who have been wondering if anyone else would remember their true life, it was actually disastrous for David and Mary Margaret, because he remembered Snow White vowing to "kill her", meaning the Queen (we'll get to that shortly). He went to visit Mary Margaret before she escaped her cell and told her about the memory, incorrectly assuming that she had killed Kathryn. Horrified that he doubted her, Mary Margaret told him to leave. Although, on a side note, one would think David would have more sense, considering how utterly different Snow looks from Mary Margaret (I mean, the hair alone, David!). But it's my sincere hope that these flickers of memory from the fairytale world will turn into something more going forward.
Meanwhile, the fairytale world on this week's Once Upon a Time brought Snow and Charming together again, although that reunion was a hard-won battle. It turns out that Rumple's forgetful potion also did a number on Snow's sanity, making her incredibly mean. Angry about her current lot in life, she decided to leave the dwarves and kill the Queen. Charming, meanwhile, was still with Ruby, hoping to track Snow down. When King George's men approached, Ruby sent him off to find Snow, staying behind and transforming into a wolf to stop the men. This was a Ruby who had clearly progressed from the frightened girl we saw last week (who had just learned of her true nature).
Snow set off to find Rumpelstiltskin at Grumpy's request. He thought Rumple could give her an antidote for the potion, but he said reactivating that love wasn't possible with a spell. In fact, he had, thus far, been unable to create a love spell, which would otherwise make him incredibly powerful. Instead, he offered up a bow and arrow and advice on how to kill the Queen as she made her way to the summer palace.
Charming later found Rumple, who offered up Snow's location. He also, mysteriously, asked for Charming's cloak. At the end of the episode, we saw him extract a hair from the cloak. He placed it in a glass vial along with Snow's hair that he had procured episode's ago. The two hairs lit up and intertwined, thus creating a love spell for Rumple. Now what could his plans be for that little potion?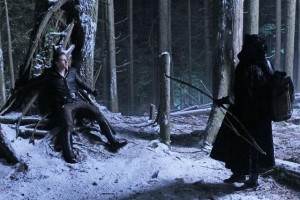 Charming did catch up to Snow, but even kissing her didn't bring back his memory. Fortunately, help came in the form of Jiminy Cricket, who suggested that Charming remind Snow of the person she is before trying to bring back her memories of him. He took the arrow meant for the Queen and proved her to her that he was willing to die to stop her from becoming an evil person. This was the trigger that she needed and she instantly remembered him after they kissed this time.
But King George's soldiers caught up again, and werewolf Ruby wasn't in sight. They took Charming and locked him up in a cage, ready to return him to the King, while Snow vowed to Charming that she would always find him. Later, she returned to the dwarves to apologize for her meanness and Grumpy told her that the seven of them would help her save Charming.
Like I said, this week's Once Upon a Time was a great episode. Emma is getting far more clever about taking on Regina, this time seeking Mr. Gold's help. David made a bit of progress on the fairytale memory front, although his interpretation of the memory was clearly damaging to his relationship with Mary Margaret. And I loved how Mary Margaret refused to simply remain in her cell, this time taking action even when all the chips were stacked against her. Obviously there's not going to be a lot of places for her to hide in Storybrooke (since we know she can't leave the town), but it will be interesting to see her next move.
On a side note…
-In both worlds, Rumple has said that he's very invested in Snow White and Mary Margaret's futures. Could it be because she is the best person to take down the Queen and Regina? By helping her, can be destroy the one person who rivals him for power and threatens him?
-It's interesting that different things seem to trigger memories of the fairytale world. For the original sheriff, it was a kiss from Emma. For David, it was hypnosis. If other people start remembering their true lives will Emma be the catalyst, or can any number of things trigger the memories?
A new episode of Once Upon a Time will air on March 25 at 8:00 p.m. ET/PT on ABC. Watch a preview for the next episode.
Don't forget to browse through and bookmark our new Once Upon a Time showpage. It's a collection of all of our coverage for the show, including sneak peeks, photos, spoilers, recaps and more!