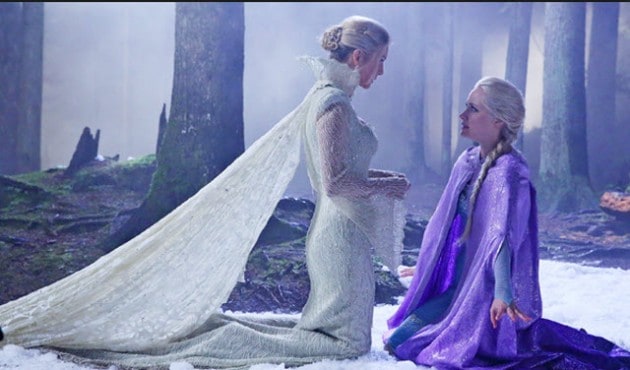 It seems that nothing can stop the great run that Once Upon a Time is having right now with its fourth season as each episode continues to get better each week.
There were a lot of great plots in this episode and the one that I was most surprised about was the Emma flashbacks where we met a teenage Emma. They really nailed the casting for the younger Emma as she reminded me a lot about Morrison it terms of looks and acting. The flashback tells us the story of how she met a girl name Lily who was trying to get away from her foster home as she felt that she didn't belong there.
It was genuinely sweet to see an Emma at a point in her life where she could actually trust people a bit more and when she was somewhat happy. However, when she learned that Lily was lying to her about her living situation, it was a huge no-no for Emma and we kind of get to learn one of the reasons why she became so protective of herself later on in life. Now how does this play into the episode as a whole? We will get to that in a bit.
Meanwhile, in present time, a lot of things are going down including Emma having to deal with a very angry Regina. If you have been reading my Once reviews, you probably know at this point that I'm a huge Regina supporter as seeing her pain and what she has to deal, is something that makes me feel for her every week. We have known for a while that Regina has been upset with Emma for a long time because of Marian. As Regina is looking for the Snow Queen, so are Emma and Elsa.
Elsa ends up getting tricked by the Snow Queen while she is sitting in Emma's car by herself when she sees Anna calling for her only to be lead to a trap by the queen. I don't know how Mitchell does it, but she makes this very calm minded villain so terrifying every time she is going up against our heroes. I'm starting to think that it's something with her voice because even though it's a very threatening voice, you can't deny that the words she speak, has power to them. Going back to Regina and Emma, I'm not sure if I would categorize Regina's feelings to Emma as a heart-to-heart conversation, but it was definitely her opening up more and showing her frustration.
She does reveal later in the episode during one of the queen's attacks that she knew this whole time where Sidney was and even though Emma wasn't exactly happy about it, I'm glad that at the end, it didn't make Emma look at Regina as the evil queen again. Also, speaking of the devil that is Sidney, did anyone else see shocked that he was working with the Snow Queen this whole time? I certainly was because when did he even get recruited by her, was he able to reach her via one of her mirrors?
Towards the end of the episode, Emma and Regina do have somewhat a temporary resolution regarding their differences as Emma opens up and tells her that she wants to be a friend to Regina. I think this episode is one of Emma and Regina's (or as the fans out there call them, "SwanQueen" which is a name I can totally get behind) best ones so far. Like Elsa pointed out, they need to be on the same page if they are going to be able to take down the Snow Queen.
Now how did that flashback tie in to this episode? As Emma goes through her old stuff in the present with Hook, she discovers the camera she and Lily had when they were hanging out. As they watch the tape, Emma discovers some new footage that she doesn't even remember where we see her at the orphanage where she lived at and they discover that the Snow Queen was there as someone who was working there. This was a huge surprise and it makes the mystery so much bigger. Let's also ask this question: the Snow Queen seems to care a lot for Emma, but why has she then erased any memory Emma has of her? I want answers and I want them soon!
Overall, "Breaking Glass" was another solid episode that continues to impress me every week with the Frozen storyline as well the several mysteries that it contains. The only gripe I had with the episode is that they are still not giving us any answers why and how Will is in Storybrooke. Hopefully we will know soon what is up with him.
Once Upon a Time airs on Sunday nights, 8/7c on ABC.
[Photo via ABC]