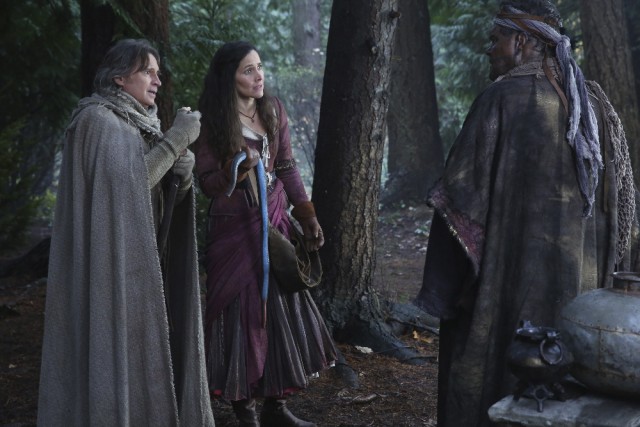 Once Upon A Time, no matter how different the format, often moves to old tricks. So, having Rumplestiltskin turn back into the Dark One, and subsequently, a baddie who is only selfishly motivated, did not take long. However, this week's story was told in an incredibly interesting way and using a returning character, and it set up some interesting stories for the near future.
This week on Once Upon A Time: Rumplestiltskin returns to the gang, wanting to get home, so he offers them his help. Rumple enlists the help of Milah, now in the underworld, to help save Captain Hook. Regina, unable to properly use her powers, enlists the help of Snow and Cruella to help get closure on part of her life. Hades offers Rumplestiltskin a deal. In the flashbacks, Rumple and Milah work to save Baelfire from a deadly snake bite.
There was quite a bit of meat to this episode. I'm not going to dissect the whole thing, but overall I was pleased. While it was annoying at best to see Rumple fall into his self-serving pattern, the turns that it took were far more interesting than usual. Rumple is always getting himself into some sort of trouble like this, BUT, the way he went about it was much cooler than normal. He played both sides like normal, but the interesting thing was how it set up for the remainder of the season. Rumple OWES someone in a deal he made, and Belle is pregnant? That's an incredibly compelling premise. Okay, Once. You've hooked me.
I really appreciated the re-incorporation of Milah into the show, and using her as a catalyst for this Rumplestiltskin story was a brilliant move. It couldn't have worked out better that she also had a relationship with Hook. That moment she had with Emma when she realized her involvement with both Hook and Neal was priceless, and really illustrated/poked fun at how crazy the timelines of this show can get.
I'm a little confused. Does Hades choosing Emma, Regina, and Snow to stay mean that Rumple could just take the guys and go home? I'd love to see a side-plot with Rumple, Robin Hood, Henry and Charming returning home together. But, I'm sure they'll stay with their loved ones until they figure out a way out of this. Though with death all around them, I'm not sure that everyone WILL get out of this. I can hope, though.
One of my favorite things about this half of the season so far is incorporating other deceased characters into plots like Milah. The brief brush with Charming's brother, Cruella and the Blind Witch's relatively significant roles, and with apparently more to come, this was an excellent touch. I certainly don't think all of the returning characters need to be big name fan favorites, and using the smaller characters gives a really unique opportunity for character exploration. The best moment of the entire episode was Rumple's honest, regret-filled conversation with Milah, and asking her to speak to Baelfire/Neal when she sees him again. It was surprisingly emotional, and this approach opens the door for plenty of these moments yet to come.
Ultimately, this episode was not my favorite of the season, but it was intriguing and powerful nonetheless. Standing alone, it didn't do much for me, but it succeeded in getting me very excited about what's to come.
What did you guys think? Did you enjoy the episode? Let us know!!
Once Upon A Time airs Sundays at 8/7c on ABC
Once Upon A Time Season 5 Episode 14 Review: "Devil's Due"
Summary
Rumplestiltskin attempts to help the gang rescue Hook, but is haunted by his past on this week's strong episode of Once Upon A Time.