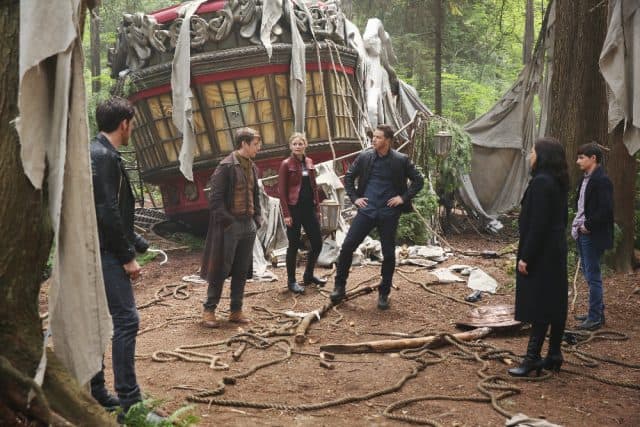 Welcome back to Once Upon A Time reviews, friends! I'm so glad that this show is back on. Season 5 was one of its best, and ever since my chats with some of the cast and crew at Comic-Con, I've been looking forward to seeing the show back in action. Overall, this was an exposition heavy episode, but hey, what premiere isn't nowadays? It was overall enjoyable, and great to be back in Storybrooke.
This week on Once Upon A Time: A mysterious ship from the land of untold stories lands in Storybrooke. Regina, Emma, and Jekyll formulate a plan to capture Hyde. Emma has strange visions of the future. Regina blames Zelena for Robin's death. Rumplestiltskin visits Belle's dreams, in hopes of waking her up. In the flashbacks, viewers are introduced to Aladdin and Jafar for the first time.
As I've said previously, it was great to be back in Storybrooke again. I don't think the premiere was the best episode of this show I've ever seen, but a lot of good things happened, and a lot of important stories were set up. I'm truly fascinated by the Land of Untold Stories, and the potential those characters have to create interesting backstories and add value to the show. We already know some of the stories we'll learn, like the Count of Monte Cristo, but there are bound to be plenty more where that came from. Edward Kitsis and Adam Horowitz, Executive Producers, also assured me at Comic-Con that there will be a Season 1 & 2 feel to this season. I think it's safe to say that this episode set up those mysteries and possibilities well.
I was really pleased with the Rumple/Belle story. It was a cool little flashback to their time in the castle, and yet Belle has resolved not to take any more of his crap. There's no human woman who would (ok, who SHOULD) have taken as much as Belle has. She's strong, smart, and doesn't need to be continually lied to. I'm pleased with the direction they're headed. We'll either need to see serious redemption for Rumple, or for that story to die.
Lying and deceit has covered much of the Rumple/Belle relationship, but I can't help but wonder why in the world Emma felt like she had to lie to everyone about her visions. I mean, she couldn't even do some confidential counseling with Archie? For a character who has supposedly evolved over 5 seasons, it doesn't seem like she's come very far in the world of trusting her loved ones over complete strangers. That was probably the worst part of the episode for me.
But, it was also the best part. Emma's visions of the future in which she is killed defending Henry, Hook, and her parents is an interesting vision. As much as I love Jennifer Morrison (fantastic actress) and Emma, I would actually kind of love to see them boldly kill her off. But it begs the question…is there a show without Emma? Could they continue? Maybe Emma dies to finish off the Evil Queen, so good Regina becomes the savior? I think Emma will eventually come clean to her family who will help her figure out a way to stop death. But, for the record, I encourage the show to be bold and kill off a main character like that. Maybe she'll die sacrificially and become a "true hero", like Hercules!
Anyway, despite my problems with Emma internalizing everything, this was a solid episode. Perhaps the best part was all the threads it opened up for Season 6 to address. I have plenty of questions, and hopefully they have plenty of answers.
What did you guys think? Did you enjoy the episode? Let us know in the comments!
Once Upon A Time airs Sundays at 8/7 on ABC
Once Upon A Time Season 6 Episode 1 Review: "The Savior"
Summary
The gang deals with new arrivals from the Land of Untold Stories, while Emma deals with visions of her future in the Season 6 premiere of Once Upon A Time.