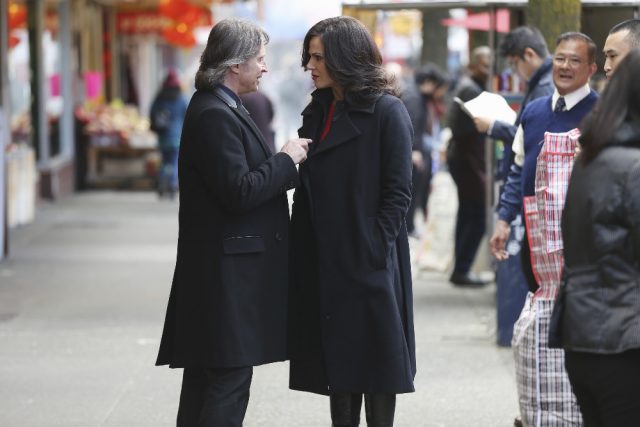 After what has mostly been a creative-resurgence-type season for the folks at Once Upon A Time, the two part finale then does what it does best: sets up the new story for the new season. It gives fans a brief tease of what's to come after the hiatus is over sometime in September. This was actually much more of a preview than I expected, and I don't know that it elicited emotion from me, but it did introduce some fascinating plot elements, and I'm interested to see how they're used in the coming season.
This week on the two-hour season finale of Once Upon A Time: Emma worries how Regina will feel about Hook's "second chance". The gang must band together to stop Rumplestiltskin's newest plot. Henry and Violet go on a journey to destroy Storybrooke's magic, which Rumplestiltskin has stolen. In an effort to protect Storybrooke's citizens, Zelena creates a portal, which sucks her, Charming, Snow, and Hook into a new, unrecognizable land. In the new land, which turns out to be a refuge of people from all different lands, the heroes are introduced to Dr. Jekyll and Mr. Hyde, two sides of the same person. Regina attempts to separate and destroy her "Evil Queen" personality. Mr. Hyde and Rumplestiltskin made a deal.
As you can see, there was a LOT of meat here. However, it wasn't burdensome. I've come to expect episodes like that from a show like this. And honestly, it wrapped some characters emotional arcs and got the new journey started right away, which is awesome.
As reminiscent as the show has been over the past season, especially dealing with dead characters and the underworld, the new story has the potential to be the MOST like Season 1, prime Once Upon A Time. I like the show, and will continue to watch regardless, but it's never been able to hook me (no pun intended) the way that the first season or two did. However, after watching these two episodes, I really think they have the potential to get back to that place. As Henry proved in the library, there is TONS of untapped literature that isn't Disney. A Connecticut Yankee in King Arthur's Court, perhaps? Jekyll and Hyde is only the beginning, and I'm so glad that Once is broadening its pallet in this way.
As for the episode itself, there was good with the bad. I'm really excited with the direction they're taking Regina/The Evil Queen. There was no better catalyst for a Jekyll/Hyde story, and it's about time that they had a doctor/genius join the team of heroes. I mean, I knew something was missing. But the metaphor of battling one's "evil self" is a pretty cool illustration.
The standout from this episode was Jared Gilmore. Child acting is tough, and growing up in front of an audience is even tougher. However, this episode, (while Gilmore's acting certainly wasn't perfect) goes to show how far Gilmore has come since the beginning of the show. He can carry scenes and plots all on his own. Being totally fair, I think some of the shortcomings for Gilmore's scenes in these particular episodes can be attributed to some awkward directing moments. Regardless of how I felt about individual scenes and moments, Jared Gilmore was one of the standouts of the episode, and it was cool to see how far he's come. I didn't hate Violet, either, so hopefully we see more of them both.
The finale was really pretty good. I mean, it wasn't anything totally off the wall new, but it too Once back to its roots in some really cool ways. The literary possibilities are nearly endless. As much as I'd like League of Extraordinary Gentlemen to be its own TV series, this could be the next best thing. As a fan of the first OUAT season, here's hoping that's the direction it goes.
What did you guys think? Did you enjoy the finale? Let us know in the comments!
Once Upon A Time returns for its sixth season in Fall of 2016 on ABC
Once Upon A Time Season 5 Episodes 22 & 23 Review: "Only You"/"An Untold Story"
Summary
Henry seeks to remove all magic from their world, while Regina battles her demons on the season finale of Once Upon A Time.