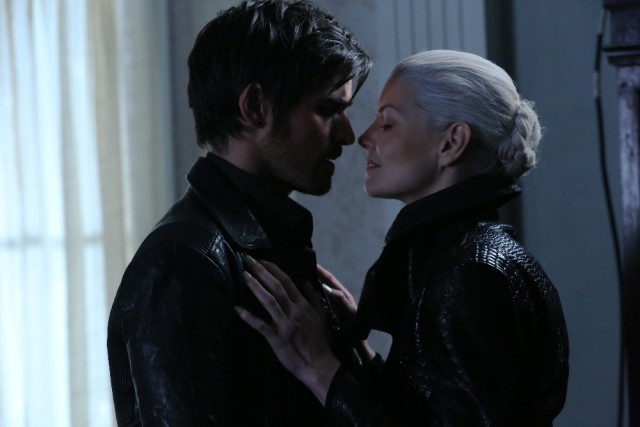 There's nothing like two hours of Once Upon A Time to end your weekend the right way. I mean, this show literally has everything. There's magic, swordplay, warriors, werewolves, pretty much every Disney character, and even more than that. Once really has it all, and there was a lot of it on display in this week's double serving. Good thing there's something for everyone, right?
This week on Once Upon A Time: Emma's plan starts to take shape. Hook finds out everything that happened in Camelot. Emma's spell expedites the growth of Zelena's baby, causing it to be born. In Camelot, Emma works to save her loved ones from Zelena and Arthur. Merida, along with her allies Ruby and Mulan, seek the helmet her father wore in his final battle.
For starters, I'm very glad that Captain Hook had plenty to do this week. For the last few seasons, he's provided a lot of witty comments and smoldering looks, but the story has been focused elsewhere. To have him and Emma reconcile their dark pasts and just get together would be WAY too easy, so I'm really glad that they have to earn it. Hook's "dark side" hasn't come out for a few seasons now, so I'm hoping it will get to stay for awhile. Colin O'Donoghue does a great job with the role, and I'm excited to see it expand.
Did Dark Emma seem a little different to anyone else this week? She seemed a little more affected and intentional in her dialogue. Perhaps it's just something I haven't noticed previously. But "Dark Emma" from Storybrooke and "Emma" from Camelot really seemed like two different people in this episode. Just an observation. Might've been a subtle nod at the shift in perspective that came with the reveal about Hook, but I'm still not entirely sure I didn't imagine it.
Don't get me wrong. I really enjoyed seeing Ruby and Mulan (and Dr. Whale in his iZombie hair) back again, but I'm not sure that their reintroduction was totally organic. It felt pretty forced. However, I'm willing to extend my suspension of disbelief if it means we get to see more of these incredibly talented actresses. Ruby, Mulan, and Merida are all rich characters with lots of story possibilities. Perhaps we will get to see a female band of Merry Men-like characters? That would be a fun way to continue using them. I thought the story reached a little bit to include them, but as they say on the internet, I ain't even mad.
Overall, I'm really liking the story and where it's going. Dark Emma and now Dark Hook battling against Zelena and heroic Rumpelstiltskin and King Arthur. It SOUNDS overcrowded, but it doesn't feel that way at all. It's actually quite exciting and feels fresh, but still true to the show. If you have been following the news about Once Upon A Time, it sounds like they are casting for Hercules characters including Hades. Now, here's my insane fan theory: Hook (or Emma) dies, and Season 5B is about saving him/her from the underworld. Thoughts?
"Birth" and "The Bear King" were a solid couple of episodes that brought the excitement to a season-high level. I'm so pumped to see where the series goes from here.
What did you guys think? Let us know in the comments!
Once Upon A Time returns in two weeks to Sundays at 8/7c on ABC.
[Photo credit: Jack Rowand/ABC]