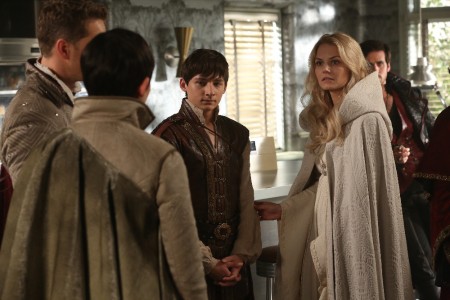 The cast and creators of Once Upon a Time returned to San Diego Comic Con (SDCC) this weekend to fill us in on what we can expect from Season 7. The new season is set to look different than before as the show reboots and starts anew. At the end of season 6, all the characters that we loved, were able to close their chapter and reveal in their happy endings. As the season came to a close, news of 6 regulars departing the show made everyone go huh? How is this going to work out? Will they be able to go on? Will this be more or less the same thing but with different characters? Why are only 3 regulars returning? A lot of questions that needed answers.
At SDCC Adam and Eddy alongside the three returning cast members (Lana Parrilla, Robert Carlyle, and Colin O'donoghue), three new regulars (Andrew J. West, Gabrielle Anwar, and Dania Ramirez), and writer/executive producer David H. Goodman came out to talk about what's to come in the new season. The creators opened up with a message saying that the departed regulars may not be around all the time but they are hoping that they will be popping in from time to time. So far Jared Gilmore and Jennifer Morrison have been seen filming in Vancouver. Morrison had signed on for one final episode and documented her last day as Emma Swan on instagram.
They revealed the addition of 5 new cast members this season in addition to Andrew J. West as older Henry Mills and Alison Fernandez as his daughter Lucy.
Dania Ramirez as Cinderella
Gabrielle Anwar as Lady Tremaine
Adelaide Kane as Drizella
Mekia Cox as Tiana
Rose Reynolds as Alice
The characters will be new versions in a different storybook. Henry will be leaving home to discover new Storybrookes throughout the realms and find new stories and new characters. On his adventure he will meet and fall in love with Ramirez' Cinderella. Their love story will take a similar take as Snow and Charmings' story did through the first 6 season. On his adventure, though, he runs into some trouble and calls his family for help. The three that come to his rescue are Regina, Hook, and Rumple. The four of them go on this adventure together.
The theme this season will revolve around belief. To never stop fighting for what you believe and to never give up.
Once Upon a Time season 7 returns to ABC Friday's this fall, starting October 6th.
Save
Save