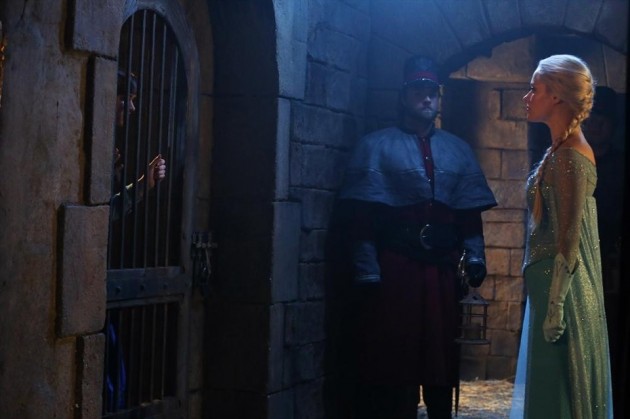 Wouldn't it be great if every episode of Once Upon a Time was two hours long? Probably too much to ask, but last night's two hour event progressed the story in great ways as Emma continued to struggle with her powers while the origin of the Snow Queen continued to unravel.
I particularly enjoyed the flashbacks this week as they were telling two stories at the same time with Ingrid having the sorcerer's hat while Elsa and Anna figures out what is up with their aunt. Her interaction with the Apprentice intrigues me and makes me wonder even more what the status really is with the Sorcerer at this point. If I'm not mistaken, they did address that the Sorcerer was dead when Anna visited the Apprentice, right? At this point I'm not sure, but I wouldn't be surprised if he actually somehow shows up in the present; magic has a tendency to bring dead people back to life sometimes.
As if I wasn't already in love with the sister relationship between Anna and Elsa, when Elsa learned where Anna was being kept and she went to see her, I loved that she was only pretending to be angry at Anna while the guards were there. The chemistry between Haig and Lail is mind-blowing and one of the best dynamics that I have seen on television. ABC, if you are reading and looking for a new spin-off, I pitch to you Once Upon a Time in Arendelle as a limited series. I love the heart-to-heart they have and that Anna finally told Elsa all her secrets and that Ingrid was up to no good.
However, I have one major nitpick with the scene when Anna (under Ingrid's control) trapped Elsa inside of the urn. First off, Ingrid was just stupid for accusing Anna that all of this was her fault when it was Ingrid's own mistake to take control of Anna to begin with. Even the greatest villains do make mistakes every once in a while, but the way that scene played out, made me cringe. But moving on to my actual nitpick: maybe I missed the 101 on how the urn works, but if Ingrid was so upset with Elsa getting trapped in there, why didn't she just, oh I don't know, open it and let her out? I'm not sure what Ingrid's plan was at that moment, but it seems that once Elsa was trapped in there, she just decided to keep her in there as she goes to find the third sister after she freezes the whole kingdom. Rumplestiltskin shows up though to take the urn and tells her that Ingrid can have it back if he gets the box.
The last minutes of the flashbacks features Ingrid giving the box to the Apprentice who opens a door to our world and tells her that once the third sister was born, she would be there too. This essentially completes the origin of how Ingrid became the Snow Queen and how she came to our world. Meanwhile in the present, a lot of things go down as Emma is still hiding from everyone due to her powers being completely out of control. I have mentioned in previous reviews that my interest for this character has started to return as Emma is starting to become that intriguing character that I fell in love with back in season 1. Whenever they don't focus on Emma being with Hook, I think that's when I feel that I can actually care for Emma as I'm not a fan of that romance.
I enjoyed the whole ride with Emma in "Smash the Mirror" as it felt like watching a superhero story where the hero struggles with her powers. I have to say though that seeing Rumple getting more evil as the season progresses has started to get underwhelming because how many times is this character going to go from being redeemed back to being evil? I like that at least with Regina, they seem to have finally decided what her path is which I enjoy a lot because her relationship with Robin Hood is just perfect. But Rumple's character has gone from being one of the best characters on the show to a character that I don't know what I think about anymore. I'm hoping that there is a twist to him wanting to get himself free from the dagger because my patience is running out.
You know what was perfect though? It was none other than Elsa, who was the one to convince Emma from not going into that room and giving up her powers (without knowing about the hat being behind those doors, ready to suck her in). The relationship that these two characters have is just flawless as Elsa is the character that Emma can relate to and learn from. More than ever do I appreciate the Frozen universe being part of Once as it has been able to give us great character development for season 4. Unfortunately, as one struggle ends, another begins as Ingrid traps the two of them with those ribbons and man, only this show can make things like ribbons scary.
Ingrid is now able to harness their powers as well, making her more powerful than ever and in the last scene, she promises Rumple that things are about to go down as she cracks the mirror and a cloud of dark smoke emerges. You guessed it: another curse is coming to Storybrooke as third time is the charm and what a perfect timing to go off for a one week hiatus with an ending like that. Overall, "Smash the Mirror" was a terrific episode that brought this arc to a whole new level and with only three episodes left of Season 3A, I can't wait to see how this all ends.
Once Upon a Time will be back with new episodes starting on Sunday, November 30, 8/7c on ABC.
Photo via ABC