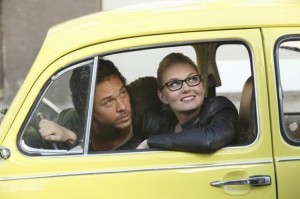 This week's Once Upon a Time was a vast improvement over last week's unusual – and ill-fitting – episode. The show focused all of the action in present-day fairytale land and in Emma's past, weaving together a few important loose story threads while also leaving us with many questions.
Once Upon a Time, There Was a Girl Named Emma
It's taken over a season for us to get any backstory on one of the show's central characters: Emma. And while it was nice to see after so long of an absence I'll admit that her life of crime doesn't exactly compare to the flashbacks to the fairytale land involving werewolves, fairies and palaces, at least not in terms of excitement That being said, the mystery – and my interest – piqued when August appeared.
Emma wasn't always the serious woman we first met in the pilot. Eleven years ago in Portland, she was an adorable, smiling girl who happened to steal an already-stolen car and met a new boyfriend: Neal Cassady. Mr. Cassady was first seen in the season 2 premiere of Once Upon a Time when he received a postcard from Storybrooke with only one word on it: "Broken". Many fans had wondered whether Neal was actually Henry's father and it turns out that he is. But, their long-term plans to give up a life of crime and settle down were cut short when Emma went to retrieve some stolen watches Neal had hidden. The two parted while Neal headed off to meet a fence for the watches and got jumped by none other than August.
August may have been cryptic when he first arrived in Storybrooke, but he was very forthcoming with Neal during their first meeting. August told Neal that he had acted as Emma's "guardian angel" for many years, but had only recently found her again after being distracted for the last two years. Now he wanted Neal to remove himself from Emma's life because she had a destiny to fulfill. As it turns out, Neal was genuinely in love with Emma and wasn't prepared to just leave her. But August was persuasive and told Neal all about magic and showed him something he promised would convince him: something in a trunk. This made a believer out of Neal and he reluctantly agreed to leave, but not before he turned Emma in for retrieving the stolen watches.
Emma went to prison for 11 months and came out of jail a new woman who wasn't eager to trust or love again, but August was convinced that this was the best thing for her when he met up with Neal a little while later. We also learned that she was pregnant in prison, making Neal Henry's father. Neal handed August some cash and the yellow Beatle that Emma drives to this day to pass along to her and August promised to send him a postcard when the curse was broken.
Which brings us to the season 2 premiere and that "Broken" postcard. The question, however, is what Neal will do now that the curse has been broken. Will he be coming to Storybrooke to reunite with Emma? And will we see August again in Storybrooke?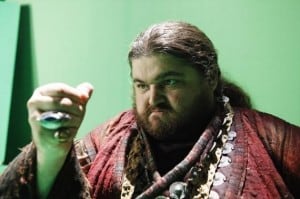 Fee-fi-fo-fum
The search for a way home heated up in the fairytale land that is when the group of women and Captain Hook arrived at the base of the beanstalk. Emma volunteered to accompany him up the beanstalk in order to retrieve the compass from the one remaining Giant. Hook was, of course, charming, while Emma wasn't entirely persuaded by his lovely personality. But the pair did manage to work together to knock the Giant out with some magical dust.
Unfortunately, the Giant's castle was full of treasure and finding the compass proved harder than expected. The search was made all the more difficult when the Giant woke up and attacked. Hook fell under some blocks from the ceiling while Emma managed to get the Giant trapped. She confronted him with Jack's sword (from Jack and the Beanstalk) and he handed over the compass. When she agreed to let him live instead of slaughtering him like humans had done to so many of his fellow Giants, he agreed to let her go even after he had been freed. And he also agreed to keep Hook prisoner for about ten hours. Unable to fully trust him, Emma left him chained up there and climbed back down the beanstalk to reunite with Mary Margaret, Mulan and Aurora. Now in possession of the compass, the women are off to find a way back to Storybrooke.
Don't miss an all new episode of Once Upon a Time on November 11th. Ruby is afraid that she's unleashed her inner wolf when the first full moon arrives in Storybrooke. Watch a preview.
Lingering Questions
Will Aurora's nightmare come to pass? She talked about being trapped in a red room with no windows and doors and someone else who was in there with her. As it turns out, that other person was Henry, who also had the same dream in Storybrooke. Was it just a bad dream or do we think it's some sort of a premonition they're sharing? Or, perhaps, are the two of them psychically linked?
What did August show Neal to convince him so quickly? His mysterious box in Storybrooke contained a typewriter but it's unlikely that such an object would be enough to convince Neal. Any thoughts?
Check out our Once Upon a Time page for more spoilers, photos, sneak peeks and recaps for the show.