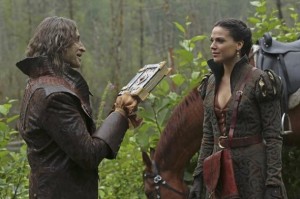 This week's Once Upon a Time finally revealed Dr. Whale's true identity, but that discovery – and the story that played out in Storybrooke – made for a bit of a strange episode. While it's always nice to get insight into the emotions of the characters, the truth is that what happened in Regina's Storybrooke arc in this episode didn't really move the overall plot forward. The first four episodes of this season were very well done (and last week's episode "The Crocodile" was particularly enjoyable), bringing us amazing new characters and overall mytharc progression, so it seemed a bit jarring to put on the brakes after so much movement. Nonetheless, we still got some additional insight into Regina's past that showed us exactly why she turned to the dark arts.
Master of Manipulation
"The Doctor" showed us a time after Regina had gotten rid of Cora in the fairytale land that was and was starting to really learn magic under Rumpelstiltskin. Unfortunately for her tutor, she was still very hesitant to practice dark magic and balked at the opportunity to rip out people's hearts and control or kill them. When Regina revealed that what she really wanted to learn was how to bring people (ie. Daniel) back from the dead, Rumple told her it was impossible. Enter Jefferson, who came by to deliver some magical items to Rumple (did everyone catch the Wizard of Oz ruby slippers reference?). He offered to introduce Regina to a doctor who could help her bring Daniel back.
That's when we met Dr. Whale. Or, more precisely, Dr. Victor Frankenstein. The introduction of a character like Mulan (a literary, not a fairytale, character) was easy to accept because you can reconcile her with the Disney version of the story. It was a bit strange to see a character like Dr. Frankenstein enter the picture because he's not exactly a fairytale sort of guy. And it was made clear several times in the episode that the man deals in science, not magic. Still, his presence opens the door for a slew of other literary and fictional characters, so it will be interesting to see who the writers introduce next.
Victor said that he could likely help Regina, but he needed a key ingredient: an enchanted heart. Fortunately, Regina had access to plenty of those because, as it turns out, Cora extracted and kept many of them in her time. Unfortunately, the procedure was a bust and Regina was crushed. So crushed that her wardrobe turned to black and she willingly started ripping out people's hearts and submitted herself once again to Rumple's teachings.
Later we learned that Rumple and Jefferson had arranged to bring Victor to that fairytale land in order to fail and turn Regina to the dark side. In exchange he got one of those hearts that he later used to create his "monster": a man who turned out to be the dead brother he wanted to bring back to life. Unfortunately, we never saw his brother's face, so we have to wonder whether his identity will later be important.
Letting Go Of Your Past
In Storybrooke, Dr. Whale was questioning David about the possibility of returning to other lands, seeing as Regina had lied about the fairytale land being destroyed. Since we know Whale isn't from the fairytale land, it's curious how he ended up in Storybrooke in the first place and that doesn't really seem to be explained here, although Regina did indicate that the curse affected those people of her choosing. Later, he approached Regina during a therapy session with Archie to demand she send him back. Since she's trying not to use magic, she refused to help. Later, she discovered that Daniel's frozen and preserved body was missing from her vault. She discovered that Whale had successfully brought him back in the hope that she would agree to help him return to his world.
Unfortunately, the newly resurrected Daniel was a "monster" and Regina was forced to kill him with magic before he hurt her and Henry, but not before the two shared a moment where she begged him not leave her and he suggested she learn to love again (since being without love seems to make her a horrible person). After, she returned to Archie to admit she had used magic and for his help in not falling off the wagon again.
Liar, Liar
In the present-day fairytale land, Emma, Mary Margaret, Mulan and Aurora found only a single survivor of an ogre massacre: Captain Hook. While he pretended to act like a traumatized victim, Emma was convinced he was lying (that supposed lying detector she has was actually working this time around). She tied him to a tree and threatened to leave him to the ogres and he finally caved, telling them the truth about his identity and Cora's plans to travel to Storybrooke. But he said that he would help them find a compass that could get them back to Storybrooke and, therefore, keep them one step ahead of Cora. Mary Margaret thinks this may just be a trap, but Emma thinks that as long as they don't trust him, then they won't be surprised if he does double-cross them. Unfortunately, they're about to embark on an adventure. A giant one, you might say. Because the compass is located on the top of an enormous beanstalk.
Final Thoughts
As I said, this week's Once Upon a Time Storybrooke tale didn't do much to advance the plot, although it's always nice to see scenes between David and Henry and to see Regina's emotional vulnerability. And while I do enjoy seeing Regina's depth of character, sometimes it's nice to see her as a proper villain. If she continues in this direction, will Cora simply take over as the bad guy for the show? Will Regina come back to the good side permanently? I'm not entirely certain I would want to see that. I like the layers the villains possess, but I really do enjoy seeing Lana Parrilla act as the Evil Queen.
Next week's Once Upon a Time seems like a proper adventure, with Emma and Hook traveling up the beanstalk and meeting with the Giant. Watch a preview.
Check out our Once Upon a Time page for more spoilers, photos, sneak peeks and recaps for the show
Tell us what's wrong with this post? How could we improve it? :)
Let us improve this post!