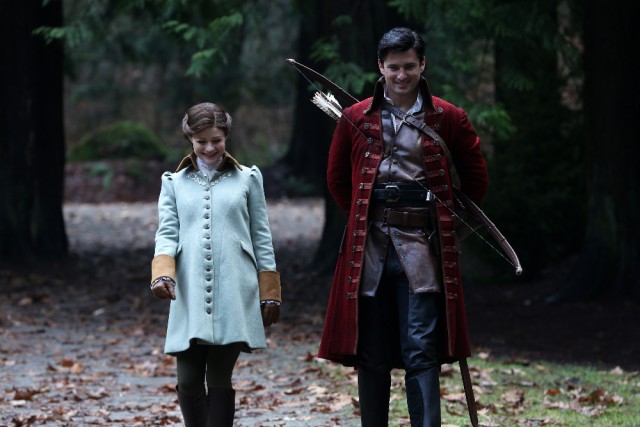 Once Upon A Time is a good show. It really is. I mean, sometimes it can get a little lost in its own mythology, or the world it's created, but by and large, it's a good show. Sometimes, it can be a slog, and the big cast makes it that way. "Her Handsome Hero" showcased all sides of Once, for better or for worse.
This week on Once Upon A Time: Emma has a vision in her dream, in which Snow White gets killed. Then, she, Hook, and Snow, have to figure out how the stop the dream from coming true. Regina talks to Zelena to try and figure out Hades' weakness. Hades tries to make a deal with Belle, that puts either Rumplestiltskin or Gaston into the River of Lost Souls. In the flashbacks, Belle recalls her first day with Gaston.
"Her Handsome Hero" showcased the good, the bad, and the ugly of Once. I mean that in the best possible way, because I do truly love this show. The worst was pretty simple. Belle and Rumple struggling between good and evil. Belle literally jumped in front of either Rumple or Gaston at least three times. I understand that she has a conscience and she wants to do the right thing, but this episode just pounded it into the ground unnecessarily. The worst part of my saying this is that I absolutely adore Emilie De Ravin and her work on the show. But actually, the way it ended was the best part. Belle talked a big game all episode long, and turned out to be the one who pushed Gaston into the river. So in that sense, Once actually had to showcase its worst to reach its best.
The other parts of the Gaston story were the best parts of the episode. Season 5B's device in which it explores more stories related to minor characters like Milah, Hook's Brother, etc., is really working out well. This time, we have Gaston. For awhile, I was actually under the impression that Belle had affection for Gaston, until he revealed his true colors in the end. A compelling story was told in this week's flashbacks, and all of a sudden no one feels bad when Gaston is cast aside for Rumple.
The rest of the story was fine. The rest of the heroes talking to each other, trying to figure out how to stop Hades, took up most of the rest of the episode. But my favorite part, perhaps, was the cliff-hanger ending in which Ruby comes to the underworld. So, is she dead? Was she brought here by Zelena or someone from Oz (hence the twister)? I couldn't say, but as she is one of my favorite recurring characters on this show, I'm as excited as ever to find out.
Hopefully, Once can continue bucking its characters stereotypes and trends, and tell more compelling backstories, and these brilliant closure stories that it's been telling lately. This episode moved the plot forward, however slowly, and ultimately served its purpose. Now if we could just stop with Hades' blue fire hair, that'd be great. It looks terrible.
What did you guys think? Did you enjoy the episode?? Let us know in the comments!
Once Upon A Time airs Sundays at 8/7c on ABC
Once Upon A Time Season 5 Episode 17 Review: "Her Handsome Hero"
Summary
Belle recalls her first meeting with Gaston, as he resurfaces to challenge Rumplestiltskin, in this week's solid Once Upon A Time.