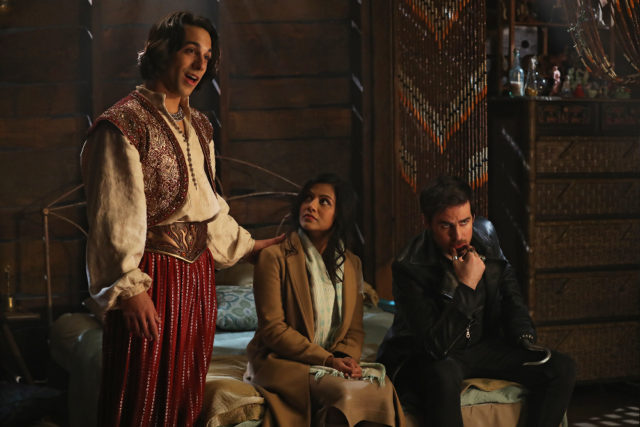 The best part about Once Upon A Time, er….one of them, is the chance to create colliding stories between our favorites. In just one episode this week, we had Aladdin, Jasmine, Ariel, Jafar, Aesop, and Captain Nemo join the regular cast of characters for a story that felt true to the Once Upon A Time lore and world. Though it wasn't the most perfect episode they've ever done, it was still a joy to watch Aladdin, Jasmine, Ariel and Hook take down Jafar together.
This week on Once Upon A Time: Trapped in the Enchanted Forest on the Nautilus, Hook discovers Aladdin and Jasmine in his quest to return to Emma. The three of them, assisted by Ariel, search for Jafar in order to save Agrabah. Back in Storybrooke, Emma gets tricked into a "girls night out" to try and take her mind off of Hook's departure. In the flashbacks, Jasmine and Ariel meet during the first downfall of Agrabah.
Aladdin is my favorite Disney movie, so I was thrilled when we finally saw Agrabah, the Sultan, and the flying carpet. I felt like the show glossed over their story a bit when we saw them earlier in the season. I've mostly forgiven them for not being able to get Naveen Andrews back to play Jafar again (after his terrifying turn on Once Upon A Time in Wonderland) but the only part of this episode I really didn't care for was how glossed over all of this story still felt. It felt a little bit like "we left this loose plot thread we have to resolve" instead of an actual, serious conflict and battle for Agrabah. This Jafar was not nearly as terrifying as the one from Wonderland, and the whole thing wrapped up pretty quickly and around Ariel's cottage. Still, I was grateful to have my favorites back in the fold again. Karen David's Jasmine in particular was excellent, and she and Ariel together made little girls all over the world squeal with glee as their favorite princesses adventured together.
I was much more interested in Hook and Agrabah than I was for the girls night out story until the twist with the tears at the end. I found Aesop (a total fraud! Sad!) quite compelling until I found out he wasn't real, and I really enjoyed watching drunk Snow White challenge vikings to a dagger throwing contest. That was epic. Still, Emma shining through as a vulnerable character is important to the show (especially if it should continue) because when she internalizes and projects as a stoic, she's not as relatable or interesting. But Season 6 Emma is probably the best I've seen from her in quite some time. I relish in her vulnerability, as it makes the show so much more richly layered. Jennifer Morrison is absolutely killing it.
More emotional still was the final scene, in which Hook gave a speech through a shell to Emma. It did feel a little implausible (yes, even for this show) that Emma would find the shell, but I guess that's just true love magic. Seriously though, that speech gave me every single feeling in existence. I was moved. I want to let you all know that I don't generally participate in shipping, as I prefer to let stories unfold naturally. But in just a few short weeks I have become a DIE HARD Captain Swan. It's all entirely due to the work that Colin O'Donoghue and Jennifer Morrison have done with their characters this season. They have been more grounded, emotional characters telling relatable stories, and it's paying off for the show.
A few other thoughts:
I figured out they were in Ariel's cottage as soon as Jasmine picked up a corkscrew. (Look at this stuff. Isn't it neat?)
I was a humongous Disney-phile when I was younger, so you'll have to excuse the fangirling over the Jasmine/Ariel team-up. It's just awesome.
Oh, and you'll also have to excuse the title of this article. Because there is absolutely zero chance I'll ever get to use "A Whole New World" lyrics in an article title ever again.
Even though this Jafar doesn't quite stack up, he made me all kinds of nostalgic for Once Upon A Time in Wonderland. Gone too soon.
All told, this was a strong episode of Once Upon A Time. As Gideon's saga continues to unfold and Hook tries desperately to get back home, I am more and more excited to watch each week. Though I had a few quibbles, this was still a strong installment of the series.
What did you guys think? Did you enjoy the episode? Let us know in the comments!
Once Upon A Time airs Sundays at 8/7c on ABC