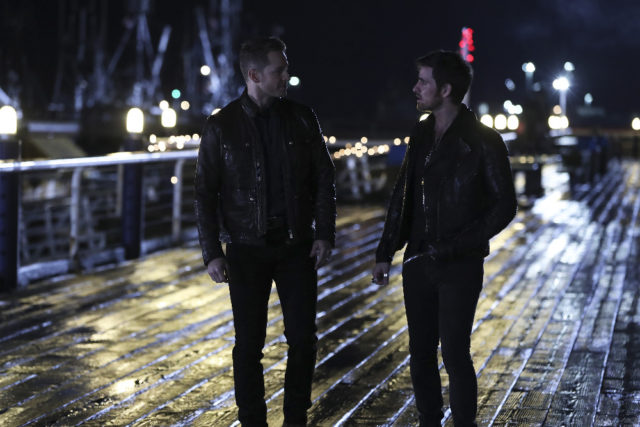 One of Once Upon A Time's most compelling and interesting mysteries introduced in Season 6 has been the mystery surrounding David's father. Ever since Josh Dallas and Colin O'Donoghue told me at Comic-Con that their "blossoming bromance" (their words, not mine) was coming to the forefront in the season, and "Murder Most Foul" was a humongous step in that direction. For the first time this season, it appears that their early season feel has really returned, and Once has a wonderful groove to show for it.
This week on Once Upon A Time: David makes a break in the search for information about his father, so he enlist Hook to help him follow the leads. Hook, meanwhile, is worried he won't live up to David's standards when he plans to propose to Emma. Regina tries to help the new Robin acclimate to Storybrooke. In flashbacks, David's father looks to help James and bring his family back together.
I keep looking for bad things to say about this season of Once Upon A Time, and I have to admit that I'm having a hard time finding them. The David story has worked extremely well for the show and the "budding bromance" between Hook and Charming is an absolute delight. There's only one way that they can screw it up: by using the revelation at the end of the episode as a kept secret for too long. For those who watched (spoilers), it turns out that Hook was the man who murdered David's father. Hook has come so far, and changed completely as a man, but the only way I can see the show ruining this story is keeping the secret. As a general rule, shows that deal with their baggage as soon as it's revealed, rather than making it a secret to come out later. If Hook has really changed, he will be upfront about his discovery.
To piggyback on that, though, the Hook/Charming bromance is quickly becoming one of my favorite relationships on the show. "Murder Most Foul" visited the whole spectrum of their relationship, from Hook's support of an emotional, vengeful David, to David messing with Hook when asked for his blessing. I was incredibly impressed with both O'Donoghue and Dallas in this episode. For a largely female focused show, this was impressive.
Once also introduced a new mystery surrounding Robin (of Locksley, and not "Hood) as he tries to acclimate to Storybrooke. The reason surrounding his decision to come to town is still a (compelling) mystery, but he attempted the murder of the Sheriff of Nottingham and stole something from Regina after he kissed her. I have to applaud Once for attacking this thing full boar, and I'm excited to see how it plays out.
Here are a few other thoughts:
"That demon box keeps screaming at me"- Robin really gets to the root about how we all see alarm clocks.
Hook's right. Prince Charming has set the bar unbelievably high.
I'm really glad to once again have the Sheriff of Nottingham and August back on the show, as well as Archie. The more recurring minor characters that Once can incorporate, the bigger and richer the world feels.
I have been impressed with everything that Once Upon A Time has been doing this season, despite my best efforts to find something wrong. They're headed in a strong direction and I'm excited to see where they're going.
What did you guys think? Did you enjoy the episode? Let us know in the comments!
Once Upon A Time airs Sundays at 8/7c on ABC
Tell us what's wrong with this post? How could we improve it? :)
Let us improve this post!