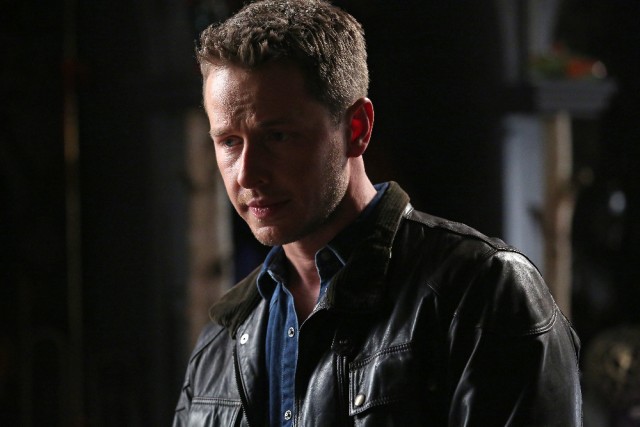 Once Upon A Time, now in its fifth season, has finally started to get the blood pumping in this week's episode. What I mean by that, of course, is that now that the new world and order of things have been established; the series is breaking ground on new relationships and interesting stories to keep the season flowing and compelling. So far, it seems to be working.
This week on Once Upon A Time: In flashbacks, Arthur and David go on a quest together and fail, or so David is led to believe. David is knighted to the round table. Lancelot resurfaces. In present time, Emma manipulates Hook to save Rumpelstiltskin for her own gains. David and Arthur search for a thief.
"Siege Perilous" has been my favorite episode of Season 5 thus far. Of course, I realize that I don't have a lot to choose from, but I'm quite serious. In the vein of the show's approach to the Peter Pan story, the writers have once again begun to blur the line between good and evil. By making the most noble knight in "history" untrustworthy, they open up a world of possibilities for the show. On top of what it means for Once Upon a Time's story, "Siege Perilous" was simply a well-constructed episode. I had an inkling during the entire episode that Arthur was untrustworthy, and I'm certain that the creative team intended it that way. I haven't ruled out that it was just my above average intuition and intelligence that gave me that feeling, but…well…I'll let you decide (My money is on well-told story).
"Siege Perilous" offered several things that we haven't seen much of on Once lately, not the least of which is a David-centric story. Josh Dallas' David has largely gone unnoticed in recent seasons. Developing a story around knights and nobility is the perfect way to include him. I never thought I missed Dallas at the forefront of the action until I watched him this week. He embodies Prince Charming with such…well…charm. It was good to see him display a range of emotions and actually be central to the action and plot of the episode. He's one of my favorite characters, and it's so easy for the good ones to get lost in larger ensembles. I hope to see Dallas' continued emergence as the season goes on.
Jennifer Morrison deserves a huge round of applause. I have always enjoyed her performance as Emma, but sometimes, the way the character was presented felt a little one-dimensional. She played "reluctant hero" pretty much exclusively for four seasons. Now that Emma has become the Dark One, it's like a whole new world has been opened up. Morrison is truly getting a chance to flex some of her acting muscles, and it's paying off for the show. "Siege Perilous" was just another bead on a string of great episodes for Morrison and her character. I stand gripped by each and every minute she spends on screen as the Dark One. As a fan, I definitely want Emma to beat it, but as a critic, I think her darkness is one of the most compelling things about the show.
Few questions. Is Arthur really a bad guy? I mean, is he just looking out for his people like say…Rick Grimes? Or is he in more of a Governor type scenario? Second, how is Lancelot alive? Or IS he alive? I sort of got the impression that him lurking in a hallway and talking only to Snow wreaks of impostor. But hey, what do I know? What's in Emma's locked room? What about Rumpelstiltskin says "I can remove Excalibur?" Having lots of questions like this is a sign of being invested in a show. After four full seasons, Once is still finding ways to make me care and compel me to continue viewing. I hope for answers, but I also hope for more questions.
What did you guys think? Did you enjoy "Siege Perilous" like I did? Let us know in the comments!
Once Upon A Time airs Sundays at 8/7c on ABC
[Photo via ABC]