Once Upon a Time, the new ABC series from LOST executive producers/writers Adam Horowitz and Eddy Kitsis that debuts on Sunday, redefines the concept of '˜happily ever after.'The series is a deliciously clever spin on familiar and beloved tales and characters, presented in two vastly different worlds. Characters living in modern-day Storybrooke are alive, but they don't remember who they once were in fairytale land; characters living in fairytale land are not aware of their contemporary counterparts. The show will explore the origins of all characters, as the future of both worlds is in their hands.
Initially I was hesitant to use the words '˜magical'and '˜whimsical'to describe Once, because I wondered whether or not that would turn potential male viewers away. While Once is not a sci-fi show, there are aspects of the series that may require the same suspension of disbelief that we all so eagerly apply to shows like Fringe and LOST.
I strongly believe that Once will appeal to both genders of all ages, because regardless of what your childhood was like – you had one. And your active imagination will hit on all cylinders when you watch the show. You will find yourself smiling when you recognize specific names and scenes coming to life from the pages of your bedtime stories, and very entertained by the fresh perspectives on the tales that you grew up reading and listening to.
At Comic-Con earlier this year, I had the opportunity to sit down with the creative team at a press roundtable after the Once Upon a Time panel. Here are the highlights.
Horowitz: 'These stories are so iconic and ingrained in all of us. There is a deep well to draw from, but we want to start with this core group of characters – take our time and explore who they really are. These are the first stories you hear as a child, so for two people who grew up wanting to be writers — that was your first influence. Once the show got picked up, we watched Sleeping Beauty again, and it opens in the same way. We hadn't watched that since we were children! You don't realize the subconscious; it gets so stuck in you — the archetypes of good and evil. All these themes begin there. It's not just about storytelling, it is about living your life.'
Kitsis: 'What we wanted to do was take the icon to the person. We want to see what Snow White is like as a woman. What would Snow White really be like? '
Horowitz: 'When we sat down to write those scenes in particular (referring to the relationship between Snow White and Prince Charming), we realized — they're a real couple. That became our guideline for everything we did in the fairytale land. The reality. All of the other stuff around it is fun to see, but if we have that baseline of reality, then there is something we can relate to, that makes the characters feel real.'
Kitsis: 'For us, this series is about hope. That's what I love about fairytales.'
Horowitz: 'On every level, from the dialogue to the set dressing — we are making sure that the stories are thematically connected. There is a reason for everything you're watching.'
Kitsis: 'We learned on LOST that it is character first. I want to know why the Evil Queen hates Snow White. Why did she go to these lengths? That may be answered in an episode – but if you weren't asking that question when you get the answer — it doesn't detract from watching it.'
Horowitz: 'Our goal is that you can put on your slippers, lean back and enjoy the episode of the week. But if you look closely…you will see things in there that carry on from week to week.'
Kitsis: 'Sure, there are LOST shout-outs. We try to put little things in, because that's what we love.'
[editorial sidenote: there are many obvious and subtle nods throughout the pilot!]
Horowitz: 'We have a plan of where we'd love to go, given the opportunity.'
Kitsis: 'We've been given 12 episodes. We don't know if we'll ever get more than that. We are trying to make the best 12, and THEN we'll worry about what's in the hatch.'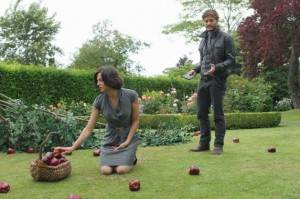 The ensemble cast of Once, comprised of many recognizable film and TV alum, is fantastic: Lee Arenberg (Pirates of the Caribbean). Robert Carlyle (SGU Stargate Universe). Josh Dallas (Thor). Giancarlo Esposito (Breaking Bad; yes, Gus Fring has transitioned into the Magic Mirror). Jared Gilmore (Mad Men). Ginnifer Goodwin (Big Love). Jennifer Morrison (House). Lana Parrilla (Swingtown). Raphael Sbarge (Prison Break). In addition, LOST fans will be happy to note that the former Charles Widmore (Alan Dale) has also joined the cast of Once, to play Prince Charming's father. True Blood's Kristen Bauer will also be appearing as Maleficent in the second episode.
Once Upon a Time is a journey, an adventure down memory lane with unusual twists and turns, and a series that successfully intertwines the darker moments with amusing homage. Among all Fall 2011 TV pilots that I viewed before they aired, Once stood out as the most unique, and as the only new show that feels more like an experience than a series. And after recently viewing the third episode (screeners are often available out of order), I am confident in my original assertion that Once is indeed the best new show of the season and definitely season-pass worthy.
Introduce yourself to both worlds on Sunday at 8pm on ABC, when Once Upon a Time debuts. If you'd like to watch the entire pilot beforehand, it is available right now on IMDB!
Don't forget to join Eddy Kitsis and Adam Horowitz for a live chat on Facebook today from 1:30pm-2:00pm EST, and follow the official show via Twitter.
[jwplayer config="Custom Player" mediaid="99858″]
Tell us what's wrong with this post? How could we improve it? :)
Let us improve this post!