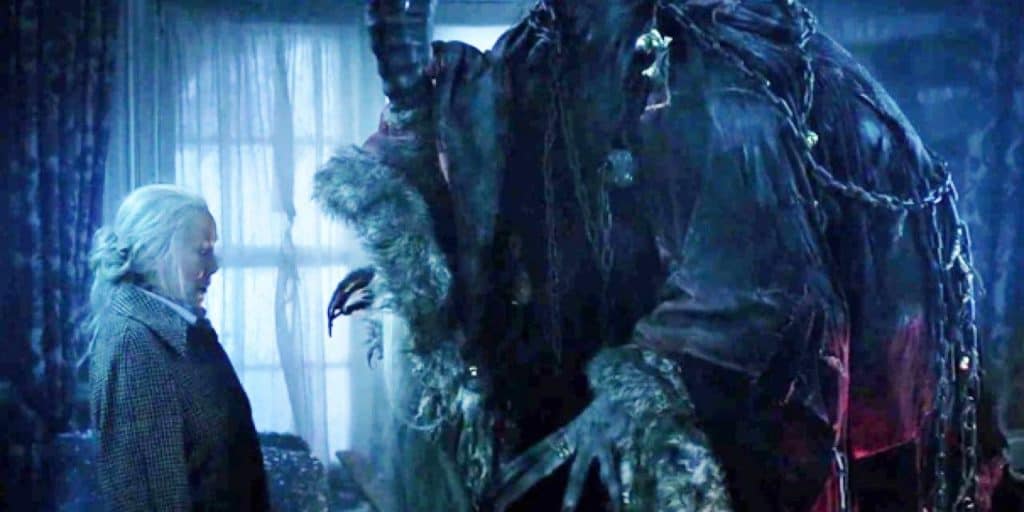 One doesn't generally think of horror movies at Christmas since this is a time when a lot of us would rather be focusing our energies on whatever positive efforts we can make to ensure that the holiday goes off without a hitch. But it's hard to do such a thing when certain horror movies get pushed with the same holiday motif that is so popular around this time of year. The thing about that is that some horror movies that are geared around the holidays are kind of effective since they get a person to think about certain things in their lives that they might want to change. Hey, horror movies can do that. Krampus is almost like a cautionary tale since the story is one that shows what can happen when belief in the spirit of Christmas dies, and when all hope is gone. It sounds like the opposite of what the holiday is supposed to be like, but it's a good way to make it appear that the loss of belief in Santa Claus is about to bring down the unholy wrath of his shadow, the being known as Krampus.
There have been a few versions of this Christmas villain created since the idea is one that kind of lends itself to more than a single movie so long as those being made aren't simply copycats that are trying to make a bit of money off of an idea that, admittedly, comes off as a bit goofy when one really thinks about it. The 2015 version of this movie didn't exactly cover itself that well when it came to the overall form and function, but for a movie that used a lot of different effects to make itself a little scarier, it wasn't too bad. The creature effects that went into this movie were creepy enough when coupled with the fact that it operated in the dark for much of the movie, using the cover of a blizzard and a blackout to hide the threats until it was too late and they were right in the faces of the people they were terrorizing.
The image of that jack in the box when it opened its mouth is still haunting, and yes, the gingerbread creatures were horrifying as well. But otherwise, it was kind of like a trip to Spencers in the mall for the rest of it, a lot of fun but you get the feeling that once you walk out that you'll forget about a lot of it. Still, the movie was something that's entertaining as long as a person is watching it since the thrills and chills that are offered up, and the fact that some of the punishments in the movie are absolutely deserved makes the movie just a little better since some of the family members are simply awful. The funny thing about Krampus is that there are certain beliefs about him that the movie doesn't really cover and that a lot of people might not be aware of to this day. For one, he is believed to have something to do with the winter solstice and was eventually attached to the legend of St. Nicholas, or Santa Claus as a lot of people know him. He's also believed to be the son of Hel, the Norse goddess of the underworld, which would make him quite an old legend at that if this has any truth to it.
While St. Nicholas was there to reward the good children with treats, Krampus would find the bad ones and beat them and, as the legend aged and grew popular in modern culture, he would eventually go on to abduct them and even take those that were simply in his way, as this movie shows. The movie is without a doubt an adaptation of the Krampus legend using bits and pieces of it to fill in for fun, but the fact that this creature was written into myth a while back is kind of interesting since it's easy to think that at any time in the last century, Krampus could have been thought up as a mainstream idea that might have been used to terrify people at Christmas. Of course, looking at how things have evolved in the movies it's fair to state that the turnout for such a movie wouldn't have been that great.
But the 2015 version was a good bit of fun that took an old legend and made it into something that would appeal to the masses since the ideas that we've been given about Christmas still hold true to this day for a lot of people. Even if we continue the traditions out of habit rather than belief, it's a good bet that they'll be carried on since people are creatures of habit after all, which means that Krampus is bound to pop up again and again.