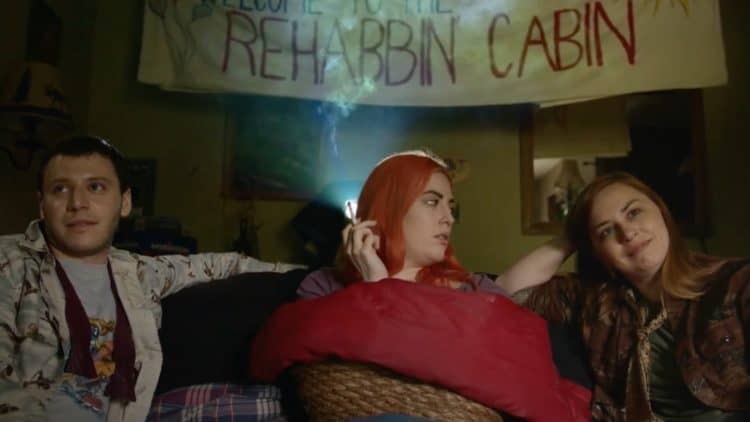 This is one of those movies that make a lot of people hope and pray that there aren't any folks out there psychotic enough to try something like this, only to realize that yes, there are probably people out there that are DEFINITELY psychotic enough to try something like this, if they could get away with it. When two fans in their 20s decide to snag a former child star in the hope that they can rehabilitate her career and bring her back to prominence it's bound to be a cringe-worthy good time or at the very least a movie that will make your jaw drop since the idea of kidnapping someone in this day and age is a bit crazy considering the use of social media, the technology that exists to track people down, and the wealth of information at the fingertips of those that might come looking for the kidnapped individual.
But for the sake of the movie I'll stop harping on that part since the hilarity and the utter lunacy of it are kind of alluring in a strange, almost haunting way since the two fans aren't entirely on board when it first comes to kidnapping their favorite star, but are seen to finally get that way at one point, which is disturbing since keeping someone against their will under the idea of trying to 'help' them is something that one can't help but think is justified in the minds of many but is absolutely terrifying in the minds of others. The act of stripping one's personal freedom has been widely discussed in a different way in recent times, but in terms of practicing that kind of behavior, this isn't that different since a person who doesn't want help is behind held against their will and doesn't know why until they realize that their kidnappers are, well, a little unbalanced.
This is bound to make people look at child stars a little closer, at least for a brief moment, since the idea that a child star can fall from grace or stick around long enough to become one of the biggest irritants and failures in Hollywood is nothing new. A lot of those that start off as child stars take different paths as they grow within the business, and while some become reviled for becoming neurotic headcases, some of them simply slip out the door and are never heard from again. It might sound argumentative, but those that slip out the door are probably the lucky ones since they refuse to have anything to do with the madness that can come with fame. But the thought of anyone kidnapping a former child star to rehabilitate them is something that sounds like a nightmare waiting to happen, a kind of rude awakening with good intentions. The kind of planning that would need to go into something like this would be astounding, but in the trailer, it doesn't appear that a whole lot of planning goes into it at all since the two that are doing the work appear to be starstruck for much of the time and not entirely up to the task of keeping someone under lock and key for more than a couple of hours at best. That could be why this looks as though it's going to be amusing since the thought that the star could make the rehab very difficult is very real.
Some might still be trying to wrap their heads around this idea and could be wondering why in the world anyone would bother to do something like this. The answer could be pretty simple, that they're absolutely out of their minds and don't know any better and are therefore going to do something incredibly foolish and definitely ill-advised. Out of the many nonsensical answers that could be provided that's probably the best one since their intent on rehabilitating this actress are likely so ingrained in the good intent that they have in mind that they're not even cognizant of just how messed up the situation could become. At some point in the trailer, it does appear that they might have realized that they screwed up royally, but the process leading up to that revelation is bound to be something that will be utterly hilarious and possibly even a bit dark since this doesn't appear to be the typical type of comedy, but it does feel as though it will have plenty of moments that people can't help but laugh at as the two friends attempt to get the actress back on track with her career and more involved in her own success. How this is going to turn out is unknown but it does feel that it could be amusing whichever way it goes since the story does feel like something that people will enjoy.