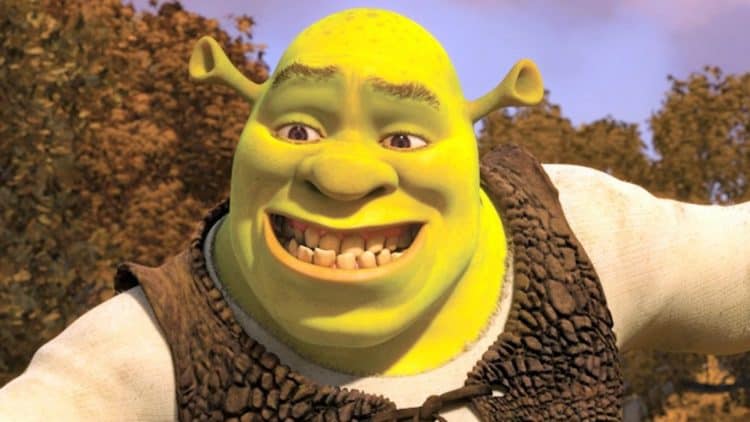 On January 1, 2000, the world celebrated a new millennium. A year later, three of the biggest franchises in movie history began; Harry Potter, Lord of the Rings, and Shrek. Interestingly, two of the series were live-action with plenty of special effects, while the third is an animated movie released by a young studio, Dreamworks. Before the franchise dropped, there were only four movies that predated Shrek. One of them, Antz, was overshadowed by Disney's A Bugs Life. However, Shrek went on and amassed a more extensive fan base and turned out four sequels. It's hard not to find something you love about the Shrek movies. It has a touching story that appeals to younger audiences. However, the writers snuck in some funny things for adults. Additionally, it's entertaining to watch because it's essentially an anti-fairytale. Additionally, because Katzenberg had a riff with Disney CEO Michael Eisner before starting his own studio he throws in a few snarky comments aimed at some of their movies. One of the best is when all of the talking toys and other fairy tale creatures are being rounded up and one of the guards mocks a character who looks very much like Pinocchio and calls him a possessed toy. All of these elements have fans wanting at least one more installment.
A brief history of the franchise
The first movie debuted in 2001. Shrek 2 was equally loved by fans when it was released in May 2004. During that time, Jeffrey Katzenberg, one of the co-founders, revealed five movies in the series. Shrek the Third followed in 2007. In 2010, Dreamworks released Shrek Forever After The Final Chapter. So, everyone assumed the franchise was done but still wondered if the fifth installment would be released. A year later, they released another movie, Puss in Boots which was something of a prequel since it was the back story of Puss in Boots before he teamed up with Shrek and Donkey. Was this really the final chapter? It seemed like Katzenberg had plans for one that was about the original characters and not something seemingly unrelated. Ten years went by, and Shrek 5 was never released.
Teasing a fifth
During an interview with Variety in 2014, Katzenberg talked again hinted a fifth installment was on the horizon. He went on to say, "We're not finished, and neither was he," referring to the loveably crass green Ogre Shrek. However, in 2016, Dreamworks Animation was bought by NBC Universal. However, Dreamworks still maintained these movies were going two happen. In fact, there would be two installments per year, starting with Shrek 5.
In an interview with Variety in 2018, Christopher Meledaandri talked about the widely popular series. Additionally, he spoke about his plans for bringing it back with a fifth installment that reimagined parts of it without completely overhauling the original plot. He wants to get around the authentic cast voices; Mike Myers, Eddie Murphy, Cameron Diaz, and Antonio Banderas, since he knows part of the pul to these movies was the iconic voices. However, he also said, the challenge for us has been to find something that really does feel like it's not simply another film in a series of sequels." This leads to even more questions because when Katzeburg spoke about the franchise, it seemed like a continued story for five movies. If this movie is reimagining, will it have anything new or bring back the storyline and add a few modern touches, which would be difficult since the film has remained edgy since its inception.
Release date
When the franchise first started, there was a new movie released every three years. However, it's been eleven years since the last, so it's been widely questioned whether or not Katzenberg's promise of another installment is really happening. The final installment was first set to release in 2019. However, according to loper Eddie Murphy speculated that 2020 was more likely. However, that year has come and gone. According to The Movie Scoop, on March 30, 2020, the scheduled release date is September 22, 2022. Yet, the pandemic hit shortly after this announcement, so there is a possibility the release will get pushed out a little further. However, the movie is confirmed to be in preproduction. Additionally, it will be under the leadership of Chris Meledandri, so there may be a lot of unexpected changes. Nonetheless, it will be exciting to see a new Shrek movie.
Even though there will be changes to the movie, it's expected the original cast will reprise their roles. When Eddie Murphy announced, it seemed to hint that he would be returning to the franchise. Additionally, it's rumored Mike Myers has already signed on to the project. The one exception is Cameron Diaz, who retired from acting in 2014, making it unclear if she would be willing to make an exception. Perhaps they could go back to the original person who was supposed to play her character, Jeneen Garafalo. Many things still hang in the balance. Not only is the cast unconfirmed, but the director of the film has yet to be revealed. Fans of the franchise have become less concerned with the details, only wanting the studios and actors to actually release the film after years of speculation, direction changes, and other things that have left them hanging.
Takeaways
Rember the scene in Shrek 2 when Donkey incessantly asks if they've arrived at their destination and Shreks frustration because he kept asking every five minutes? Currently, that's how many fans feel about the movie being released. The likelihood is the film will be released. However, it's still anyone's guess if the latest release date will hold. Meledandri has an ambitious goal to reimagine the movie, so it's unclear if we'll see some additional parts added to the original storyline or if there will be additions and another end to the film. Another unfortunate thing is that since the movie has been teased so long, it may continue like this for a few more years. All we can hope is that we'll finally get the happy yes that Princess said to Donkey when after impatiently waiting, they finally arrived.
Tell us what's wrong with this post? How could we improve it? :)
Let us improve this post!