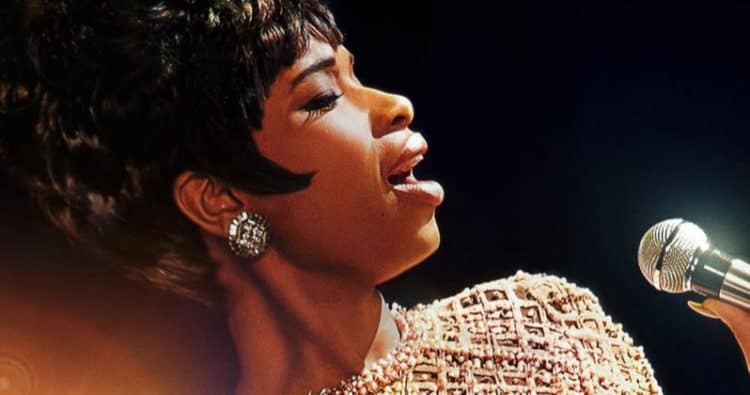 When Viola Davis won an Academy Award for Best Supporting Actress for her role in Fences, part of her speech read: " There is one place where all the people with the greatest potential are gathered. One place. And that's the graveyard. People ask me all the time, 'What kind of stories do you want to tell, Viola?' And I say, 'Exhume those bodies. Exhume those stories.' I became an artist, and thank God I did because we are the only profession that celebrates what it means to live a life." Through the years, actors have expressed their artistry by exhuming some of those bodies and paying homage to people who have excelled in life, dead or alive. Through disruptive story-telling, they have been responsible for how present and future generations view these cultural icons, who, against all odds, cemented their names in the books of history:
1. " Respect" (2021)
Dubbed the 'Queen of Soul', Aretha Franklin decided to pursue a career in music at the age of 18. While she did not thrive at first, she eventually proved to be on a league of her own, churning 20 top R&B singles, bagging a total of 18 Grammys, and selling a little over 75 million records. Respect, a 2021 musical drama directed by Liesl Tommy and starring Jennifer Hudson, was released in her honor. Besides being a success, rumors of Academy nominations are floating around, following Hudson's epic portrayal.
2. " The Glorias" (2020)
Journalist Gloria Marie Steinem rose to prominence in the '60s and '70s by becoming the face of American feminism. The Glorias, a film based on Steinem's 2015 book My Life on the Road, was released in 2020. Prior to an official release, it premiered at the Sundance Film Festival. In it, Steinem is portrayed by four different actresses at varying seasons of her life; Julianne Moore, Alicia Vikander, Lulu Wilson, and Ryan Kiera. Maria, a viewer who reviewed the movie, said it got her emotional; something good art's supposed to do.
3. " Tesla" (2020)
Inventor Nikola Tesla is credited for his role in helping with the innovation of the alternating current (AC) electrical system as we know it. Tesla, the self-titled biopic directed by Michael Almereyda, features Ethan Hawke as the lead. Many who are familiar with the works of Tesla were not impressed by how he was represented in the biopic. Most held the view that the movie leaned towards the smear-campaign side of things as opposed to honoring the mechanical engineer's legacy.
4. " Rocketman" (2019)
British musician Sir Elton John is one of the world's greatest selling artists of all time, with many hits in the UK Singles chart and the Billboard Hot 100. To date, his tribute to Princess Diana remains the top-selling single of all time. In 2019, John was honored through Rocketman, a film that saw Welsh actor Taron Egerton play the leading role. The film received numerous nominations, and Egerton garnered praise for his performance.
5. "Bohemian Rhapsody" (2018)
During his time alive, Freddy Mercury established a name for himself as one of the greatest rock musicians of all time. As the lead singer of Queen, he oozed an over-the-top on-stage persona. Bohemian Rhapsody was produced in collaboration with Queen manager Jim Beach and features Rami Malek as Mercury. The film is aimed at telling the band's journey from inception to the iconic Live Aid benefit concert.
6. " All Eyez On Me" (2017)
All Eyez On Me, the biopic, was named after Tupac's fourth studio album. The film had been in development since 2011 and features Demetrius Shipp Jr. as Shakur. The film's reception was more negative than positive. Desthakid wrote: " Tupac is one of my favorite artists ever! I practically worship this man. It felt rushed and over-detailed on insignificant points. Didn't show his full life or what he had to offer. Halfway through the movie, the only thing I realized I liked was the music."
7. " 100 Meters" (2016)
Not every biographical film honors someone who is famous. Once in a while, there comes a person who has achieved a near-impossible feat. Starring Dani Rovira, 100 Meters is an ode to Ramón, a man who was diagnosed with Multiple Sclerosis. In an attempt to beat his diagnosis that only included 100 meters of predicted walking, he tried to complete an Ironman triathlon; swimming, cycling and running. The Spanish film was directed by Marcel Barrena.
8. " Steve Jobs" (2015)
Steve Jobs goes down as one of the most innovative tech titans of his time. Thanks to his passion for tech, the world has witnessed a revolution like no other. Starring Michael Fassbender, Steve Jobs, the film, details the life of the Apple co-founder over a period of 14 years. It is based on Jobs' 2011 biography, written by Walter Isaacson. The film won part of the cast Golden Globe Awards and earned Fassbender an Academy nomination for Best Actor. At the box office, it didn't do too well, earning an estimated $34 million against a $30 million budget.
9. " The Wolf of Wallstreet" (2013)
Based on Jordan Belfort's 2007 memoir, The Wolf of Wall Street details the life of Belfort as a stockbroker. The film features Leonardo DiCaprio as the star, a role that earned him a heap of praise. The Wolf of Wall Street was a success, not only at the box office but all over the world. It earned five nominations at the Academy Awards and won DiCaprio a Best Actor award at the Golden Globes. Despite the eyebrows raised from a moral perspective, the film remains one of DiCaprio's most iconic portrayals to date.
10. "42" ( 2013)
Chadwick Boseman was a rare breed of actor. In his roles, which he chose carefully, the Black Panther star often channeled his inner spirit by playing the djembe drum, also known as 'the talking drum'. When he got the lead role in Jackie Robinson's biopic, he had to keep it silent. Deeper than getting the role, Boseman knew a big responsibility lay on his shoulders. He carried the legacy of a man, and he did so good a job, it became the role that thrust him into the limelight. Up until his death, Boseman lived up to Viola Davis' definition of an artist; one who celebrates what it means to live a life.
Tell us what's wrong with this post? How could we improve it? :)
Let us improve this post!