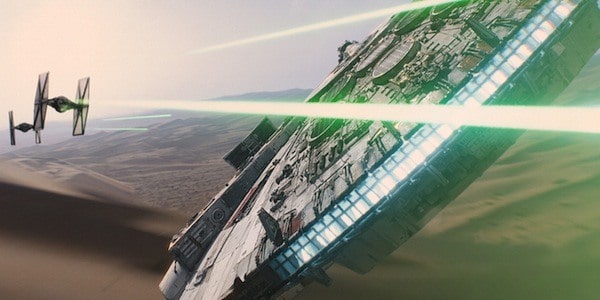 Kevin Smith has an interesting death theory for Star Wars episode IX and it might just knock the wind out of you, or possibly tear your heart out if you're a fan. Many people already know about it and don't approve of the idea at all, even if there is merit. Okay, enough prevarication, the next death in the current trilogy could be a thing, and not a person. We've already had to endure the loss of Han Solo, then Luke Skywalker, and by necessity Princess Leia. Now however the theory is that we might be forced to lose one of the most iconic ships in the entire franchise, the Millennium Falcon. If you felt your heart skip a beat at that then don't be alarmed, I felt it too upon reading the source article.
Here's what Kevin Smith had to say:
I think it's the Falcon.That would really rip all of our hearts out. And, at the same time, legacy cast is gone, maybe they don't necessarily — if it's a big enough story beat, I bet you that's what goes.
The point is made that the original cast of the first trilogy are just about all gone. The only ones remaining are Chewbacca, C-3PO, and R2-D2. As popular as these characters are they were almost always considered secondary to the trio of Ford, Hamill, and Fisher, who were the main characters throughout. As the cast continues to be whittled down however more and more things are bound to be lost as the story continue forward. With plans to do more movies after this then it becomes even more apparent that eventually something we really love might have to be left behind.
In the legends canon Chewbacca is taken out by a falling moon, howling to the heavens as he accepts his fate with a roar of utter defiance. Could we see something like that in the next episode? It would be bad enough losing the Falcon, but if we lost Chewie too it would be enough to lose all hope, wouldn't it? But Kylo Ren has a special hate-on for the Falcon, not only because it's eluded him, but because it's his father's ship, and as Luke said in The Last Jedi, a part of his father would always be with Kylo. If the Falcon is going to go out in a blaze of glory it had better be in a fitting manner, perhaps running interference so that the rebels can make a getaway, or going head to head with a star destroyer or something just as deadly. After all Laura Dern got to cripple Snokes' flagship in her one and only Star Wars appearance, so if Chewie and the Falcon are bound to go out then their demise had better come in a manner that is both fitting and so epic that even the non-Star Wars fan base will remember it for years to come.
Personally I don't want to lose either, but sometimes for a story to go on you have to eventually lose someone, and something.
Tell us what's wrong with this post? How could we improve it? :)
Let us improve this post!