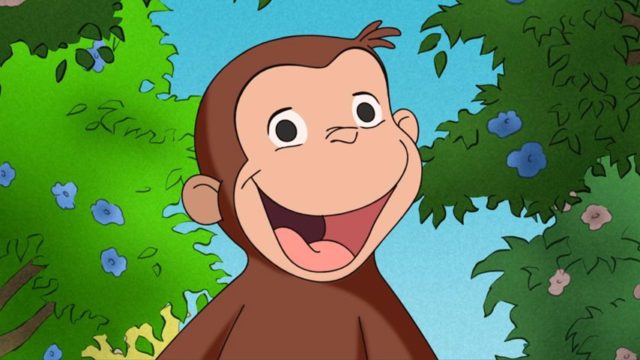 I remember a short documentary detailing the origin of Curious George and how he'd come to be. Obviously someone thought that this story was worthy enough of being put into a film, so now everyone will get the chance to see just how this silly but lovable monkey came to be. It's kind of a sad but touching story really since the creation of George was something that was in dire peril for a little while thanks to the danger that his creators were into begin with. The story really starts with Augusto and Margaret Rey, the couple that created George and gave him life.
George was more of an idea than a reality when his concept was first drawn up. There was no real story behind him as of yet when Augusto and Margaret first got together. In fact when they had to flee Nazi-occupied Germany the couple had to decide what they could take and what had to stay behind. The story of Curious George, not yet titled such, was one thing that they could not bear to leave behind. Upon reaching New York they began to look over the idea again and would eventually finish the writing and illustrations for the book. It was then published in 1941 and it's been a popular kids classic ever since.
As a child I recall reading Curious George and following his many adventures with absolute glee since he always seemed to get into some kind of trouble and yet never caused so much that he couldn't get out of it. Plus, at that time the man with the yellow hat was always there and could help him out when needed. The silly monkey has been a constant companion to many kids growing up and has created quite a buzz in pop culture since he's stuck around for so long. He's managed to be featured in many straight to DVD kids shorts and has even had his own show on TV for a while. Most people likely never knew the truth of George and his origins though.
The beginning of any tale though is usually lost in the hype after a while if it's allowed to become more than what it was originally intended to be. There's no doubt that the Rey's firmly believed in their story and thought it would bring a great deal of joy to children. But thinking that t might become something that would reach this scale doesn't seem too likely since they were in this to create a wonderful and engaging story.
It will be nice to see how one of the most lasting children's stories got its start though. Kids of today might not understand it, but adults that grew up with George will finally have a way to grasp just how important Curious George really is to pop culture and to American culture as well. He's more than just a silly monkey after all.
There are times when it's important to remember just where some of the greatest stories came from, if only to remind ourselves that legends begin very simply.